TestCPU is the best program according to my opinion ! It determines the processor type  , model, series, etc, derives the list supported of commands, and execute several processor tests. In addition, it is possible to look to different processors and to learn certain information about them, beginning from i386DX!!!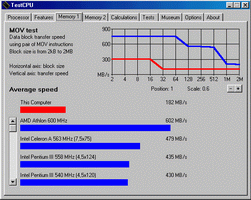 To download TestCPU click here ( 604 KB ,Freeware,Win95/98 )
Download It Now For Free.
testcpu