ICQ 6.0 continuation of popular Internet chat tool, which is used by millions of people throughout the world. Program allows to easily exchange reports and files with other registered users, search for friends by interests, participate in audio and video chat rooms, send postcards and invitations, exchange photographs, play, make calls between computers or from computer to telephone, etc...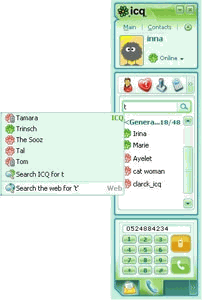 To download ICQ v.6.0 Build 6059 click here (13,9 Mb., Adware, Windows all).
Download It Now For Free.
icq v.6.0 build 6059