Aflex software company reported the release of Acronis True Image 2009, balanced package for copying reserve and data restore, oriented to home use computers. The new version contains many improvements, which increase convenience in copying and restoring data. Acronis solution completely supports Microsoft Windows Vista, and renovated user interface was released in this OS style, allows to copy and restore data by one mouse click.
There is a new utilitiy which allows to associate archives, Acronis true image 2009, allows to economize disk space and regulate reserve copies storage. Now user can combine complete archive with several incremental into one file. Furthermore, in new version is integrated possibility to destroy information without restoration.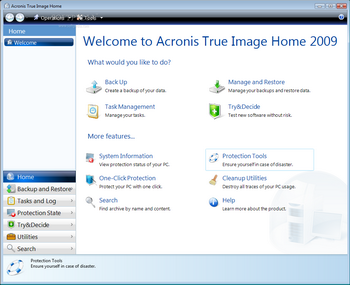 Drive Cleanser allow to reliably clean hard drive, and File Shredder to remove separate files which gives guarantees, that no one will get access to them even using special softwares for data restoration. For providing a safety data guarante, user can simultaneously preserve copy to hard drive and external USB drive. Let us note that into Acronis True Image 2009 besides compression algorithm enhacement, is realized support for popular ZIP. For the first time Acronis provides possibility to search contextual data inside the archive. Now user can easily find file by name or key phrases with Windows Search or Google Desktop..
To download Acronis True Image 2009 Home v.12.9646 click the green button(88,3 Mb., Shareware, Windows all).
Download It Now For Free.
acronis true image 2009 home v.12.9646