Released  new version of utility Download Accelerator Plus (DAP), which allows to accelerate files download process from Internet. Supports simultaneous download from several servers, resume broken downloads, turn off computer after download session complete. Utility has integrated search engine for files on servers. Download Accelerator Plus have an effective integration with all browsers, supports work through proxy.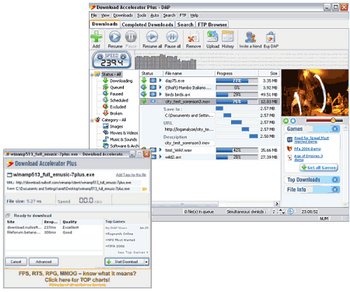 To download Download Accelerator Plus v.9.1.0.4 click the following link: (8,6 Mb., Freeware (Adware), Windows all).
Download It Now For Free.
download accelerator plus v.9.1.0.4