GMER is a small free utility, which is intended for system monitoring : it reflects all processes and services, the list of used files, registry keys and drivers . Furthermore, GMER monitors the processes creation  , drivers download and libraries, TCP/IP- connections activity ....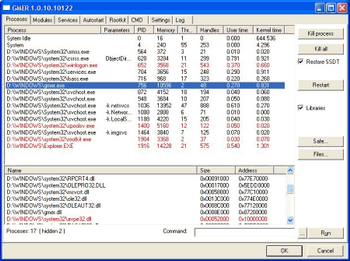 To download GMER v.1.0.15.14966 click the following link: (272 KB, Freeware, Windows NT/2000/XP).
Download It Now For Free.
gmer v.1.0.15.14966