Updated small but functional program GRBackPro, designed to facilitate the creating backup copies process under operating systems Windows. GRBackPro can operate at once with multiple sessions, each of which has its own unique characteristics. In each session may raise some problems for disc copies creation, a separate folder/folder or single files. The program has built in scheduler. GRBackPro support putting copies on network storage, floppy disks, hard disks, CD, DVD, DVD-RW, DVD-RAM, CD-RW, etc.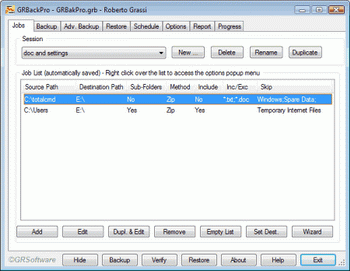 To download GRBackPro v.6.6.115 click the following link: (2,1 Mb, Shareware, Windows All).
Download It Now For Free.
grbackpro v.6.6.115