KillProcess is a free program for working with processes. As the name implies, KillProcess able to complete almost any process running in the system and/or service. Utility is more convenient than standard Windows Task Manager, because it enables them to complete a number of processes/applications.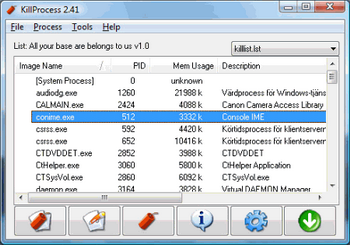 To download KillProcess v.2.44 Beta click the following link: (1,8 Mb, Freeware, Windows All).
Download It Now For Free.
killprocess v.2.44 beta