Updated VSO Image Resizer, absolutely free software for sizes changing of digital pictures and images in different graphic sizes (at the given moment it is supported work with files JPEG, GIF, BMP, TIFF, CR2, NEF, etc). Also in this utility there are possibilities for files compression, conversion from one size to another, export and control pictures. VSO Image Resizer is integrated into Windows shell, it can work in batch mode, it possesses extended tuning options for expert users.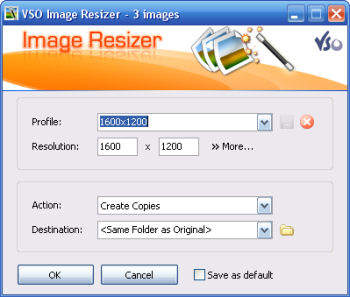 In new version errors are corrected, internal optimization is produced, new filters are added. 
To download VSO Image Resizer v.2.1.7.4 click here (6,1 Mb., Freeware, Windows all).
Download It Now For Free.
vso image resizer v.2.1.7.4