Memtest86+ - is the finished version of memTest86 program  , which supports the newest technologies. It is intended for testing the operational memory . MmemTest86+ also work under DOS via  diskette. Furthermore. All tests are executed automatically, in the infinite mode.
Download version for DOS (55K), Linux (ISO) (36K), Windows (ISO) (36K)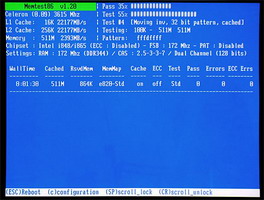 To download Memtest86+ 2.01 click here (55 KB., Freeware, DOS, Win9x/NT/2k/XP, Linux ).
Download It Now For Free.
memtest86 plus