Recently, kingston company begins the delivery of solid-state disk series sSDNow V+, which in the second generation obtained the support of  TRIM command and higher -speed indices.
For the  series sSDNow V kingston company did not make an exception, and yesterday it stated about the deliveries of updated SSD from fifteenth February. SSD slightly increased the information transmission speed  and obtained support of TRIM command,  after preserving in this case previous prices. In the series enter three models with volume 30 Gb, 64 Gb and 128 Gb. For the first the reading speed is increased to 180 Mbyte(s)/s, for the two latter - 200 Mbyte(s)/s. Recording speeds are equal to 50 Mbyte(s)/s, 110 Mbyte(s)/s and 160 Mbyte(s)/s, respectively.
For additional $15 user can obtain SSD collection for desktop computer, which includes software Acronis true image, extension cables.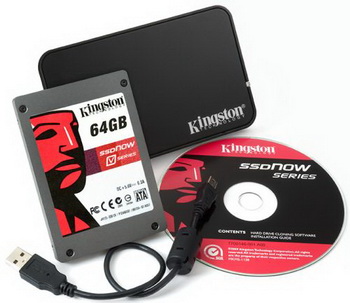 For $8-15 it is possible to obtain the migration collection:  SSD for notebook, which contains the software and external case  2.5 " device with  an USB 2.0 interface. In American retail  those SSD costs : $110 (30 Gb), $208 (64 Gb) and $362 (128 Gb).


Related Products :