European company KFA2, a subsidiary of the well-known manufacturer of computer accessories - corporations Galaxy, introduced new models of graphics cards GeForce GTX 660 Ti EX OC 2GB and GTX 660 Ti EX OC 3GB, differing only in the amount of video memory. New items are respectively 2 and 3 GB of GDDR5 memory , using a 192-bit bus, have a unique design, excellent overclocking capability, and a brand new cooling system.
Graphics cards are equipped with 1344 cores CUDA, frequency formula for the GPU and memory is as follows: 1006 MHz (GPU Boost mode 1084 MHz) / 1502 MHz (effective frequency - 6000 MHz).  Capacity is 144.19 GB / sec.  
Video card KFA2 GeForce GTX 660 Ti EX OC 2GB has a dual-slot cooler with two fans, four nickel-plated heatpipes and aluminum heatsink.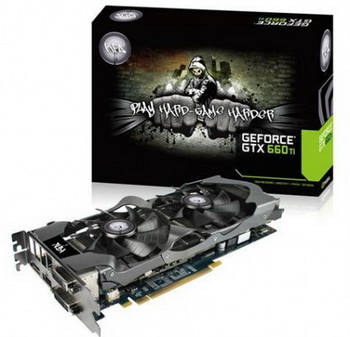 Related Products :