Overclocker do not search intensively for Ideal thermal-paste , but some experiments in this sphere was already taken. Some consider that KPT-8 has the best combination of price / quality. Many are ready to spent for improvement by one-two degrees. The last overclocker category use thermal-paste IC diamond 7 Carat, produced by innovation cooling company.
In the composition of this thermal-paste enter synthetic diamonds, the maximum diameter of particles does not exceed forty micrometers. Synthetic diamonds have high thermal conductivity - from 2000 to 2500 W/(m * K). This are almost five times higher than in pure silver, which exceeds on its heat-conducting qualities copper, gold and aluminum. This thermal-paste is characterized by high stability. In order to reach maximum effectiveness, two hours are sufficient .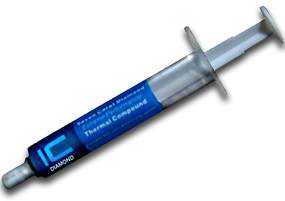 This thermal-paste is supplied in special packaging ( one-and-half gram) .
As test of this thermal-paste where used the processor athlon X2 BE -2350 (2.1 GHz) :  under load IC diamond 7 Carat showed lower by 4 degrees celsius temperature than the famous arctic silver 5. The overclocking potential using this paste was improved by 30 MHz.
This thermal-paste in USA cost $5. For some such price seem overstated, others will consider it as adequate for similar decrease in temperature.


Related Products :