Lenovo  company  announced a new generation of ThinkPad X1 Carbon Ultrabook and tablet 8 ThinkPad running Windows 8.1.
Let's start with the updated family Transformers Yoga,  Second-generation devices rely only on Windows 8.1. Yoga convertible notebook is equipped with a 3.3-inch touchscreen display with a resolution of 1920 x 1080 pixels, a processor Core i5, hard drive capacity of 500 GB and its hybrid variant. SSDs for this model are proposed. Weight of the device reaches 1.59 kg, case thickness increased to 17.3 mm. The keyboard has a backlight, one battery lasts for eight hours.Online Yoga will be available   in February 13 at a price of $ 999.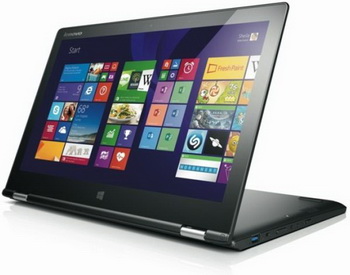 More compact "transformer" Yoga February 11 satisfied 11.6-inch display with a resolution of 1366 x 768 pixels, quad-core Intel Pentium generation Bay Trail, a hard drive up to 500 GB. Battery for six hours, the mass device does not exceed 1.32 kg. On sale it will appear on  11 February  at a price of $ 529.
ThinkPad 8 tablet, judging by the title of the series, is designed for business users. Touchscreen display size 8.3 has a resolution of 1920 x 1200 pixels, as the CPU supports quad Intel Atom Z3770 (2.39 GHz), two gigabytes of RAM combined with a 128GB solid state drive for data storage. The  tablet is running Windows 8.1, it is equipped with output micro-HDMI, and an 8-megapixel camera with LED flash, has a port micro-USB 3.0, and is available as an option the ability to work in networks of generation 4G (LTE). device weight less than 400 grams, the thickness of the aluminum case it does not exceed 8.8 mm. Basic version of the tablet will go on sale this month for $ 399.
Ultrabook ThinkPad X1 Carbon  with a thickness of 17.7 mm body, weight no more than 1.27 kg. The device is equipped with a new generation of processors generation Haswell and 14-inch display with a resolution of 2560 x 1440 pixels, it is able to understand voice commands and gestures. The battery life has been increased to nine hours, and Fast Charge Technology allows you to recover 80% battery charge in just one hour. The device supports NFC and fingerprint scanner, unique adaptive keyboard can be adjusted for specific applications. For a additional fees the ultrabook can be equipped with 4G-modem, the base model will go on sale this month for $ 1,299.

Devices Miix 2 this month will appear with two new models, which are tablets with connected keyboard unit. Version with 11.6-inch display uses a Core i5 processor and offers solid state drives up to 256 GB , version with 10.1-inch display is content with  processor Bay Trail generation and half the drive. Display resolution in both cases is 1920 x 1200 pixels, battery life up to eight hours, provided camera with a resolution of 5 megapixels and 2, respectively. Memory can be expanded through the card microSD, to monitor devices are connected via the port micro-HDMI, on a full-sized keyboard block port USB.

At the same time, Lenovo introduced new notebook models in Flex, Y and Z. Some of them are based on hybrid processors AMD.


Related Products :