The rate of smartphone market  growth slowed to a minimum of 2013.  In the second quarter of 2015, according to analysts Gartner, worldwide smartphone sales to end users totaled 330 million units, up 13.5% compared to the same period last year.
In its new report, Gartner analysts said that smartphone sales in China fell for the first time.  In the second quarter of this year, smartphone sales in China fell by 4% compared to last year.  The share of China in the last quarter had 30% of the total supply of smartphones in the world and a drop in demand in the Chinese market has a negative impact on producers.  Analysts attribute the drop in demand for smartphones in China with the saturation of the market, as well as a decrease in purchasing power.  At the same time, the emerging markets has been a steady increase in demand for cheap smartphones with support for 3G and 4G.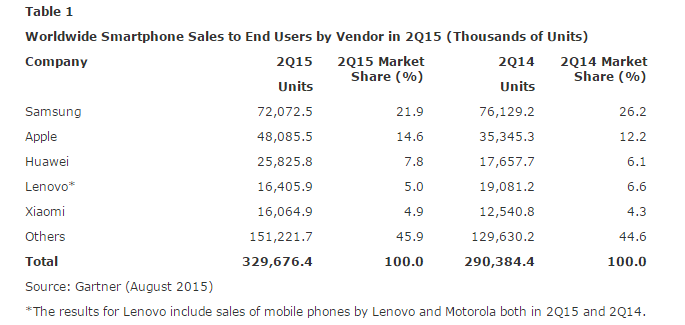 Despite the launch of new smartphones, Samsung's share of the global mobile market in the last quarter decreased by 4.3 percentage points to 21.9%.  However, the Korean giant is still leading the market, putting in the reporting period, a total of about 72 million smartphones.  In second place, as the previous quarter, located Apple, which accounts for 14.6% market share, up 2.4 percentage points more than in the second quarter of 2014.  Also in the top five included Huawei, Lenovo (taking into account the share of Motorola) and Xiaomi, which belongs to the 7.8, 5 and 4.9% of the market respectively.

As for the balance of power in the market of mobile operating systems, there lead Android with 82.2%  , it lost for the year 1.6 percent points.  The share of iOS accounts for 14.6% of the market, while the share of Windows - 2.5%.


Related Products :