Slides from official geForce 9800 GTX presentation  began to appear .

This document confirms all known to us geForce 9800 GX2 characteristics  . This Video card is based on two chips g92 with 128 stream processors, which were placed on two printed-circuit boards (PCb). Each chip has 512 mb GDDR- 3 memory working through the 256 system bus. Frequencies are equal to 600/1500/2000 MHz. The quantity of ROPS units is 2 X 16 pieces, the quantity of textural filtration units is equal to 2 X 64 pieces. Video card will not consume more than 197 W, Max chip temperature is 105 degree Celsius .
The recommended geForce 9800 GX2 price will lie within the limits from $599 to $649.  Single video card geForce 9800 GTX is almost twice cheaper, and NVIDIA had to work well on drivers in order to prove the superiority of one GeForce 9800 GX2 over two GeForce 9800 GTX in SLI mode .

NVIDIA promises, that quad SLI technology is deprived of previous deficiency .
A increase in the speed in quad SLI mode can reach 50-80%. NVIDIA also speak about  the superiority Of geForce 9800 GX2 over Radeon HD 3870 X2.

The sound input S/PDIF is moved in the final version near the power connector.

GeForce 9800 GX2 requires the use of six and 8 pin power connector.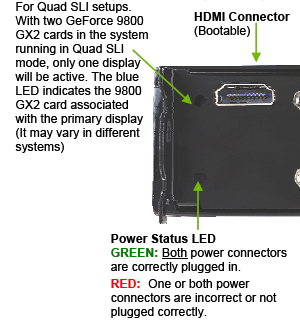 Here is the card performance now :
Processor : QX6850(333*9=3GHz) ,
Motherboard : Striker II Formula(nVIDIA 780i), GA-X48-DQ6,
Memory : PNY DDR2-1066 1GB x 2.
Driver : 173.67beta and Cat 8.3.
 


Related Products :