Results of the third quarter, despite some troubles such as payments under the agreement with GlobalFoundries, AMD's guidance calls successful .  Good mood Director General Su Lisa determined the amount of information which it shared with the audience on the reporting of quarterly conference analysts.  
Naturally, the experts present at the event asked about time of AMD processors with Zen architecture appearance .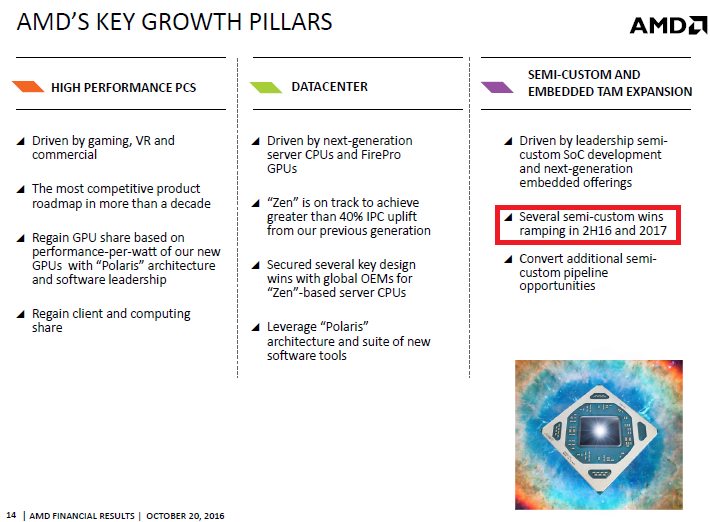 In fact, AMD is counting in this sense Zen architecture and the formation of their plans for the next three years, not only in the consumer segment, but also in the server.
Answering a few questions, and somehow related to the timing of Zen processors appearance  on the market, Lisa Su adhered to previously announced schedule: Summit Ridge desktop processors will be presented in the first quarter of 2017, and the server Naples - in the second quarter.  The latter, as you may remember, combine up to 32 cores with Zen architecture, and desktop segments rely only eight, albeit with the support of processing two threads simultaneously.

Returning to existing processors, AMD CEO explained that the revenue and sales volumes of mobile hybrid processors are growing the fourth consecutive quarter.  

Samples of Summit Ridge processors also come to AMD partners, they are very happy with their performance level.  Lisa Su is confident that the Summit Ridge processors will allow AMD to take a competitive position in the segment of the productive desktop solutions, where the company's products are now almost not represented .  The capacity of this segment  the head of AMD is estimated at $ 4 billion. Processors Summit Ridge will compete with Intel Core i7 processors and Core i5.  Announcement of the first processors with Zen architecture   is scheduled for early 2017, but AMD claims that independent tests will not be conducted this year.  More precisely, the company will not authorize the appearance of test results Summit Ridge in the public domain before the official announcement.  

Lisa Su refused to confirm that the mass deliveries of server processors with Zen architecture will only begin in the third quarter.  What is clear is that the very announcement is scheduled for the second quarter, and will be formed as a manufacturing policy is largely dependent on the company's clients.  They are already receiving samples of server processors Naples.

Chapter AMD believes that processor Summit Ridge will strengthen the company's position in the desktop segment, where its share is now less than 10%.  The performance gains provided by processors Summit Ridge, meets the expectations of the company.  Already in the first quarter next year, AMD hopes to regain some ground in the desktop segment, which it has historically occupied.

 


Related Products :