In addition to the EPYC server processors, AMD, at the Financial Analyst Day 2017 event, today unveiled, as it claims, the first of several graphics cards based on Vega GPUs to be released this summer.  The novelty is called Radeon Vega Frontier Edition , and it should be noted that in fact this is not the first officially presented video card on Vega, since last year the Radeon Instinct video card based on Vega was announced.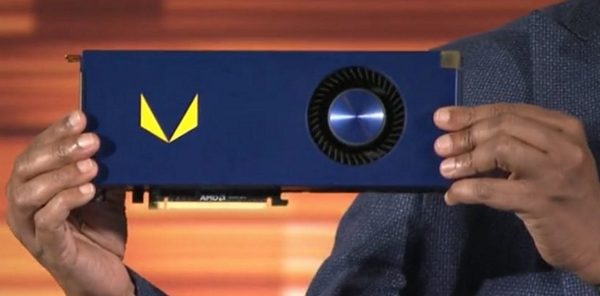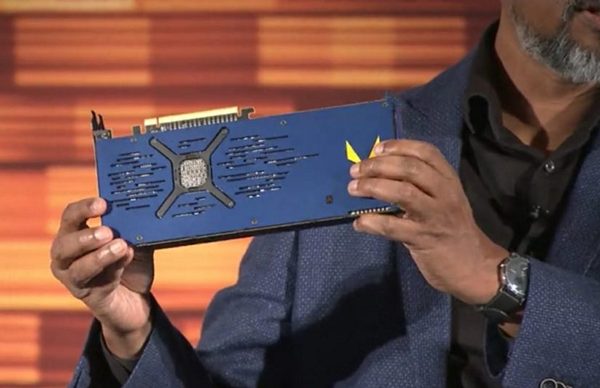 Immediately it is worth to clarify that the Radeon Vega Frontier Edition is a professional solution, not a gaming one, that is, it belongs to the Radeon PRO line, not to the Radeon RX.  The novelty is built on a Vega graphics processor with 64 compute units, that is, with 4,096 stream processors.  On the substrate next to the graphics processor are 16 GB of memory HBM2, called AMD as High Bandwidth Cache.  The memory bandwidth is stated at 480 GB / s.

AMD claims that the performance of the novelty in single-precision operations (FP32) is one and a half times higher than that of Fury X, and is about 13 Tflops, and in operations with half the accuracy (FP16) there is a threefold increase - up to 25 Tflops.  Proceeding from these data, by simple calculations it is possible to find out that the frequency of the graphics processor of the novelty is 1586 MHz.

AMD positions the video card Radeon Vega Frontier Edition as a device for tasks such as machine learning, visualization and development of games and VR-content.  In similar tasks the novelty surpasses the Titan Xp, in proof of which AMD compares video cards in the professional performance test SpecViewperf 12.1.

The deliveries of the video card Radeon Vega Frontier Edition will begin already in June this month.  


Related Products :