AMD company did present at the release level the video card Radeon RX Vega 64 and Radeon RX Vega 56, and we discussed the prices of new products together with the majority of technical characteristics.  It remains to focus on some points.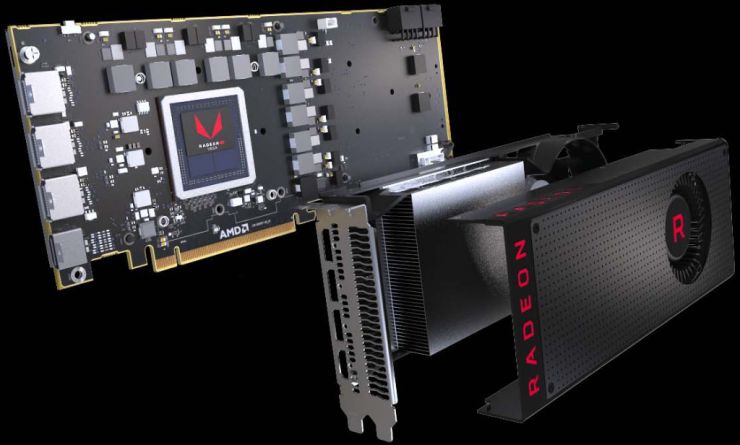 AMD formally suggests the digital index in the model designation to be written in uppercase as a denotation of the degree of numbers, but this shifts the formatting of the text somewhat, therefore not all authors follow this recommendation .

Both versions of Radeon RX Vega retained 8 GB of HBM2 memory, just Radeon RX Vega 56 memory frequency does not exceed 800 MHz, and in Radeon RX Vega 64 it is increased to 950 MHz.  In the case of Radeon RX Vega 56, the manufacturer mentions not only the number of active stream processors (3584 pieces), but also the number of texture sampling units (256 pieces).
Characteristics of memory Radeon RX Vega 56 is devoted to a separate table:

If we talk about variants of Radeon RX Vega 64, of which there are three pieces, then for some reason frequencies of only versions with a liquid cooling system fall into the corresponding table.  Apparently, AMD, too, was in a hurry to tell the world about the characteristics of Radeon RX Vega 64, so some inaccuracy is admitted.
By the way, in Radeon RX Vega 64, the number of texture sampling frames is exactly the same as for the younger video card of the family.  At the same time, the number of blocks of rasterization is also specified: 64 pieces.
For the Radeon RX Vega 64 version with the air cooling system TDP does not exceed 295 W, for the version with the liquid cooling system - 345 W.
Intriguing is the recommendation to use for the Radeon RX Vega 64 a power supply unit with a capacity of at least 750 W in the case of an air cooling system and 1000 W in the case of a liquid cooling system.  By the way, overclocking on the graphics processor to frequencies above 1700 MHz should become a common occurrence for Vega 10, so that the "safety margin" for both power and cooling will not hurt.


Related Products :