The younger Radeon RX Vega 56 graphics card, which will combine 3584 stream processors with 1156/1471/800 MHz frequencies and a TDP level of not more than 210 watts.  This video card will be equipped with a reference air cooling system, although later AMD partners will have to offer their options.  To the power supply the novelty will be connected through a combination of 6- and 8-pin connectors.  The amount of HBM2 memory should remain intact (8 GB), although the memory frequency will be slightly lower than that of Radeon RX Vega 64. Finally, the price of this version of Radeon RX Vega will start from $ 399, although in the first stage, various sets will be offered Based on new graphics cards.  They will save up to $ 100 on the purchase of AMD Ryzen 7 processors and compatible motherboards, up to $ 200 to buy monitors with FreeSync support, and finally they mean a gift in the form of two games.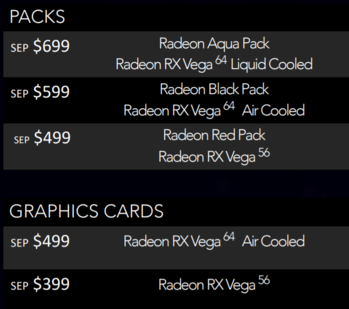 The characteristics of the basic version of Radeon RX Vega 64 are also defined on the slides, which colleagues shared with the site WCCFTech .  Such a video card with a black casing of the air cooling system without additional "loads" in the form of limited circulation and discounts for "related products" will be offered for $ 499.
Colleagues from the site VideoCardz managed to generalize all information about the characteristics of video cards generation Vega in one table. Pay attention to the TDP values  , they differ in most models.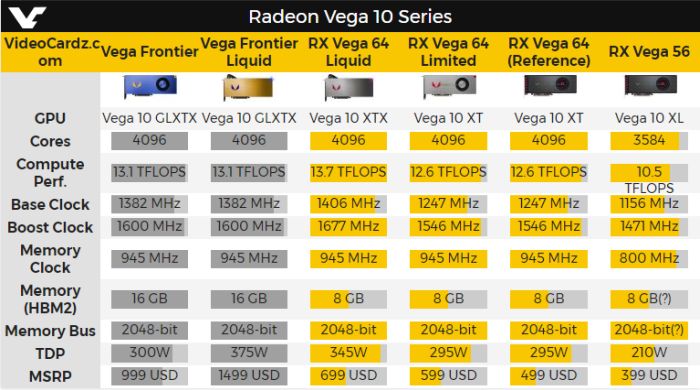 Naturally, the AMD presentation also touches upon the performance issues of Radeon RX Vega 64, but we would not rush to conclusions.  Indeed, everything fluctuates near the "GeForce GTX 1080" mark as a base for comparison, but it is necessary to wait for the results of impartial testing to give a final assessment.


Related Products :