By :conroe reiew
Posted:2006-07-06






xtreview is your : Video card - cpu - memory - Hard drive - power supply unit source







well in today market there is large cpu choice, from 939 to intel LGA patform but the question remain witch one is better.
In our today review we are looking to show the performance of all 4 platform.socket 939,intel old and new socket "conroe" and amd am2
Here is the list used :
Amd am 2 socket
CPU: amd athlon fx 62
DDR 2 800mhz
Amd 939 socket
CPU:amd athlon 64 4800+ and fx-60 cpus
DDR 400mhz
Intel lga
CPU:intel 955 XE and intel conroe E6600
DDR 2 800mhz
for all abrove system the video card used in geforce 7800gtx.
lets start with cpus specification:in the amd side the fx 62 is the highest clocked 2800mhz with 2 mb L2 cache and suport of ddr 2 800mhz.then amd fx 60 2.6ghz nly and 4800+ with 2.4 ghz .in the intel side we have conroe 4mb L2 shared cache working frequency 2.4ghz.
it is well known that amd is clock for clock faster than amd because the first do more work per step .but now with new intel conroe things changed lets check the first benchmark for some result.
intel 955 vs conroe e6600 vs fx60 vs fx62 vs 4800+ benchmark
pcmark 2005 overall result
From pc mark 2005 it is clear that the 2.4 ghz conroe is the leader .pc mark has alwais better performance with intel side .but since amd dual core result come somehow better.u can see that the 955xe top out borth 4800+ and fx 60 cpu
pcmark 2005 cpu result
pc mark 2005 cpu test was the only test where the old XE P4 take the lead.the 4 thread runing capability help a lot in those benchmark.this explique the intel lead.between the 2.4 ghz only conroe take avantage with about 20% Faster than the fx62 and fx60.
pcmark 2005 graphic result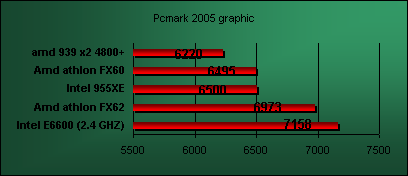 well the intel duo 2 conroe e6600 again is the winner in this graphic test.the top end model from amd "fx-62" could not catch up.
pcmark 2005 memory result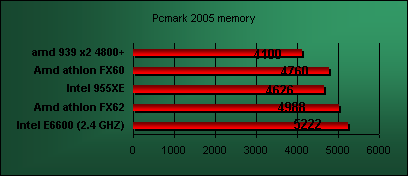 even the integreted mmeory controler in amd athlon 64 cpus could not help to top out in memory test.again the conroe in the leader. it clear now that clock for clock conroe e6600 is faster than amd cpus.
the modern processors AMD which are based microarchitecture K8 and new conroe core are fastest cpu at present . .so Let's take a look for them from theoretical positions
Intel Core
AMD K8
L1 data cache
32 Kbyte

64 Kbyte

L1 code cache

32 Kbyte

64 Kbyte

L1 latency
3
3
L1 associativity
8-way
2-way
size L1 TLB
command – 128 in
command – 32 in
fata – 256 in
data – 32 in
L2 cache
4 MBYTE for two core

1 MBYTE for each core

L2 latency
14
12

L2 associativity

16-way
16-way
L2 bus width
256 bit
128 bit
size L2 TLB
?
512 in
excution step
14 step
12 step
number of x86 decoder

1 complex & 3 simple

3 complex

Integer executive devices

3 ALU + 2 AGU
3 ALU + 3AGU

Load/Store devices

2 (1 Load + 1 Store)
1

FP executive devices

FADD + FMUL + FLOAD + FSTORE
FADD + FMUL + FSTORE

SSE executive devices

3 (128-bits)
2 (64-bits)
From the resulted table we can clearly see the defrence. And the most important, it that processors with new intel microarchitecture Core have more instructions by step, rather than K8 processors . Though executive devices both processors are capable to carry out up to three integer x86 and x87 commands by step, the new intel microarchitecture show advantage on SSE operations. While K8 processors can make only one 128-bit command by step, conroe can execute up to three .
pcmark 2005 hdd result
the hard drive chipset in not directly cpu related the chipset here play a big role.it is clear that the new amd am2 chipset is better optimized than all others.borth cpu conroe e6600 and intel 955XE show prety same performance , they are sharing the same platform (motherboard) and chipset
gaming benchmark
3dmark 2001 benchmark result
3dmark 2003 is video card based test.the better is the card the higher score u will get.but conroe show in this test excelent result.going from the top end amd cpu "fx 62 2800mhz 2mb dual core" to conroe cpu u get about 1300 mark boost.it is hard to get such mark from a cpu with modest overclock.note that the intel conroe e6600 is only 2.4ghz clocked ,this cpu is clocked as the 4800+ witch scored lower by more tha 2000 mark
3dmark 2003 benchmark result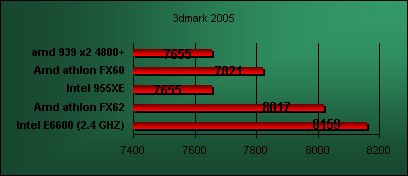 counter strike source e6600 conroe test
let s see now some real gaming application.the amd athlon 64 witch has been considered as the best gaming cpu 2005-2006 fail in the test.u can show that the fx 60 is faster by 30 fps than intel XE cpu but it is lower than new conroe cpu witch clocked at only 2.4 ghz
far cry source e6600 conroe test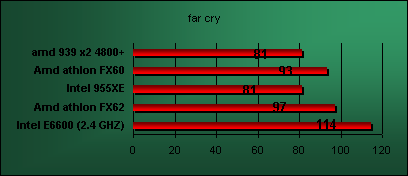 from borth cs source and far cry benchmark u can see that borth cpu fx 60 and fx 62 are showing similar result .note that the fx 62 is amd am 2 platform with ddr 800 memory and the fx 60 is 939 socket cpu using the old good ddr 400 memory.for first look 800mhz memory vs 400 MHz only and 2600mhz vs 2800mhz :it is clear that the FX 62 should be better.but wait we had forget the memory latency.the memory latency play big role even in amd 64 case.the result showin abrove confirm this theorie.about 400mhz higher memory bus and 200mhz faster clock but the performance increase is smaller than 5%.in case on conroe e6600 it show nice result 17 fps higher than fx 62.note that the fx 62 is highly priced cpu.
unreal 2004 e6600 conroe test
here is know the called amd benchmark.unreal 2004 is based in cpu fpu unit amd had alwais strong one .the result is showin from intel 955 XE And all other amd cpu.but wait who is the leader the conroe again and by far :-).the 2.4 e6600 show higher fps than fx 62 by about 37 fps witch is a lot
adobe photoshop test
IN this test the lower is the better as seen abrove in this benchmark the more clock efficase cpu the lower u will get in time.conroe e6600 is here our winner.
microsoft ofice test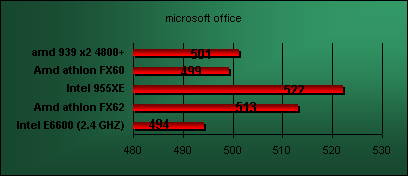 the microsoft office performance is not highly cpu depondant but faster hard drive will score better.in this test it is a bit different .the test is cpu clock and latency based. the graph abrove show tha the fx 62 fail over the younger fx 60 : "lack of memory latency"
Mozila bechmark test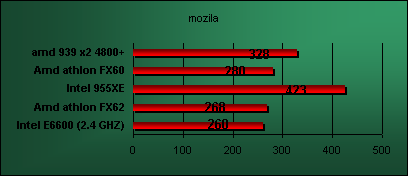 winzip bechmark test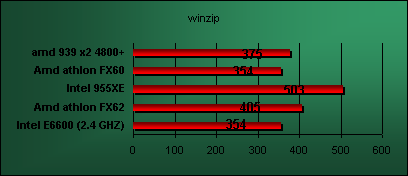 the winzip compression test is cpu and memory based .the result fom cpu has been quite long time in the amd side since first amd 64 cpu.but conroe e6600 match the fx60 performance.again here the latency is killing amd am2 performance .
mp 3 encoding
first time leader the amd am2 fx 62 should be happy :-).
audio and video encoding
windows media encoder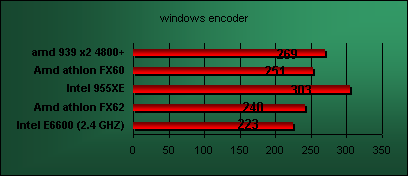 3dmax 7 ball 2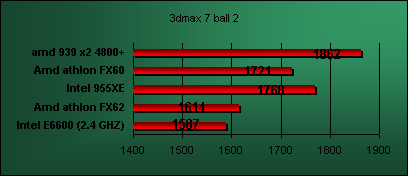 3dmax 7 animation
Cine bench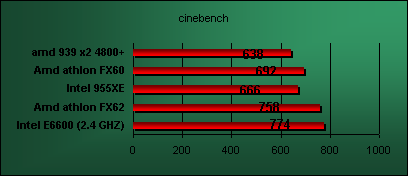 conroe e6600 review benchmark vs amd fx 62 vs fx 60 vs intel 955 xe






xtreview is your : Video card - cpu - memory - Hard drive - power supply unit source







we would be happy to answer for your question . if you have suggestion or comment regarding this review our support would be glad to help just join our forum and ask u will get the best answer
to discuss check our forum section :-)
RATE THIS REVIEW