By :cpu review
Posted:2006-09-04






xtreview is your : Video card - cpu - memory - Hard drive - power supply unit source







Since many years, AMD represents more than alternative to INTEL. In the world of the machines known as disktop, Amd managed to dominate the market until the arrival of Core 2 duo that make an end to the privoous Athlon 64 domination, the latter made good success career right now.
Benefitting from two notebook, one from MSI and the other by Alienware, we decided to make this review.We will start with you to quickly forward this new processor Turion 64, the "X2".With Aurora mALX, Alienware proposes a notebook equipped with a 19 inches screen.this notebook has the graphic solution containing GeForce Go 7900 in SLI and of 2 GIG of memory…Simply high-end equipment.¶
K8 architecture Turion 64 ?¶
We said in our introduction,that AMD win the war for desktop computer for few years vs its direct competitor " INTEL ", and AMD cleared it s position with Athlon 64.This Position was confirmed by arrival of the Athlon 64 X2.This war right know is in the side of intel witch showed the conroe cpu witch proved that it is faster than current A64 cpu.but This is only a branch of industry ,The war excit with note book computer where amd has deal with the powerful intel centrino .so To compete with INTEL, AMD need a name to the purchasers That could be attached, a kind of Centrino "made in Athlon".The idea was very simple:AMD as intel do not wait for the development architecture and renamed the processors Athlon 64 low power to Turion 64.
However, as we have just explained , the design of Turion does not have anything vs the desktop cpu.AMD tries to make us believe that it is about new architecture, but it should be understood that Turion 64 is no more than an Athlon 64.Same manner follow,the Turion 64 X2 in our MSI notebook, this was the Athlon 64 X2 low power version. this architecture is inspired directly from the famous " K8" which starts to show age vs the new INTEL come Core 2 duo (based on architecture Pentium M), in one word Turion 64/Turion 64 X2 is the best that amd can offer right know to response to large artillery proposed by INTEL.
Turion 64 X2 architecture
Admittedly, Turion 64 resembles like two Athlon 64, but without entering interminable explanations.Thus, like its little brother, Turion 64 X2 is 64 bits processor . natively this cpu can code 64 bits as 32 bits application, on the contrary Core Duo which equipe many notebook (while waiting for Merom).Beside this double compatibility, AMD decided to add certain number of instructions to its new cpu sixteen registers 64 bits like sixteen registers 128 bits SSE/SSE2/SSE3.this was done by AMD to improve the multimedia application in its processors, technology DIGITAL Media XPress is a part.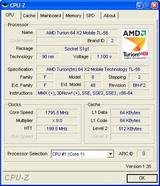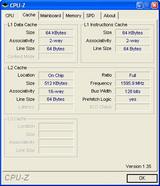 X2 obliges, new Turion AMD to integrates two core in one so instead of 754 pins to which the mobile AMD processor had accustomed , the one use 638 … .In future, AMD should pass to 65 Nm, but it still satisfied with the 90 Nm on the Turion 64 X2 Tl-56 integrated into our MSI notebook.the range of those turion x2 contain four models Tl-50 (1,6 GHz, 2x256 KB L2 cache, TDP of 31 Watts) , Tl-60 (2,0 GHz, 2x512 KB L2 cache, TDP of 35 Watts).Let us note that AMD use technique of separated cache each core has it own cache whereas INTEL prefers to choose the common shared cache:each cpu can acess to the hole amount of cache.In addition the cache AMD processors Turion 64 X2 has an integrated memory controller .Small update, this controller work now in (dual channel) deals with memory DDR2 and can work with slot So-dimm PC3200 (Ddr2-400), PC4200 (Ddr2-533) and PC5300 (Ddr2-667).Let us note on this subject, That the DDR2 is characterized by lower power consumption than The DDR 1.¶
We will have of course the occasion to reconsider these questions about the consumption later in this review.the Centrino platform is particularly famous in this case, AMD was obliged to look for some energy saving function of its Turion 64 X2..¶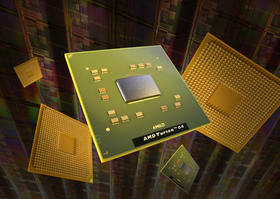 MSI S271-W1 notebook review
MSI S271-W1
Processor
Model
Turion 64 X2 TL56
Frequency / cache
1600 MHz, 512 K
Meomory
installed / max
1024 Mb / 2048 Mb
used slot / empty
1 / 1
Frequency
166 MHz
VGA
Contoler
ATI Xpress 1150
Video memory
128 MB shared
Display / format
12,1" / 16:10
native Resolution
1280x800
Hard Disque
capacity / cache
100 Gig / 8 MB
Rotation spped
5400 RPM.
Model
Fujitsu MVH2100AH
CD-RW
formats
CDRW / DVD±RW DL
Read / write
24/24/10 ; 8/8/4/2,4
model
TSSTcorp TS-L532M
CARD READER
YES, SD/MMC/MS
CardBus Reader / PCMCIA
YES, type II
Battery
Installed / max
1 / 1
Power
4400 mAh
Sound
AC'97, 2.0
Network card
10 / 100 / 1000
Hand FREE / modem
802.11 b/g / V92
USB / FireWire
3 / 1 (4 Port)
VGA OUT/ S-Video / Comp.
1 / 0 / 0
casque / micro / S/PDIF
1 / 1 / 0
Dimension (LxPxH)
303 x 225 x 26/28 mm
Weight
1,80 Kg
Wrantly
2 YEARS
Cost
1500 euros
Turion 64 X2 and ultra-notebook MSI S271-w1
MSI proposes a rather compact portable, with the choice, between black or white.The manufacturer did not make its logo on the top.Ultra-portable S271 has a small size although the battery is somwhow big.Taking into account the integrated components , MSI could with difficulty made it smaller and remain in the price range that have been fixed (to less than 1500 euros).Far from being ugly, S271 does not make any progress over the S250/S260,
Compared to these S250/S260, MSI also preserved the format 12,1 inches of the screen, moreover identical to its predecessors:it proposes a resolution of 1280x800, ideal in this kind of machines.Under Windows (XP Home provided), the notebook woked correctly .Side of the angles vision, well I quickly recalled : the majority of competitor portables, preserve a sufficient luminosity.Under the screen, we finds five function buttons which make possible to regulate the light of the screen .
MSI did not integrate a trackpoint into the keyboard and like the majority of current portables, S271 use completely suitable touchpad.…Of course, the functions integrated into the touchpad are part. under the touchpad MSI chose to insert various LED. Lastly, let us note the excellent provision of various connectors around the laptop:perhaps some will regret the absence of S-Video out.Let us underline the presence of ports USB on the two sides of thisnotebook:that can prove be usuful when u place the laptop in small area.
Let us dig a little the things
Our article being devoted to Turion 64, of course this processor that the manufacturer chose to integrate into S271, and it is more precisely the model X2 Tl-56 . working at 1,8 GHz, this processor has 2x512 KB in it L2 cache the laptop come coupled with one slot of 1024 MB memory given working at 300 MHz.The use of only one memory is slot is despointing since it will be improssible to benefit from the dual channel mode that the controller support..In the system main part, we finds the chipset ATI Xpress 1150.this Recent, deals with the majority of current technologies (PCI-Express bus, Serial ATA, USB 2.0, TV out…).
the Xpress 1150 express is certainly not the monster of power, but it integrates the Radeon X300, this video chip is capable graphic to contribue in the video decoding (apart from the high definition sequences of course) and can run some small 3d applications .we appreciated the progress made by MSI in regards of the hard disk.If the manufacturer did not choose the 7200 rpm drive,but it finally left the 4200 rpm which is the slowest . here we have a model 5400 rpm of 100 Gig from Fujitsu with 8 MB cache.
Plus, MSI supplements the peripherals storage with a card reader compatible with memory Secure DIGITAL/MultiMedia Card/Memory Stick and with a reader PCMCIA/Cardbus standard II.The system does not have anything original and even if MSI employed ALC 882 component , the quality of the speakers limits the interest of thing.The network interfaces are definitely more convincing and the S271 for example has a gigabit Ethernet the Bluetooth is integrated and the Wifi passes is compatible with 802.11 b/g.
Let us finish this presentation of this S271 by specifying that MSI proposes two machines with this reference.That which we reviewd today, is the high end model, this is the S271-w1.It costs approximately 1500 euro, having Turion 64 X2 Tl-56 with 100GIG hard disk as well as the double layer DVD-RW .The second model, is the S271-o1 costs a little more than 1200 euro.It come with the Turion 64 X2 Tl-50, a hard disk of 80 GIG and double layer DVD-RW.
Alienware Aurora mALX review
Alienware propose a transportable machines able to compete with most powerful desktop PC.
the first thing that we can say that Aurora mALX creates sensation.never used similar notebook . the screen is impressive. here we have 19 inch model!Alienware does not have to increases the resolution (1680x1050) since the m7700, but that is completely sufficient.¶
Above this screen, we note the presence of small webcam discrete with 1,3 megapixel .The keyboard is well fetched since Alienware benefits from space available to propose true one:the manufacturer could integrer a complete keyboard with 105 keys.Above the keyboard, we finds the traditional function buttons which in particular make possible to regulate the light of the screen,and to activate /deactivate/ launch various applications.
With dimensions of the mALX, Alienware on had well the possibility to integrer many ports as you can see it on our table bellow:
ALienware Aurora mALX
Processor
Model
Turion 64 ML-44
Frequency / cache
2400 MHz, 1MB
Meomory
installed / max
2048 Mb / 2048 Mb
used slot / empty
2 / 2
Frequency
166 MHz
VGA
Contoler
2 x geforce go 7900
Video memory
512 Mo
Display / format
19" / 16:10
native Resolution
1680x1050
Hard Disque
capacity / cache
2x100 Gig / 8 MB
Rotation spped
7200 RPM.
Model

Momentus 7200.1

CD-RW
formats
CDRW / DVD±RW DL
Read / write
24/24/16 ; 8/8/8/6
model

NEC ND-6750A

CARD READER
YES, SD/MMC/MS
CardBus Reader / PCMCIA
YES, type II
Battery
Installed / max
1 / 1
Power
6600 mAh
Sound
audigy 2, 7.1
Network card
10 / 100 / 1000
Hand FREE / modem
802.11 b/g / V92
USB / FireWire
5 / 1 (4 Port)
VGA OUT/ S-Video / Comp.
1 (Dvi)/ 1 /1
casque / micro / S/PDIF
1 / 1 / 1
Dimension (LxPxH)

476 x 343 x 35 mm

Weight
680 Kg
Wrantly
1YEARS
Cost
4000 euros
Contrary to MSI, Alienware was not interested in new Turion 64 X2 .The manufacturer was satisfied with "basic" Turion 64 .working at 2,4 GHz, this processor is equipped with 2x512 KB L2 cache :2 GIG of DDR2 PC-3200. Alienware specifies that only two slot memory can be filled out in Aurora mALX and this information was confirmed by CPU-Z.This last indicates to us that theoretically it is possible to add two other memory module, but nowhere Alienware does not mention this possibility .However, 2 GIG of read-write memory is already more than enough for all current game and application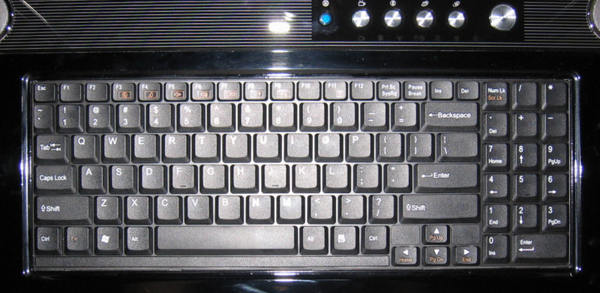 the manufacturer chose a RAID of two hard disks 2,5 inches.Configurable RAID can be produced using discs 120 GIG 5400 rpm.or 100 GIG 7200 rpm for optimal performances.All seems to ok on this mALX since the graphic solution was made by the technology SLI from NVIDIA with two GeForce Go 7900 GTX…these two card has 256 Mb video memory, say a total of 512 MB of video memory!However, Alienware did not forget the small details which could wast the integration of this SLI and proposes to us exit DVI as well as the S-Video exit.
Alienware did not integrat a card reader compatible with memory Compact Flash and u will be satisfied with the traditional Secure DIGITAL, MultiMedia Card and Memory Stick.A card reader PCMCIA/Cardbus is there , Alienware delivers in addition to its machine its Soundblaster Audigy 2 ZS .
Side network interfaces , Alienware was more reasonable.It should be said that modern notebook propose already in their great majority many functions and with share to integrate two Ethernet ports.The manufacturer thus remains "modest" and come witha compatible port RJ45 gigabit, Bluetooth and Wifi .That will be enough as the main part .Lastly, Alienware has incredible quantity of accessories .the mouse USB Razer Diamondback , the Alienware key-ring, the DVD restoration, various driver CD, a S-Video adapter/Composite/YUV, a disk drive USB, a helmet Alienware Ozma 7 ...A quite beautiful technological demonstration in any case!
Turion 64 / 64 X2 benchmark test
We limited our tests to some well-known software whose objective is to measure the performances of the processor alone and another side the performances of the subsystem .Although the frequencies of operation distort a little the comparison (2,4 GHz for Turion 64 against 1,6 GHz for Turion 64 X2), we put them face to face with Asus notebook equipped with Core Duo T2500 (2 GHz).
Cinebench cpumark 99 science mark 2 benchmark
Joined together in a 3 graph, CPUMark 99, CineBench 2003 and ScienceMark are obviously there to measure the processormathimatique capability.Immediately, the result obtained under CPUMark seems the least convincing:rather old, this software does not exploit at all the characteristics of our various processors and seems to be directly influenced by their frequency .it is quite naturally that we finds at the head, the least modern processor, Turion 64.Optimized double for dual core, CineBench 2003 and ScienceMark give results more interesting.the Core Duo T2500 fly away obtaining twice the first place.Then the conclusions depend on the software.CineBench 2003 seems definitely more optimized and Turion 64 X2 remains in contact with Core Duo whereas Turion 64 is completely outdistanced.In ScienceMark on the other hand, X2 precedes its little brother only by few points.¶
SiSoft Sandra 2005 mobile Turion 64 - Sandra 2005
SiSoft Sandra 2005 proposes several series of tests, but we retained here only the one measuring the processor and memory instruments.In the first case, the conclusions approach to what we had seen previously.The dual core improve a lot the result .Turion 64 X2 makes equal performance with Core Duo, but basic Turion 64 cannot compete with them .¶
FutureMark PCMark 05 notebook Turion 64 - PCMark 05
PCMark 05 proposes to measure the performances of the hdd and graphic card, but we was especially interested for the test of the processor and memory, like Sandra 2005 .Turion are in Net loose, taking into account the 800 MHz which separates it from the Turion 64, the X2 model left there more honourably, with 5 % higher performances than its little brother.Side memory , we does not find the results obtained under Sandra 2005.the positions was changed and Turion 64 preserves its last place, Core Duo must for the first time fail.However, the variation with Turion 64 X2 is far from being convincing (hardly 2 %).
FutureMark 3DMark 05 notebook Turion 64 - 3DMark 05
Before graphic tests , we wanted to finish this rapid cpu test to put the Turion 64/Turion 64 X2 in a small test 3d and we reserved on the most traditional of them, 3DMark 05.Here, it is not of course question about testing the cpu , but the test is fully video card based.we was not able to make this test on Asus Core Duo so we integrated into this chart three new notebook:¶
- MSI S260 (Pentium M 730, 1,6 GHz, 512 Mo RAM, graphic chip i915GM)
- old Xbook XB3 CL56 (Pentium M 735, 1,7 GHz, 512 Mo RAM, graphic chip Radeon Mobility 9700)
- Alienware Area-51m (Pentium IV, 3,6 GHz, 1024 MB RAM, graphic chip GeForce Go 6800)
Alienware mALX could not be compared to any of the tested noetbook.It completely crushes the competition and even the Area-51m could not catch outdistanced (by 82 %). the MSI S271 does not fight in this benchmark category.However, its integrated graphic solution, is based on ATI Radeon X300.this last result with more than four times superior than the msi s260.
sli go 7900gtx benchmark
If our test were primarily intended to see the behavior of Turion 64 of AMD, the occasion to test the SLI GeForce Go 7900 was too beautiful to be missed.Various measurements were done to have a small idea of what the mALX,notebook was capable.
all test result are in 1024x786 resultion
Return To Castle Wolfenstein:Enemy Territory
Unreal Tournament 2003
Return To Castle Wolfenstein:Enemy Territory and Unreal Tournament 2003.In a case as in the other, the passage from the GeForce Go 6800 to the SLI of GeForce Go 7900 is not justified at all in the measurement since borth video card are capable to provide playble frame rate in all resolution.The SLI obtain a substantial profit under Unreal Tournament 2003 .Before contuning with other tests, let us note that with Alienware Area-51m, the processor of the mALX seems to give a nice performances boost for the the graphic system .
Doom 3
Far CRy
half-life 2
Doom 3, Far Cry and Half-Life 2.The title/titre of id Software profits a lot from the sli graphic subsystem.The SLI makes performances increase by 24 % in 800x600 and 1280x1024 (+ 67 %). Half-Life 2 conduit to the same observations and the profit is definitely more consequent (+ 22,82 % in 1280x1024)
Doom3 fssa4x/aniso8
farcry fssa4x/aniso8
half-life 2 fssa4x/aniso8
The last stage of our graphic tests takes again the same software as the preceding one, but under appreciably different conditions since we activated here the options of antialiasing (4x) and the anisotropic filtering (8x).As we could suspect it, on Doom 3 these new parameters still the same the difference between GeForce Go 6800 and the SLI GeForce Go 7900:from + 67 % in 1280x1024 on our preceding tests, we pass now to + 107,58 %!Under Far Cry also, we feels the impact of the "advanced" functions, we passes from + 4,46 % to + 13,13 %. Lastly, Half-Life 2 show a little more than the results obtained under Doom 3.the passage from GeForce Go 6800 with the SLI GeForce Go 7900 is beneficial, but we observed a profit of 22,82 % in 1280x1024 in the preceding test.
the effectiveness of the SLI GeForce Go 7900 is true.It brings real profits over the single GeForce Go 6800.we put the resolution of up to 1280x1024, but Alienware mALX functions natively in 1680x1050, a resolution which will logically will make more variations in the gaming speed.the only regret is the processor choice of Alienware since clearly appears that on many tests, this last limit the graphic subsystem..
In the case of the Alienware mALX, we get a quite simply high equipment and graphic performances, but Turion 64 seems to be the principal limiting factor .Our second notebook,is the MSI S271, the notebook is well designed, cheap and very pleasant to use, but there still the Turion 64,and this time X2.
¶BatteryMark v4.0.1 (results in minutes)
Before commenting the results of chart obtained with BatteryMark,once again we specify that this software simulates a "nice" use of the machine. However, the results of the Turion processors are interesting in more than one way.It should be noted first that the integration of SLI GeForce Go 7900 and the screen 19 inches, Alienware mALX increases the result of Area-51m with almost 15 minutes.the machine has a low battery life (less than 90 minutes) and fortunately that Turion 64 consumes less energy than Pentium IV 560.
More interesting, the case of Turion 64 X2 integrated by MSI enables us to reconsider certain characteristics announced by AMD.With the launching of his new laptop cpu, amd had actually specified that new functions of energy saving .Thus, with the manner of INTEL on its Core duo, Turion 64 X2 is able to manage the deactivation of each core in an independent way.The HyperTransport bus can also pass with various states in order to save the battery these two elements make possible to reduce the power consumption of the processor .Thus in "full mode" Core Duo (31W) consumes a little less than one Turion 64 X2 (between 31W and 35W), this last takes again the advantage of each deactivatiob stage .The idle power (13,1W against 10W) with the major idle (1,8W against 0,85W), Turion 64 X2 seems to carry about the power each time.¶
In the absence of comparable portable Core Duo , we were obliged to get back this good old MSI S260 and his Pentium M 730.we turn BatteryMark during 147 minutes whereas S271 reached exactly 210 minutes.Knowing that MSI changed the chipset (exchanging the i915GM for an ATI Xpress 1150).S260 was equipped only with one battery 2200 mAh when S271 is provided with a model 4400 mAh.
Sound noise effects idle/full load (in dB)
mobile Turion 64 - noise effects
As always, we finish this double test of portables with a small noise test.the question of noise is particularly delicate,Measured using a sonometer the sound effects of the MSI S271 and Alienware mALX were compared with their predecessors, the MSI S260 and Alienware Area-51m.we can put that on the account that the video card are more developed ,more powerful, requires of course more power and then significant cooling .
the MSI S271 remained quite:data compression, photo editing or with DVD did not exceed the 40 dB.On the other hand, it quickly became noisy when 3DMark 05 was launched.Chipset ATI Xpress 1150 makes possible increase in the performances , but that was at the cost of the noise ( 46,6 dB, it is really noisy). the case of Alienware mALX which really does not remain a long time to 37,7 dB.The least under Word passes to 41 dB.The following stage is reached with the use of DVD ( close to 43 dB), finally the tests under 3DMark 05 to 45,8 dB.
Conclution
we arrived here to the conclusion .Since we had only few occasion to study the Turion 64 single core, we benefitted from this review to make it as comparaison , but the center of this article remains the new Turion 64 X2 that MSI decided to integrate into its new S271. finally, AMD could not make opposite to the famous Core Duo. Certainly, Turion is less expensive than its counterpart , but this is the only advantage witch it seems to have.Turion 64 X2 does not bring really any again and.However, it is not question of a bad processor:the performances are good with interesting energy saving option, but AMD do nothing there, it simply seems to follow the intel movement.¶
MSI proves to us however that Turion 64 X2 can be used as a basis for interesting laptop.Chipset ATI Xpress 1150 is indicated for less than 1500 euro.This S271 is not the most beautiful, neither the most powerful,but the laptop is pretty fast for office and daily task use
The mALX.After having impressed the world with models of 17 inches, Alienware decided to go further and its mALX is simply the most complete portable never considering… the question here that we speak about portable pc with seven kilos!However this laptop is successful with incredible equipment.Graphic solution and subsystem disc are powerful u can Plays (even largest current productions), applications 3d, with a superb screen 19 inches no probleme at all.,the only interrogation ithe price.






xtreview is your : Video card - cpu - memory - Hard drive - power supply unit source







we would be happy to answer for your question . if you have suggestion or comment regarding this review our support would be glad to help just join our forum and ask u will get the best answer
to discuss check our forum section :-)
RATE THIS REVIEW