By :video card review
Posted:2006-10-26






xtreview is your : Video card - cpu - memory - Hard drive - power supply unit source








Company ATI positions Radeon x1950 XTX as the most powerful today single video card. But, as it seems me, in the case with X1950 XTX it is not completely important, the most rapid or not… The matter in the fact that today the new card from ATI is the first video card, equipped with video memory of standard GDDR4. It is necessary to note that on Radeon x1950 XTX is installed slow GDDR4 frequency with acess time of 0.9 ns and frequency of 2000 MHz.

In addition to the new memory type in Radeon x1950 XTX is used completely new cooling system, producer ensure high efficiency with the small noise level in the comparison with the cooler Of radeon x1900 XT/XTX. . we will check in this review the peformance Of radeon x1950 XTX in comparison with its predecessor the radeon x1900 XTX, GeForce 7900 GTX and GeForce 7950 GX2.

Furthermore, in the last section of our today\'s review I propose to you to estimate on what depends the peformance Of radeon x1950 XTX . it is not secret, that video cards are often limited by the performance of central processor, The situation changed with the release of intel core 2 Duo processors , and here we will check how much impact will have the cpu clock freqeuncy in terms of high end video card performance.
1. Fastest Video card comparison ratings chart Technical characteristics radeon x1900 XTX, Radeon x1950 XTX, GeForce 7900 GTX and GeForce 7950 GX2
The characteristics of the lastest video card from ATI are below in the table in comparison with its predecessor radeon Of x1900 XTX, geForce 7900 GTX and fastest today video card on the chips NVIDIA – geForce 7950 GX2:
Designation and the technical characteristics
Radeon x1900 XTX
Radeon x1950 XTX
NVIDIA geForce 7900 GTX
NVIDIA geForce 7950 GX2
Graphic processor
R580
R580+
G71 (TSMC)
2 x Of g71 (TSMC)
Technical process, m
0.09
0.09 (low- k)
Area core GPU, sq. mm
352
196
2 X 196
Number of transistors, mln.
384
278
2 x 278
Frequency of graphic processor MHz
650 (500 in the 2d- mode)
650 (275 in the 2d- mode)
500
Frequency of video memory, MHz
1550 (1200 in the 2d- mode)
2000 (1200 in the 2d- mode)
1600
1200
Memory, Mb
512
512
512
2 x 512
Type of the memory
GDDR3
GDDR4
GDDR3
Memory brand width, Bit
256
Interface
PCI-Express x16
Number of pixel shader pipelines, units
48
24
48 (2 x 24)

Number of textural processors, units

16
24
48 (2 x 24)

Number of (ROPs), units

16
16
32 (2 x 16)

Number of shader apical pipelines, units

8
8
16 (2 x 8)
Support to the version Of pixel shaders/ vertex shaders
3.0/3.0
Brand width of video memory, Gb/s
~48.4
~64.0
~51.2
~38.4
Peak required power in 3d mode, W
~120
~85
< 143
Requirements for power unit , W
~500
~450
~ 500
Sizes of video card with standard design, mm. (D no-load condition)
205 x of 100 x 32
220 x of 100 x 31
205 x of 100 x 30
230 x of 100 x 38
Outputs
2 x DVI (Dual-Link), TV-Out, HDTV-Out, support VIVO
Recommended/retail * cost at the moment , US dollars
370
449
399
599
2.fastest single Video card ATI radeon x1950 XTX, special feature and the temperature conditions
Video card was given to us for testing ; therefore immediately let us pass to the description of video card, from its face side:
the first difference from its predecessor – radeon x1900 XTX, consists in the new cooling system . this one cover about the entire area in the face side of video card. From the right side of the original cooler was fixed a turbine with a diameter of 75 mm. its designation: to force the air flow into the radiator of cooling system and then eject it . Cooling system has two-slot.
The base of radiator and its center section are made from copper. Furthermore, in the construction of radiator is used thermal tube, which distributes heat flux from the central radiator to external aluminum:
In the place of contact between the radiator base and graphic processor there is a gray thermo-interface .Their is a protective Paste, which decreases the probability of damaging the chip during installation or removal of cooling system, present on the perimeter of chip. The Cooling fan speed varies depending on the temperature of chip and it is connected to the card by four-contact pin. About Its effectiveness we will check later on this review.
Video card it has the PCB odesign Of radeon x1900 XTX:
Copper is used also as radiator of the video memory:
The form with edges of this memory cooler must contribute to the more effective cooling of GDDR4 memory chips . Contact with the memory microcircuits is realized by eight soft thermo-padding, which ensure close contact with the chips .
On the back side it is possible to note the steel X- descriptive plate fromsuch cooling system:
The Video card is equipped with PCI-Express 16 interface and it has two digital (DVI- THE I) outputs and TV- out. here is visible the see the last video cooling part from where the hot air will be ejected.
Graphic processor In this video card is r580+ :
Chip functions at the frequency of 650 MHz in 3d and 500 MHz in 2d- mode. The number of pixel and vertex pipelines in comparison with X1900 XTX remained the same.
Video card is equipped with 8 memory microcircuits . a full 512 MB video memory using the standard GDDR4 from the production of samsung company, The memory chips are located only in the face side PCB:
The default memory access time is equal to 0.9 ns, which approximately corresponds to theoretical frequency of 2200 MHz; however, the real video memory frequency is somehow below and in 3d- mode it is equal to 2000 MHz (in 2d- mode 1200 MHz). The video memory chips are marked– K4U52324QE-BC09. Which is interesting, according to the reference on samsung page , today there is standard GDDR4 with access time of 0.7 ns and with frequency of 2800 (!) MHz.
As you already understood from the preliminary review, The essential differences between the new video card and Radeon x1900 XTX, is the use of GDDR4 memory which present higher frequency by 400 MHz and with new cooling system, lets check its effectiveness :
For this was used loop of test from 3 d mark 2006 test is firefly forest with the activation of atialising 4x and anisotropic filtration was set to level 16x. As a result using closed case was obtained the following temperature for ATI radeon x1950 XTX: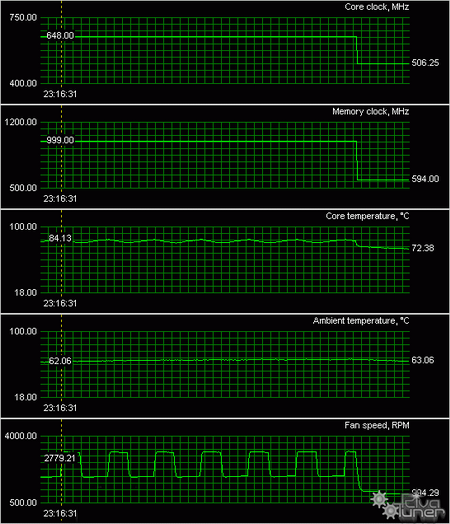 Maximum 84 degree Celsiuss in the loading peak is reached practically immediately after the second run of this benchmark, and then the video card cooling fan increases its RPM and this rapidly reduces the temperature (characteristic are visible on the monitoring graph ). Higher temperature has been not overserved.
Unfortunately, changes in the rotation speed of fan are audible .the fan becaume noisy when the system switch to 3d load regime.the fan speed could be inreased the video card becaume cooler in 3 d regime but the noise level in this case will be very high.,in any case it is lower than in the fan Of radeon x1900 XTX. You can see in this case how the temperature of graphic processor was substantially is reduced in case of high rpm fan: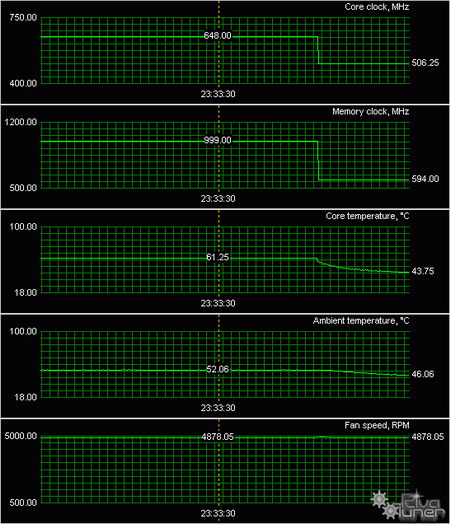 Unfortunately, overclocking capability of this video card proved to be sufficiently mediocre. Graphic processor without a increase in the default vcore(1.45 V) stably functioned only at 680 MHz (+30 MHz to the default frequency), and video memory it was possible to clock up to 2200 MHz,.
3. Fastest Video card comparison ratings chart test Configuration and testing procedure
Testing the video card radeon x1950 XTX and its today\'s competitors was done in closed system unit case with the following configurations:
Motherboards:

ABIT AN8 SLI (nForce 4 SLI), socket 939, Bios v.2.0;
ASUSTek P5B Of deluxe/ wiFi-AP (Intel p965), LGA 775, Bios 0711;

Processors:

AMD athlon 64 3000+, 1800 MHz, 1.40 V, L2 512 Kb, Cool&Quiet disable, (Venice, E6).
Intel core 2 Duo e6300 1866 MHz, 266 x 4 MHz FSB, L2 2 x 1024 Kb, SL9SA malay, (Allendale, B2);

Cooling system CPU: Thermaltake big typhoon Of noctua NF-S12 120- mm fan (~800 RPM, ~7 dBA);
Thermo-interface: Zalman CSL850;
Working Memory:

2 X 512 Mb DDR PC3200 corsair TWINXP1024-3200C2 (SPD: 400 MHz, are 2-2-2-5 1T);
2 x 512 Mb DDR2 PC5300 corsair CM2X512A-5400UL (SPD: 667 MHz, 4- 4- 4-12);

Hard Disk Drive: SATA- II 320 Gb, Seagate barracuda 7200.10 (3320620AS), 7200 RPM, 16 Mb, NCQ;
Case: ATX ASUS ASCOT 6AR 2 B black&Silver + blowing-in fan 120- mm + swiF 120 mm (~1200 RPM, ~24 dBA) + blowing out and side 120- mm fans (~1000 RPM, ~21 dBA);
Power Unit : MGE magnum 500 (500 W) + 80- mm fan glacialTech silentBlade (~1700 RPM, 19 dBA).
Monitor: LCD DELL 1800/1FP ultraSharp (1280x1024, DVI, 60 Hz).
All tests were Done under operating system Windows XP professional edition SP2. Drivers chipsets motherboards: NVIDIA nForce version 6.82 and Intel chipset dirvers version 8.1.1.1001. DirectX 9.0 (Update release – August 2006), and also video card drivers foreWare 91.47 and Catalyst 6.9.
Testing the performance of video card was done in two resolution: 1024 X 768 and 1280 x 1024 with the following setups:
"High qual" – driver set to " High Of quality", anisotropic filtration and antialising are switched off;
"High qual+AF16x+AA4x" – driver set to "High Of quality", anisotropic filtration in the level 16x, and antialising to 4x.
The activation of anisotropic filtration and antialising was set directly in the games setups . If the change of data in setups games was inaccessible, those change was executed from the drivers forceWare and Catalyst control panels. In games, which support technology HDR. Since video card from chips NVIDIA does not support operation HDR and FSAA, the testing was compared only of X1900 XTX and X1950 XTX. All optimization of anisotropic and trilinear filtration in the drivers was switched off. Catalyst A.I is deactivated.
To test the video card performance was used the following set of benchmark and games:
3DMark 2005 – build 1.2.0, resolution 1024 x 768, default settings;
3DMark 2006 – build 1.0.2, resolution 1280 x 1024, default settings;
Serious sam 2 (Direct 3d) – the version game 2.070, standard Demo- was recorded
Quake 4 (OpenGL) – game version 1.3.0 build 2393, with our own recorded demo
Call Of duty 2 (Direct 3d) – game version 1.3, textures setup are advanced on the level "extra",
The elder Of scrolls IV: Oblivion (Direct 3d) – game version 1.1.425, maximum quality, Bloom effects, distant rendering,
Tomb raider: Legend (Direct 3d) – game version 1.2, maximum quality, Next generation content = On,
Prey (OpenGL) – game version 1.1, maximum quality
Let us first of all, verify the performance of new card from ATI in comparison with its competitors.
4. performance Of radeon x1950 XTX in comparison with Radeon x1900 XTX, GeForce 7900 GTX and GeForce 7950 GX2
Testing all video cards in this section was done on the platform with the processor intel core of Duo, overclocked from the default 1.86 GHz to 3.4 GHz: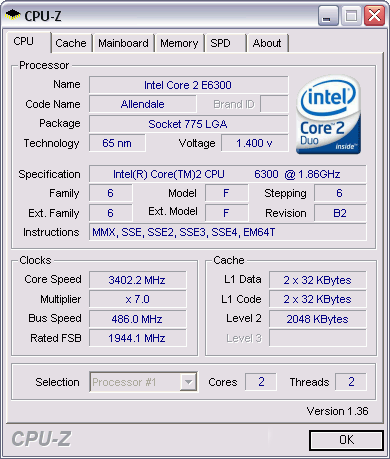 Since the overclocking Of radeon x1950 XTX proved to be unsuccessful (as Radeon x1900 XTX), the testing of video card performance was done on default frequencies. Similar situation occurred also with the overclocking Of geForce 7900 GTX. video card from production chaintech normally functioned only with the samll load on the graphic subsystem. when we activated antialising and anisotropic filtring, the video card immediately passe in safe mode (throttling), and the performance drop. And, which is interesting, That such issue occurred even on default frequencies, as a result the possibility of any overclocking was completely excluded. The replacement of system cooling did not help.
This do not metter since we have used another video card for this review :-).
It is not secret, that the overclocking capability of high end video cards (processors, memorye) is extremely low. This was confirmed today with attempts to overclock the radeon x1900/ 1950 XTX. Exception was the Hi-End graphic card GeForce 7950 GX2. As u know this card is based in pair of very popular overclockers card: geForce 7900 GT.the only card witch clocked normaly was the chaintech geForce 7950 GX2 .this last worked stably at 580/1600 MHz. Therefore in the benchmark result will only one overclocked card .
3DMark 2005
The geForce 7950 GX2 is the leader in this test, there is a minimum difference between Radeon x1900 XTX and 1950 XTX , which grow up only the moment when the texture filtring modes is activated. With the activation of anisotropic filtration and antialising the radeon x1950 XTX get a boost of 25% over its predecessor x1900 XTX and also practically reach the performance of geforce 7950 gx2 working at default frequency.Alas, but GeForce 7900 GTX in this benchmark can not do anything over the powerfull Radeon x1950 XTX and also X1900 XTX.
3DMark 2006
The same repeated situation, shown by the previous tests 3DMark 2005. The Radeon x1950 XTX is effective with the high load on video card. . Here the advantage Of x1950 XTX above X1900 XTX is in the order of 23%.
Before passing to the results analysis of gaming tests, it must be specified, that here special attention and focus will be for resolution 1280 X 1024 .
Serious sam 2
Situation is again repeated. insignificant Between last two ati radeon card (less than 10%) . the memory speed is critical for antialising and this cuold be seen especially with the comparison Of radeon x1900 XTX and X1950 XTX. In resolution 1280 X 1024 with the use of HDR average 38 frames per second was not comfortable for game play using Radeon x1900 XTX , and here X1950 XTX with its 53.2 FPS completely solve the problem.
GeForce 7900 GTX in the comparison with Radeon x1900 XTX appears to be more powerfull, and if we add the noise level of their cooling systems , then the latter practically does not have chances.
Quake 4
The first surprise in the comparison plan with the performance Of geForce 7950 GX2 and Radeon x1950 XTX was presented Quake 4. One year after release this game stopped to make serious load for top end graphical solutions, since even in the most qualitative mode and using resolution of 1280 X 1024 average frame -rate does not descend below 100. In this case Radeon x1900 XTX is capable to compete not only with GeForce 7900 GTX, but also with most powerful video card from NVIDIA chips , and for sure here X1950 XTX without problems beat both.
Call Of duty 2
Popular game shooter make favor to the architecture of video card on chips ATI, since that GeForce 7900 GTX ,GeForce 7950 GX2 here are out of competition even with overclocking. The advantage of the new x1950 XTX above its predecessor in this game depend on the test mode and resolution. varies from 10 to 40%. .
The elder Of scrolls IV: Oblivion
In the Default working frequency video card geForce 7950 GX2 continues to lose, taking revenge only in the heaviest available video card mode. But with overclocking this last video card simply creates miracles, leaving behind all rivals.
The difference in the performance between Radeon x1900 XTX and X1950 XTX is maximum in the resolution 1280 X 1024 with the activated HDR and it reaches 19.4%. In this case average frame -rate was low.
Tomb raider: Legend
GeForce 7950 GX2 does not leave chances to both video cards on ATI chips . Unconditional victory. In turn GeForce 7900 GTX is on the equal fights with Radeon x1900 XTX,
Returning to the comparison Of radeon x1900 XTX and X1950 XTX, it is possible to note 16% advantage of the latter depending on the quality and the utilized resolution.
Prey
Prey test show similar result as in tomb raider legend with exception that the difference between radeon video card is less here.
going up the end of this review section, it is possible to make following conclusions. The difference in performance between radeon x1900 XTX and X1950 XTX varies in the minimum from some frames per second, to an impressing 40% in high resolution modes. The increased frequency of video memory, as we would expect, brings its nice boost with the activation of anialising together with anisotropic filtring or HDR technology .
But in the case of selection between top end video card (between Radeon x1950 XTX and GeForce 7950 GX2), then it is necessary to focus attention on the following . Video card on NVIDIA chips is faster in both synthetic benchmark, in games serious sam 2, tomb raider: Legend and Prey. Hi-End card from ATI from leads into Quake 4 (do not be surprised), Call Of duty 2 and elder Of scrolls IV: Oblivion. Furthermore, it is possible to switch HDR with full antialising . Radeon x1950 XTX is in average cheaper than GeForce 7950 GX2,
But there witch the ati card there is no good overclocking capability. the answer is easy if u look for maximum performance and overclocking go with nvidia
5. Radeon x1950 XTX Performance vs Cpu clock/performance
In this section I propose a small analysis of Radeon Of x1950 XTX testing results on two platforms with the processors AMD and Intel. The first one Athlon 64 3000+ in two regime work: in the default frequency 1800 MHz (DDR 400 MHz, 2-2-2-8_1T) and with its maximum overclocking into 2850 MHz (DDR 510 MHz, 2.5-3- 4-8_1T).
On the platform with the intel processor , because of the high overclocking potential Of intel core 2 Duo e6300, the test was executed in three clock frequency: 1) the default rating 1866 MHz (DDR2 888 MHz), 2) with small overclocking step into ~500 mHz to the frequency into 2400 MHz. Then to 2900 MHz and finally to 3400 MHz
3DMark 2005
In both testing modes is observed practically the identical tendency of rise in performance for radeon x1950 XTX with increase cpu clock freqeuncy . The overcloked Athlon 64 is located between Intel core 2 Duo in the default rating and with its overclocked version by 500 MHz. Also it would be desirable to note the sharp increase in the benchmark result with the maximum overclocking of this processor,.
3DMark 2006
Sufficiently interestingly appear the results of test 3DMark 2006. Here the overclocked athlon 64 does not succeed to get the score of Intel core 2 Duo in its default frequency but this is completly clear since this benchmark use cpu score in the final result .so core 2 duo get double cpu score result
Now let us look to the testing results from real games.
Serious sam 2
In resolution 1024 X 768 Radeon x1950 XTX by strongly depond on the cpu speed . Increasing the resolution to 1280 X 1024, the video card performance depandency is reduced, but it still present even with the use of antialising . focus attention on minimum FPS: The maximum overclocking of intel core 2 duo give nice boost in the minimum FPS , this tendency will be observed, also, in some of the following games.
Quake 4
Quake 4 clearly demonstrates the effectively realized support of dual core processors. The frequency Of AMD athlon 64 practically 1 GHz exceeds the default frequency Of intel core 2 Duo e6300, and the performance is identical. With Intel a increase in the performance Of x1950 XTX in this game is very essential even in the quality graphic mod and resolution 1280 X 1024.
Call Of duty 2
The sharp jump in the perfomance Of radeon x1950 XTX can be observed in the resolution 1024 X 768 after the transfer from overclocked AMD athlon 64 to Intel core 2 Duo, but with the use of antialising and anisotropic filtring in the resolution 1280 X 1024 differences in the performance it a lot lower.
The elder Of scrolls IV: Oblivion
The elder Of scrolls IV: Oblivion, perhaps, show the minimal performance scale ratio for all game, even for Hi-End video card radeon x1950 XTX. A increase in the performance brings only the acceleration Of athlon 64, and on platform Core 2 Duo difference is equal to zero.
Tomb raider: Legend
Maximally demanding in the performance of graphic subsystem tomb raider: Legend is interested in the cpu power only in resolution 1024 X 768, and even here the difference is small. In resolution 1280 X 1024 and with maximal quality mode radeon x1950 XTX show equal performance, with all cpu used .
Prey
Radeon x1950 XTX in the game prey meet the fastest processor, but if you decide to use quality modes (which is completely regular, taking into account high performance of video card), then consider that in these modes , resolution 1280 x 1024 differences between Intel core 2 Duo e6300 in the default rating with the overclocked version up to ~1.5 gHz higher compose less than 8 frame per econd - from 58 to 66.
So the question is :Is it necessary for Radeon x1950 XTX to get processor? the answer is Yes , certainly.The performance is not a lot in some game but If we consider the resolution 1024x768 so the processor play big in the video card performance.in higher resolution the result is lower.but in any case any overclocked core 2 duo will do the job well .
Conclusion
The radeon x1950 XTX proved to be successful. The new memory GDDR4, which functions at 2000 MHz, makes possible for X1950 XTX to beat not only its predecessor radeon x1900 XTX, but in some games and benchmark the geForce 7950 GX2. New cooling system style works more quietly, also, in this case more effective than in Radeon x1900 XTX. Recommended price into 449 US dollars, and there is a price drop expected after the release of geForce 8800 GTX . The Radeon x1950 XTX remained as a weak overclocker with high heat emission.
However, as far as performance of radeon x1950 XTX is concerned, here as shown in previous charts .if we use low resoltuion so the cpu play big role in the gaming performance .using higher resolution is also cpu depondant . But with the use of high filtring option the expensive cpu will not play big role . The good old rool remain for new games, First get powerfull video card, then get more memory and finally faster cpu. :-)






xtreview is your : Video card - cpu - memory - Hard drive - power supply unit source







we would be happy to answer for your question . if you have suggestion or comment regarding this review our support would be glad to help just join our forum and ask u will get the best answer
to discuss check our forum section :-)
RATE THIS REVIEW