By :video card review
Posted:2006-11-07






xtreview is your : Video card - cpu - memory - Hard drive - power supply unit source







If today overclockers would select video card on the upper limit of $180-200, then, I think that majority of us will select video card GeForce 7600 GT with the 256 Mb memory. The enormous assortment of such video card on the retail market, version with the standard and high frequencies, different assemblies and cooling system, different overclocking potential and the sufficiently simple in the realization pencil voltmod – all this will draw the attention of potential buyers .
Company ATI did not rapidly tried to fight the GeForce 7600 GT video card with radeon x1800 GTO; however, it has to become the rival Of geForce 7600 GT. And matter here is not in the performance, but in the fact that Radeon x1800 GTO was located (and now it is located) in other price range.
Finally, after the completely successful annoucement of RV570 (Radeon x1950 pro) was time to release a new graphic chip RV560 and video card on its basis, named Radeon x1650 XT. Already it is evident on the annoucement that ATI will not repeat its errors with the release of radeon x1600 XT, when recommended price was 249 ($) US dollars (then lowered to 199, but today similar video card with the memory capacity of 256 Mb can be buyed with not more than 150 US dollars). The recommended price Of radeon x1650 XT will be only $149, and, most likely, barrier into 200 US dollars, even taking into account salesmen the video card, Radeon X1650 XT will hardly step over.
How successful did prove to be new graphical solution? Will Radeon x1650 XT be able to compete with the geForce 7600 GT? how cool work this card? Answers to these and some other questions you will find in today\'s review.
1. Technical characteristics ATI radeon x1650 XT and NVIDIA geForce 7600 GT
The characteristics of card from ATI are below in the table in comparison with its competitor from – NVIDIA geForce 7600 GT:
ATI radeon x1650 XT
NVIDIA geForce 7600 GT
Designation of the graphic processor
RV560
G73 (TSMC)
Technical process, ma
0.08
0.09
Area of core, sq. mm
270
127
Number of transistors, millions.
N/d
177
Operating frequencies of graphic processors, MHz
600
560
Operating frequencies of video memory, MHz
1400
Memory capacity, Mb
256, 512
Memory type
GDDR3
Brandwidth of memory
128 bit
Interface
PCI-Express x16/ AGP

Number pixel shader pipelines,

24
12
Number of textural processors,
8
12
Number vertex pipelines,
8
shch
Supported version : pixel shaders/vertex shaders
3.0/3.0
Theoretical sampling textures, Mtex./s
~7130
~6720
Brandwidth memory, Gb/s
~ 21.7
~22.4
Peak required power in 3d mode, W
N/d
< 40
Requirements for the power supply unit, W
~350
~350 (400 for SLI)
Sizes video card standard design, mm.
130 X 100 X 25
170 x 100 x 15
Out
2 x DVI (Dual-Link), TV-Out, HDTV-Out, support VIVO
Additionally
support technology crossFire
support SLI mode
Recommended | retail cost video card at the moment , US dollars
149 | N/d
139 | ~155 *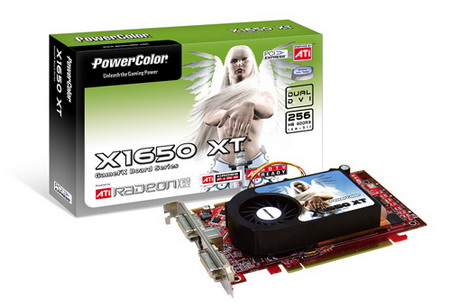 2. Video card powerColor radeon x1650 XT 256 Mb, its special feature and temperature conditions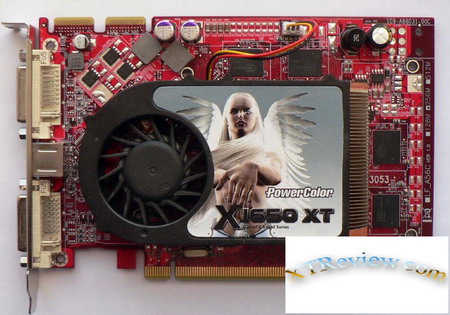 The height and width of cooling system is equal to 25 mm., this must not prevent the installation of additional PCI- slot in the motherboard.There is no supplemental power connector on the video card , since its power consumption is small. Two bridge on the upper part of the card (the same, as in the reviewd earlier x1950 pro) are intended for the association of video card in the mode crossFire.
Video card is equipped with PCI-Express x16 interface and it has two digital outputs (Dual-Link with the support of high resolutions) and TV- out: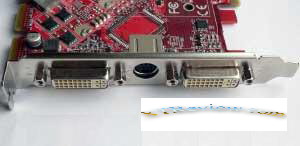 Who alwais check our news section already knows for sure , that Radeon x1650 XT will be released also with the interface AGP.
Here is how look the back side of this video card :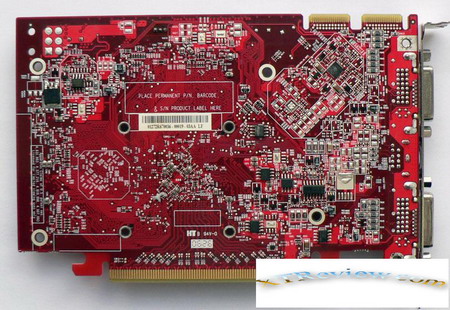 The card appears as the follows without the cooling system:
All 4 video memory chips are located in the face side. The capacity of video memory composes 256 Mb, but to Radeon x1650 XT it is possible to install even 512 Mb of memories.
Cooling system of this video card is copper plate. :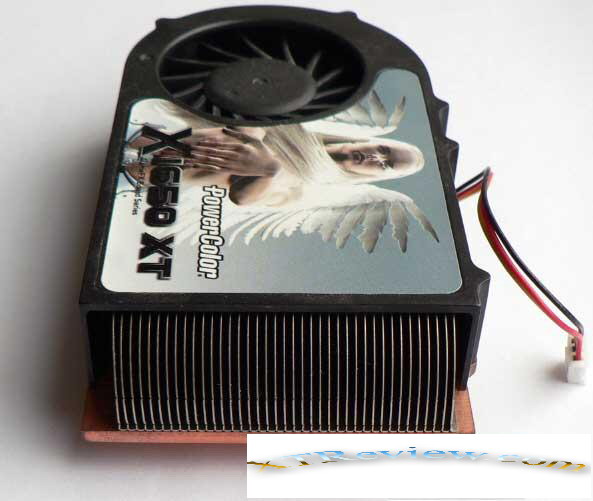 During work the fan does not change its rpms and it works perceptibly loudly. Taking into account the low energy consumption and heat generated by the video card the fan is noisy.
The thermo-paste with white color is applied as the thermo-interface between the graphic chip and the base of the cooling system radiator :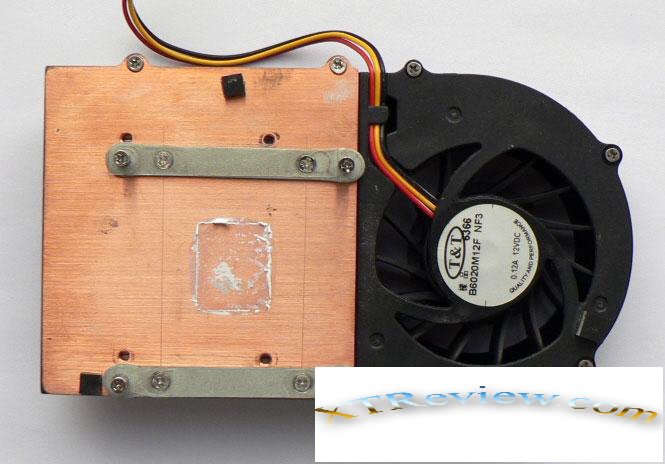 Cooling unit it is fixed with four screws on the perimeter of chip. Two bond are intended to prevent scratching the graphic processor, since the latter does not have the protective area.
Graphic processor OF this video card is the RV560 XT it is released in Taiwan in 27- week of the present year: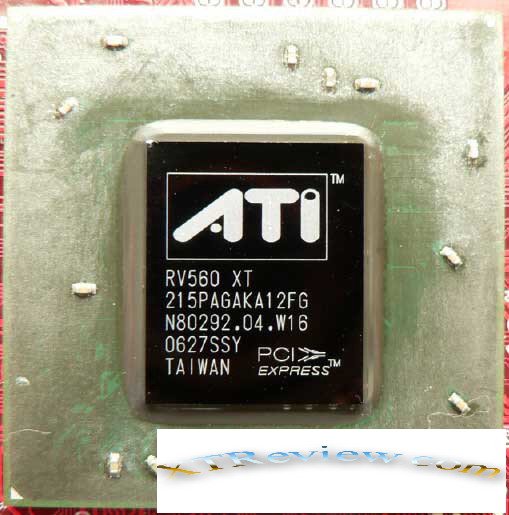 Chip functions at the frequency of 594 MHz (600 MHz according to the characteristics), this last is identical in both 3d and 2d- mode. The number of pixel and vertex shader pipelines is equal to 24 and 8, respectively.
Video card is equipped with 4 memory microcircuits with the standard GDDR3 from production of infineon company with the default access time of 1.4 ns: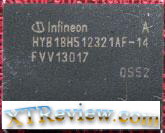 The frequency of video memory card is 1390 MHz with declared according to the technical characteristics as 1400 MHz. Designation of chips memory is – HYB18H512321AF-14. Unfortunately, the memory bus width is equal to 128 Bit and this strongly limits the performance of this video card. From other side, 256- bit memory bus would require more expensive PCB and in the final analysis Radeon x1650 XT would not fall into the price segment which it was intended for.
Overclocking the radeon x1650 XT have almost the same problems as overclocking the radeon x1950 pro. Unfortunately, in the case of PowerColor radeon x1650 XT we could overclock the graphic processor and also the video card memory :-(. I hope, with the appearance of series products on the chip RV560 we finally will be able to overclock the potential of new video card.
Now time to check the temperature conditions of this examined video card. For this was used a the test Of firefly forest from the synthetic graphic benchmark 3DMark 2006 with the utilization of anisotropic filtration in the level 16x (without the full screen antiliasing). The result gooten was in close case system unit at room temperature in 18 degree Celsiuss:
70 degrees on GPU and 49 ambiant temperature according to the card – is this a lot for this small 0.08 m chip and video card working at the default frequencies? In my view, it is too much. is the cooling system of video card does not possess proper efficiency? Let us check this, after replacing the default cooler by Zalman VF900- Cu LED in silent operating mode to ~1650 RPM:
The temperature of graphic processor was lowerd by 10 degree Celsiuss, while the ambiant temperature becaume even higher
3. Test and benchmark radeon x1650xt vs 7600gt
ATI recommended the cost for radeon x1650 XT at 149 US dollars as direct competitor became NVIDIA geForce 7600 GT 256 Mb from the production of company SYSCONN. The video card was tested with both : at the default frequencies 560/1400 MHz and with the overclocked version 680/1580 MHz (using the negative geometric delta unit GPU to 90 MHz).
Testing video card radeon x1650 XT and its today\'s competitor was done in closed casing system unit :
Motherboard: ASUSTek P5B deluxe/ wiFi-AP (Intel p965), LGA 775, Bios 0711;
Processor: Intel core 2 Duo e6300 1866 MHz, 266 x 4 MHz FSB, L2 2 x 1024 Kb, SL9SA malay, (Allendale, B2);
Cooling system CPU: Thermaltake big typhoon + noctua NF-S12 120- mm fan (~800 RPM, ~7 dBA);
Thermo-interface: Zalman CSL850;
Memory: 2 x 1024 Mb DDR2 PC6400 corsair CM2X1024-6400C4 (SPD: 800 MHz, 4- 4- 4-12);
Disk subsystem: SATA- II 320 Gb, Seagate barracuda 7200.10 (3320620AS), 7200 RPM, 16 Mb, NCQ;
Case: ATX ASUS ASCOT 6AR is 2nd B black&Silver + fan blowing-in 120- mm + one fan blowing out 120- mm
Power supply unit: MGE magnum 500 (500 W) + 80- mm fan glacialTech silentBlade (~1700 RPM, 19 dBA).
Monitor: LCD DELL 1800/1FP ultraSharp (1280x1024, DVI, 60 Hz).
The processor intel core 2 Duo e6300 with an increase in the voltage to 1.5 V was overclocked to 3450 MHz. memory functioned at the frequency of 986 MHz with latency 4- 4- 4-12.
All tests were done in operating system Windows XP professional edition SP2. Drivers for motherboard chipset was intel chipset dirvers version 8.1.1.1001. Were used the libraries directX of 9.0c (release date– August of 2006), and also video card drivers forceWare 91.47 and Catalyst of 6.10 beta.
Testing the performance of video card was in two resolutions: 1024 X 768 and 1280 x 1024 with the following setups :
"High qual" – in the setup driver to "High quality", anisotropic filtration and full screen antilailiasing are switched off;
"High qual+AF16x+AA4x" – in the setup driver to "High quality", anisotropic filtration in the level of 16x, and full screen antilailiasing at the degree of 4x.
The activation of anisotropic filtration and full screen antilailiasing was made directly in the games setups . If the change of those data in the game setups was inaccessible, their change was made from the drivers control panels forceWare and Catalyst. All optimization of anisotropic and trilinear filtration in the drivers was switched off. Catalyst A.I is deactivated.
To test the performance of those video card was used the following set of synthetic benchmarks and games:
3DMark 2005 – build 1.2.0, resolution 1024 x 768, default settings;
3DMark of 2006 – build 1.0.2, resolution 1280 x 1024, default settings;
Serious sam 2 (Direct 3d) – game version 2.070, standard demo- r
Quake 4 (OpenGL) – game version 1.3.0 build 2393, we created our own demo
Call Of duty 2 (Direct 3d) – game version 1.3, setup of textures are displayed on the level Of extra, custum demo
F.E.A.R. – first encounter Of assault recon (Direct 3d) – game version 1.04, the built-in benchmark, all graphique settings during the testing are set to the Maximum, Soft shadows = On;
The elder Of scrolls IV: Oblivion (Direct 3d) – game version 1.1.425, maximum quality, Bloom effects, distant rendering
Tomb raider: Legend (Direct 3d) – game version 1.2, maximum quality, Next generation content = On,
Prey (OpenGL) – game version 1.1, maximum quality,custum demo
4. Performance of ATI radeon x1650 XT in comparison with NVIDIA geForce 7600 GT
The test results of Radeon x1650 XT are noted by red bars, NVIDIA green.
3DMark 2005 & 3DMark 2006
In both synthetic benchmarks leads Radeon x1650 XT. The overclocking help GeForce 7600 GT to outdistance today\'s competitor only into 3DMark 2006, and in the last year\'s version of this benchmark has the advantage of new ATI cards.
Serious sam 2
Sufficiently interestingly was situation with Serious sam 2. the graphic quality Of radeon x1650 XT was superior than its competitor in both resolutions. The overclocking Of geForce 7600 GT allow this last to only approach the potential of its competitor on the market. when we activate full screen antilailiasing and anisotropic filtration, Radeon x1650 XT to loose over the GeForce 7600 GT. in any case borth card in this case presented a poor frame rate and the game could not be played with such settings.
Quake 4
Different results demonstrates the Radeon x1650 XT in Quake 4. In all graphic modes used this last video card proves to be faster than GeForce 7600 GT. The overclocking of the latter does not correct the situation. Taking into account that Radeon x1950 pro (RV570) also win over its competitor in this game so we could affirm that Quake 4 run faster on the new chips from ATI.
Call Of duty 2
The performance of new video card from ati is higher the GeForce 7600 GT, and overclocking this last permits to it only to be equalized with the performance of Radeon x1650 XT in resolution 1280 X 1024 with the utilization of full screen antilailiasing and anisotropic filtration. in any case it is necessary to note that comfortable frame rate from the tested today cards is possible only in resolution 1024 X 768 without any graphic filtration.
F.E.A.R.
And again The Radeon x1650 XT leads. Overclocking the geForce 7600 GT makes possible to outdistance its competitor, but without overclocking advantage again is on the side of ATI.
The elder Of scrolls IV: Oblivion
Slide elder Of scrolls IV: Oblivion.this game was always more favorably related to the architecture of ATI chips . Radeon x1650 XT left behind its competitor in three test modes from four. The overclocking Of geForce 7600 GT makes possible to return the leadership in the quality modes for nvidia card. As a whole average frame rate still very low in this game, the owners Of Radeon x1650 XT and GeForce 7600 GT will not benefit from quality modes in this game .
Tomb raider: Legend
The first and single game from the tested today\'s , where Radeon x1650 XT and GeForce 7600 GT are in equality. The game is a bit faster on NVIDIA video card chip , but difference is so small,. the geForce 7600 GT overclocking give the required boost to give the finnal lead to nvidia card and such result was for sure expected
Prey
And Finally the last game , where GeForce 7600 GT unconditionally leads. Moreover the 7600gt look a lot faster than the Radeon x1650 XT . it look like ati should work in fix for this game.
Conclusion
At last with the second attempt ATI was possible to release for us a competitor for the GeForce 7600 GT. To make conclusion sufficiently complicated, first the video card from NVIDIA proved to be successful in the plan of performance with the last cost decrease. . Ati have a success with the new card radeon x1650 XT – and this last have the advantage in the majotity of game .
However, as far as overclocking is concerned , any attempt to overclock the ati chip result in freeze. . It remains to hope that the problems Of overclocking the radeon x1650 XT will be solved then we could fully make a finnal conclusion






xtreview is your : Video card - cpu - memory - Hard drive - power supply unit source







we would be happy to answer for your question . if you have suggestion or comment regarding this review our support would be glad to help just join our forum and ask u will get the best answer
to discuss check our forum section :-)
RATE THIS REVIEW