By :mini pc review
Posted:2006-12-23






xtreview is your : Video card - cpu - memory - Hard drive - power supply unit source







Shuttle generally does not miss the ideas to update his ranges of small machines : True pioneer the Mini-PC, . Taiwanese spent these last months to find the best cpu for their small powerfull computer. Since the arrival of Core architecture made a small revolution, then Shuttle quite naturally will go with to propose to us in this end of year 2006 two rather remarkable products : The Shuttle X100 and P2 3700G witch have radically different objectives and will becaume the principal of our today review.
General presentation
The two new machines from Shuttle exploit the Core architecture INTEL, they do it in an appreciably different way. This last does not have the same objectives for its two computer and before entering in specification and deference, it is important to quickly present X100 and P2 3700G so u will have a vision as clear as possible. Let us start with X100 a machine which is pretty remarquable particulary with regards to small PC. Shuttle actually decided to make hold the components which characterize a modern PC in a case A4 format a thickness of hardly more than five centimetres.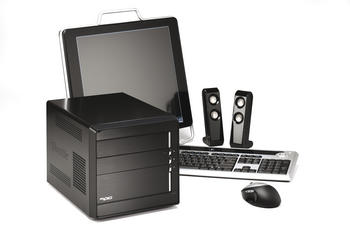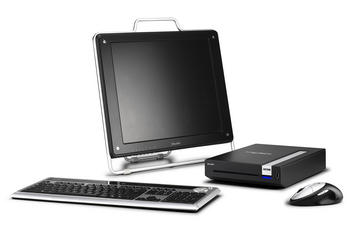 Shuttle integrated the main part of last technologies, even if it had to make some modification. PCI-express bus, memory DDR2 dual channel, hard disk SATA 250 GIG, Dual layer DVD,gigabit network … Shuttle did not forget large-thing, but was constrained to be limited on many points and thus the memory is only 512 MB when the graphics card is only one Radeon X1400. Such restrictions are obviously not with the program of P2 3700G ...

It is thus possible to choose the last Core 2 Quad-Core Extreme, to take a maximum of 4 GIG read-write memory or even to choose GeForce 7950 GX2… Finally only miss the graphic solutions most extreme containing Crossfire or GeForce 8800. The selection of components relatively vast, but is rather directed for gamers and makes possible for Shuttle to touch another public that aimed by X100. On a side we thus have a quite simply tiny machine intended to take seat in the living room or on the desk of a liberal profession, other we have a machine which one imagines well between the hands of player. Two ways of seeing Core INTEL, but which meet the same needs for miniaturization.

Shuttle X100
Processor
Core Duet T2050
Chipset
NorthBridge
INTEL 945PM
SouthBridge
INTEL ICH7-M
Memory
2x 256 Mo DDR2-533
Food
External 120 W
Functionality
Graph card
Mobility Radeon X1400
Audio (7.1)
Realtek ALC880
Network (1000)
Realtek 8110
FireWire
VIA VT6307
Front panel
Line/SPDIF
0/0
Microphone/Helmet
0/0
USB/1394
1/0
Back panel
RJ45/eSATA
1/1
VGA/SPDIF
1 DVI/1 (optics)
USB/1394
4/1 (6 pins)
Audio analog.
3
Extension Slots
1X PCI-E 16X (MXM)
1x mini PCI-E 1x
Placed
1x 5 " 1/4 slim
1x 3 " 1/2 (intern)
Card reader memory
4 in 1
Dimensions
210 X 296 X 55 mm
Weight
3,41 kg
Shuttle P2 3700G

Processor

Core 2 X6800 Extreme

Chipset

NorthBridge

INTEL 975X

SouthBridge

INTEL ICH7-R

Memory

4x 1024 DDR2-667

Food

Intern 400 W

Functionality

Graphic card

GeForce 7950GX2

Audio (7.1)

Realtek ALC882

Network (1000)

Broadcom BCM5789

FireWire

VIA VT6307

Front panel

Line/SPDIF

0/0

Microphone/Helmet

1/1

USB/1394

2/1 (4 pins)

Back panel

RJ45/eSATA

1/1

VGA/SPDIF

0/3 (2 opt., 1 coax.)

USB/1394

6/1 (6 pins)

Audio analog.

5

Extension Slots

1x PCI-E 16x
1x PCI-E 1x

Placed

1x 5 " 1/4
3x 3 " 1/2 (2 interns)

Card reader memory

22 into 1

Dimensions

325 X 220 X 210 mm

Weight

4,5 kg
We decided to begin the detailed study from the two Shuttle machines by leaning the case of X100. With this small box, which let us recall it is not larger than A4 paper, Shuttle proposes to us more than one Mini-PC. Shuttle however first preserve performances more than thanks to the right use of components.

The appearance of X100 is exemplary, the design is worked and the concern of detail feels on all levels. The button lighting is elegantly chrome, the card reader memory is very discreetly located just in lower part and the diode of powering is detached without being plugging. An imposing logo XPC throne on the higher part of the machine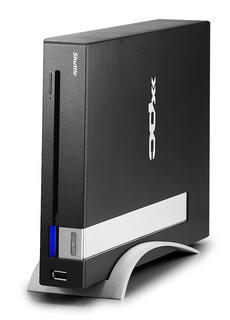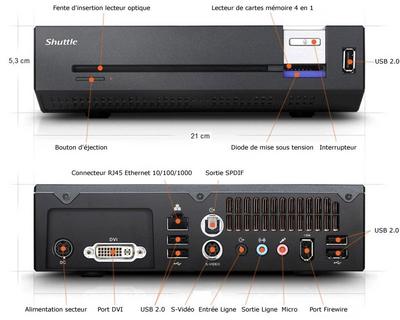 Shuttle side walls of the machine are completely uniform: On the back, things are obviously a little different since Shuttle was obliged to place all the connectors except for the port USB in fronte. Under the grid clearly intended for the ventilation of processor, we thus finds the main part of (USB, FireWire, audio, video…). we also locates a connector DVI (not exit VGA) and the presence of a single port RJ45.

Faithful to its reputation, Shuttle simplified to the maximum the opening of X100. Three small screws maintain the hole system inplace . If X100 occupies a volume more important than tiny Mac Mini, the density of components seems even more important on the machine Shuttle. It should be said that the latter employs components more succeeded and more modern than APPLE computer and by doing this Shuttle was obliged to think about the interior installation very careffuly.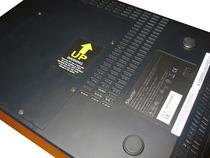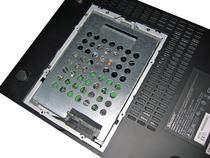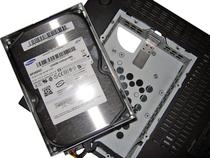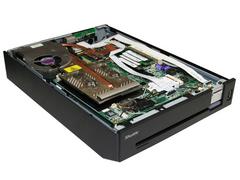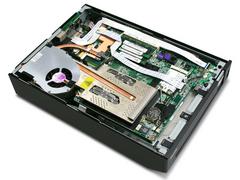 Inside Shuttle X100…
Three scrow are off and we can admire the motherboard of X100. She has the socket 479 with screw as on the portables computer to receive the processor (Core Duo T2050), There is two slots So-DIMM DDR2 (2 Gig maximum ), a port Mini PCI-Express BUs for WiFi module and a connector MXM loan to receive a graphics card. The other components are found more or less masked under cables and connectors which will not fail to impress a number of users. The hard disk and optical reader are under the motherboard. The hard disk is easily accessible via a trap door spared under X100, it will be on the other hand less easy to replace the dual layer DVD with the slim format .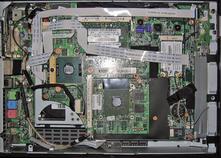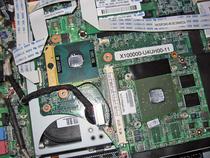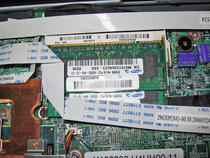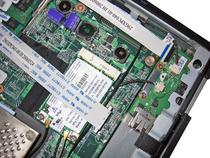 As you can see on our various photographs, X100 is a model of integration. we can not see the advantage of such a machine and not understand the objective sought by Shuttle, but it should be well recognized that in terms of assembly, completion and care was taken to the unit, the Taiwanese manufacturer justifies his reputation fully. Before discovering the performances and to check the quiet operation of the machine, it is necessary for us now to make a small turn on the side of P2 3700G .
The analysis of X100 being finished, it is now time to detail the other machine of our review, P2 3700G. The readers familiar with the SD37P2 will obviously not learn large-thing since to design of this machine Shuttle is based on this barebone with simply more or less powerful components. With our test machine , the manufacturer released a full powerfull machine since the total cost of the barebone and components installed clearly exceeds the bar of the 3000 euros… It is fortunately possible to stick with realistic components more and to leave side, for example, Core 2 Extreme;-)


Shuttle P2 3700G: Mini-PC
P2 3700G is incontestably an esthetic success. After some momentary mistakes, barebone SD37P2 joins again the lead with the success of Shuttle and if it is a little larger than some other Mini-PC (325 X 220 X 210 mm), it is among the most elegant. The latter use an integrate button of powering, a button of CD ejection and a hard disk LED . two stickers praising the merits of INTEL and NVIDIA are found on the front.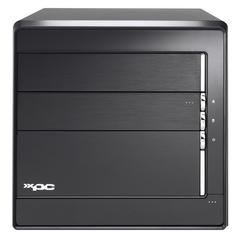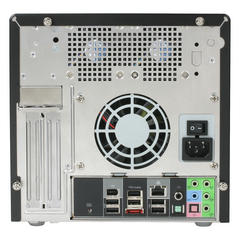 It will be of course possible to remove them, but taking into account the general completion of product, Shuttle did not need to affix similar markers.

The back of P2 3700G2 is very traditional and compensates for a little the weakness of connectors in the front. Thus Shuttle integrated six connectors USB in addition to one FireWire port, a eSATA, a compatible RJ45 gigabit, two connectors SPDIF (optical) and five analogical audio connectors. An optical entry is also of the video part: the chipset employed by Shuttle dont have an integrated graphic solution, it is the motherboard PCI-Express which will take care of the thing. we notices also the presence of three ventilators and two quite practical buttons: for the Power and the other for Clear CMOS. Lastly, four screws are there to enable us to open without effort the case.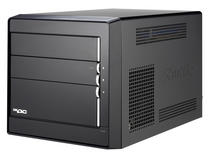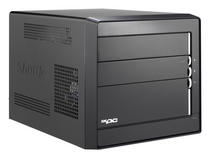 Inside Shuttle P2 3700G: Mini-PC…
The screws are off, it is possible now to look what P2 3700G delivers for us. If the appearance of the barebones Shuttle was somewhat advanced these last months, the manufacturer remained very wise with regard to the interior fitting. As you can see it on our various photographs, we thus finds The power unit (here 400 Watts) with middle height and with the top of it, two ventilators 60x60 mm to air the two ventilation area reserved for hard disks. The latter are easy to set up and on our product only one cable was occupied (by a model 400 GIG).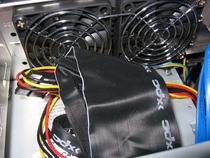 Under these Shuttle placed the dual layer DVD . Lastly, at the base of the machine the motherboard rests of course :-). She is based on the set of components 975X + ICH7R INTEL, a couple which already proved to be reliable for a long time, and proposes four memory slot. Those are certified only for DDR2-667 since the memory with 800 MHz does not form part of the official specifications of the chipset. A socket 775 is obviously with the menu and an imposing system of ventilation is part to calm the heats of Core 2 Extreme selected by Shuttle.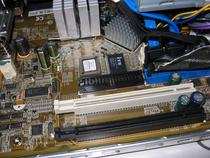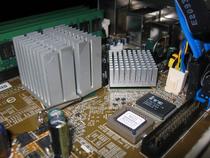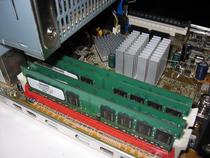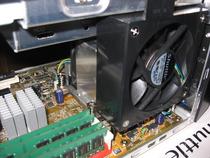 The Ventilation system does not have anything special really again since Shuttle uses the same one as in the first models of its series P. It thus acts with a large block of aluminum with base out of copper and four heat pipes to evacuate heat. Broad ventilation shaft is arranged inside the barebone so the heating processor does not contaminate other machine parts. the port PCI-Express 16x of our model was occupied by imposing GeForce 7950GX2 from NVIDIA, condemning the free port PCI-Express 1x at the same time. In fact, this configuration is perhaps not the best choice for a normal machine, but would be a booster for the performances of this mini pc…

Our test will bring the analysis of performances to check the good behavior on side of X100 and P2 3700G. In the case of X100, it will mainly act to test the processor whereas for P2 3700G, the graphics card at least has an equal importance.


Shuttle X100
SiSoft Sandra 2007
PC Mark 05
SiSoft Sandra 2007 and PC Mark 05 make possible to draw the very similar conclusions. The interface memory: with an attached FSB 533 MHz, is slightly in withdrawal, but makes possible despite everything Shuttle to propose a very powerful machine taking into account its volume. We are in the presence of a PC which will do the majority of current tasks, it will make good figure during work of light encoding/compression .


3D Mark 2005

The X100 does not aim clearly to the market of players and with an ATI Mobility Radeon X1400. This graphics card however makes possible to play very effectively all game in 2D and its management in 3D is sufficient for a little old titles. game more recent as Dungeon Sits 2 should not pose problems , but some graphic optimization will have then to be made.


Shuttle P2 3700G
SiSoft Sandra 2007

Equipped with Core 2 Extreme, P2 3700G was rather simple to compare since we tested this same processor only a few weeks ago. We thus put opposite the results of Shuttle those obtained on our machine of reference (motherboard Asus P5W-DH, but only 2 Gig of memory). We started with Sandra 2007 who gives us virtually identical values with a light advantage for our machine reference: the Shuttle does not seem to benefit from the same level of optimization as the motherboard Asus.


PC Mark 05

The Perfomance is close to the level of the test processor PC Mark 05. We are here over a small variation with hardly 1%, but, in a way enough surprising, it is the Shuttle P2 3700G which lead the memory test. we remains however on extremely weak variations which we cannot obviously call as representative.


3D Mark 06/Windows Encoder Media
The null match continues with the test of processor from the famous 3D Mark 06. We limited ourselves to this only test processor the purpose of which was to confirm the results of Sandra and PC Mark. The tests of the graphics card will be with traditional Doom 3 and Far Cry. Before arriving there, however let us look at the results obtained under Windows Media Encoder which still let appear a light advantage for the asus motherboard, but we remain once more on variations of less than 1%.


Doom 3/Far Cry
Doom 3 id Software confirms this proximity of the two configurations with a difference even weaker than the preceding tests. We are on the other hand in the incapacity to explain the result obtained under Far Cry. This time, the variation is much more Net, but there is not real reason. Since it is about the only accident during our gaming phases we were not able to feel anything, we will not take in account this variation.

Very heavily equipped, P2 3700G is able to compete with about any currently available machine. It deserves obviously the title of the most powerful Mini-PC in the world . we should not however lose sight of the fact that the 4 Gig read-write memory installed in Shuttle on our model of test do not have any justification if you use an operating system 32 bits and are useful only for one negligible minority of population.
If the rough performances are important in the case of P2 3700G, that has obviously less value for X100 which must on the other hand is much more effective when it is question of a thermal and noise management. . Accordingly the integration of Core duo and Core 2 duo is obviously one more good choise since the last processors from INTEL are known and recognized for their excellence on this sphere.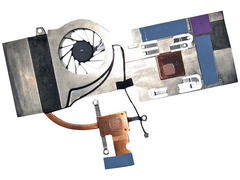 You can realize it by attentively looking to the photographs of our detailed analysis, Shuttle employed, to cool its X100, a system very close to those used on the portable computers. It is about a unit coppers/aluminum cut to cover at the same time the main frame and the graphics card.
This ventilator aspires the air from outside and sends it on the couple graphics processor/card and on the other hand on the hard disk. Alas, in this last case, the case is a little too small so the flow of air is really important, the hard disk tends to heat quickly regularly with temperatures limit (54°C - 55°C). A little higher, the temperature on the level of processor witch reaches in full load the 65°C: it is rather normal considering the size of the PC and is not really worrying.

Besides our graph makes possible to see that, even in idle, Core Duo T2050 heats quickly and then its stabilized around the 52°C. The increase in temperature in load is completely logical : a good point for Shuttle. In idle, the machine generates 37,4 dB, a very good score, but with full load, X100 proves a little noisier (40,2 dB)

Taking into account its orientation gamer, the sound harmful effects have less importance for P2 3700G which must on the other hand maintain a level of temperature correct in spite of the presence of a more powerful processor and advanced graphics card . Shuttle has done the job here rather well with a system ventilation which already proved reliable on Athlon 64 and makes possible to maintain Core 2 Extreme with less 50°C in all circumstances.

the ventilation of the graphics card and hard disk, often put this last no more than 48°C. . If we obtain values exceeding the 43 dB with full load (it is noisy), that comes especially from the graphics card: when the ventilator of the latter does not enter in action, we exceed hardly the 40 dB.


Question overclocking :-)
Last stage of our double review is the question of overclocking , it relates to the Shuttle P2 3700G since such practice is clearly not in the objectives of X100. Actually, it aims P2 3700G exclusively since Shuttle did not judge good to integrate the least option of overclocking into the BIOS of its Micro-PC. it does not have bios section to increase the FSB or change the multiplying coefficient. In the case of P2 3700G, the things are obviously more interesting, but despite everything we are disappointed by Shuttle which did not do many efforts about the last question.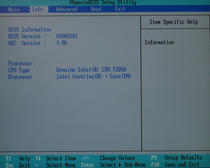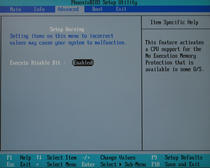 Above, the BIOS of X100 and below, that, otherwise more complete, of P2 3700G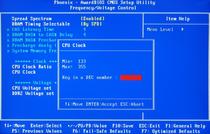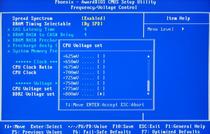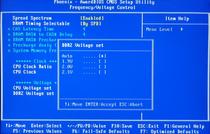 Rather complete: increase in the FSB up to 355 MHz, increase in the vcore processor up to +800 mV, increase in the memory voltage up to 2,1 volts. Lastly, the multiplying coefficient can be lowered until 6x, but in the facts, these adjustments do not have many incidences. Thus it was impossible to us to exceed the 304 MHz FSB. this limit is more especially as the INTEL 975 is known for its excellent aptitude for overclocking.… With such top-end-range Mini-PC, we would have expected better from Shuttle.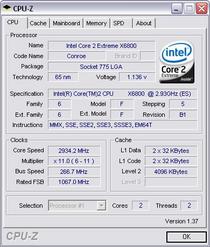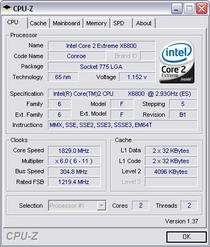 The very disappointing overclocking of P2 3700G illustrated by CPU-Z:
Conclusion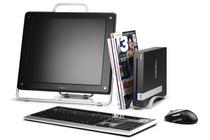 Undoubtedly expensive, the two last machines designed by Shuttle are obviously not addressed to Mister everyone. Each one in its register, they however integrate all technologies to satisfy the amateurs ready to authorize such expenditure. The style is worthy , the performances are overall good : it is undoubtedly about one of the best mini PC that we had seen.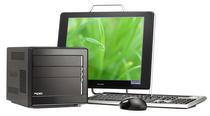 The Shuttle P2 3700G is a strong mini pc it is actually entirely configurable in order to correspond to the needs for all . Taking into account the orientation with the point of technology, we does not have to expect the machine first price, but by choosing better components it is possible to obtain a relatively accessible mini pc, very powerful machine and with the great design. In any case, we should not however forget that only the size of the used cases appreciably limit the upgrading capabilities.








xtreview is your : Video card - cpu - memory - Hard drive - power supply unit source







we would be happy to answer for your question . if you have suggestion or comment regarding this review our support would be glad to help just join our forum and ask u will get the best answer
to discuss check our forum section :-)
RATE THIS REVIEW