By :video card review
Posted:2006-12-28






xtreview is your : Video card - cpu - memory - Hard drive - power supply unit source







After the Release Of NVIDIA geForce 8800 GTX then after the first review and test of such video card, were have not only obtained answers to questions, to what extent the fastest video card in comparison with its todays competitors but also which temperature conditions and overclocking potential it have. But another question question still here is how will perfome this video card in directX 10.0 and new games and how the processor will impact the performance Of the geForce 8800 GTX?
1. Review Of sparkle caliber p880+ 768 Mb (NVIDIA geForce 8800 GTX)
We meet Sparkle caliber p880+ 768 Mb (NVIDIA geForce 8800 GTX):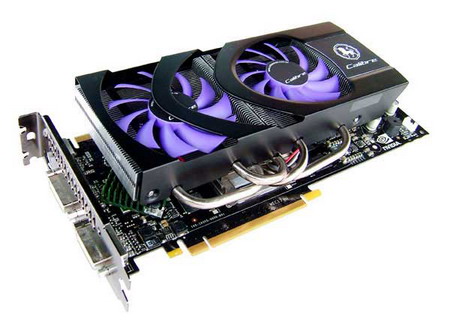 Unique in its kind video card is supplied in the cardboard box of original form.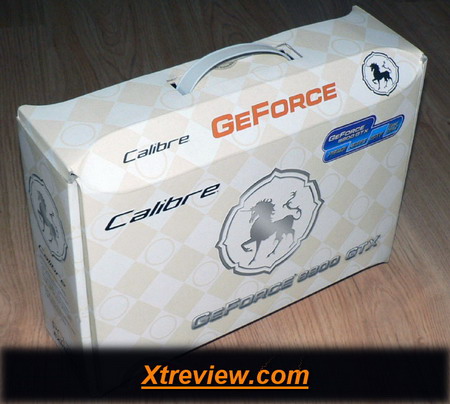 on the face side of box. is indicated: model video card, type and the volume of video memory, support HDTV and the number of those standardized pixel pipeline.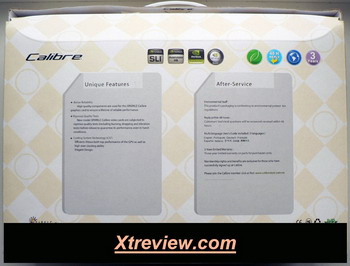 Besides the fact that is doubled from the face side, are here enumerated unique special features of video card and the three year guarantee.
Inside the packing in center section u will find the reliably fixed video card. Competent arrangement, which minimizes the possibility of damage with the transport. In the remaining sections of this insert the following accessories are located: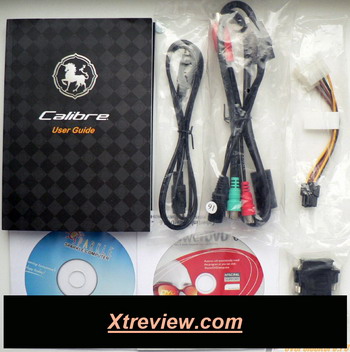 three book- user management in several languages;
cable S -Video;
adapter- fan-out for HDTV;
one cable for the connection of additional video card power ;
one 15 pin DVI/D -Sub adapter;
CD with the drivers of video card and software;
CD with the license version powerDVD .
There are no games in the delivery set. Software on the disk with the drivers (SmartInstall) has simple
Drivers on the disk are not new, the version forceWare 96.89, which, until now is supplied with majority video card NVIDIA geForce 8800 GTX.
Let us switch over to study video card sparkle caliber p880+: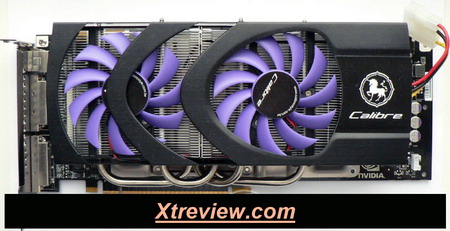 It is obvious that Sparkle installed in GeForce 8800 GTX the nonstandard cooling system, equipped with two fans.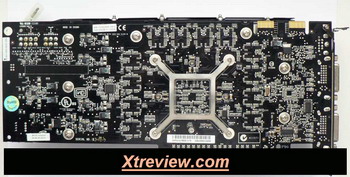 their is differences from the the reference geForce 8800 GTX .I will note only the presence of backplate that it is completely justified, since cooling system of video card is fixed only with 4 screws, but not 10 as in standard 8800 GTX.
The thickness of cooling system is more than 40- mm, which automatically makes inaccessible not only adjacent PCI- slot, but also following after it, since for the fans, which cool radiator, is necessary for fresh airflow:


Video card is equipped with PCI-Express x16 and it has two digital output (Dual-Link with the support of high resolutions), and also the TV- out:
We removed the cooling system and we see the following picture: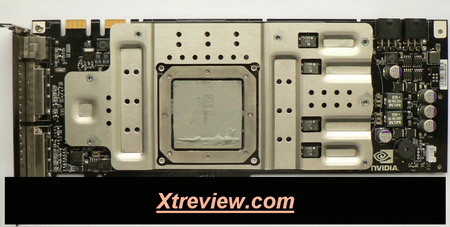 we first focused attention on the imprint of thermo-paste on the graphic processor. Approximately on 11-12 mm. from the lower part of heat-distributer GPU thermo-interface is absent, in this place it does not make contact with the basis of cooling system.
In the second place, the chips of video memory, microcircuit NVIO, and also other elements PCB, which require cooling, are closed with aluminum plate.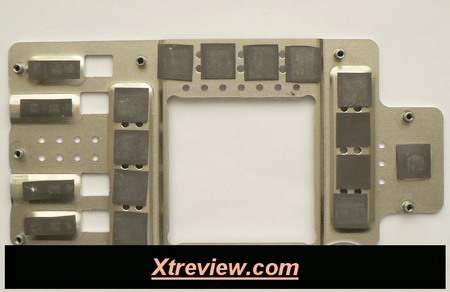 in this aluminum plate is drilled large number of ship, which, is most likely, made so that the air flow from the cooling-system fans would fall also on video card component, reducing thus its temperature.
GeForce 8800 GTX appears as follows with all cooling off:
Before us complete reference video card, without any changes or modifications. It is simple, since all card geForce 8800 GTX/GTS are produced at one plant.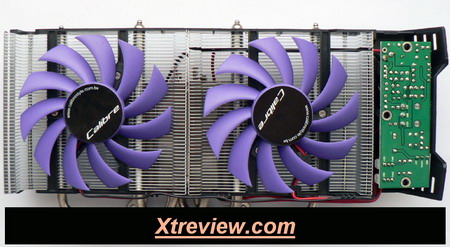 Two fans with size of 80- mm with 11 blades cool two parts of radiator, threaded on four copper plated thermal tubes, which leave from the copper and in addition to plated base in pairs: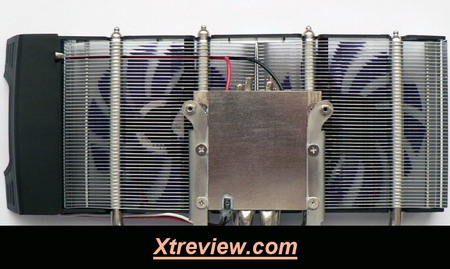 Two tubes from its lower part, and another pair of the upper. Peltiers element is located between the halves of base: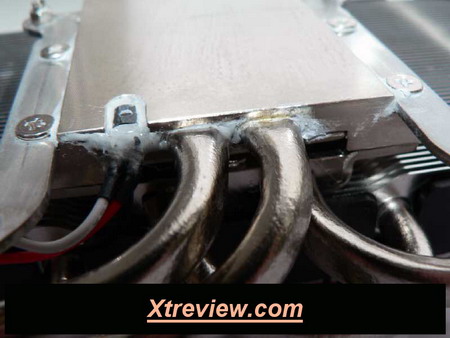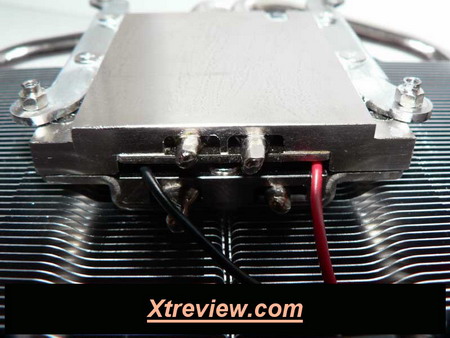 The same diagram of heat removal organization we already met earlier in the processor cooler titan amanda TEC;
Besides the diagram of power, capacitors and connectors there is the dynamic loudspeaker, which notifies user about the Peltiers element function :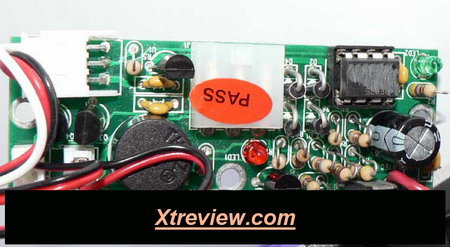 Unfortunately, producer does not indicate the frequency of the rotation speed for the cooling-system fans, since they get feed from the same card, then monitoring Riva tuner also does not reveal. in any case the two fans are noisy. As it was proved this is the only minus Of sparkle caliber p880+.
The graphic processor NVIDIA g80 revision A2 is released in Taiwan n 39 week of this year:
In spite of nonstandard cooling system, the frequency of graphic processor completely corresponds to the specifications geForce 8800 GTX and composes 575 MHz. In this case shader processors function at the frequency, more than two times exceeding it (1350 MHz).
Twelve microcircuits of the video memory with the standard GDDR3 from production samsung, have the default access time of 1.1 ns: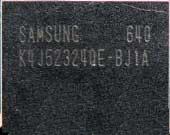 The default (effective) frequency of video memory composes 1800 MHz, and the width of exchange with video card memory is equal to 384 bits. Marking the microcircuits of – K4J52324QE-BJ 1a. The working frequencies of both video memory and graphic processor in 2d and 3d- regimes are identical.
Besides this video card is equipped with one microcircuit, which is located in the left side of the card :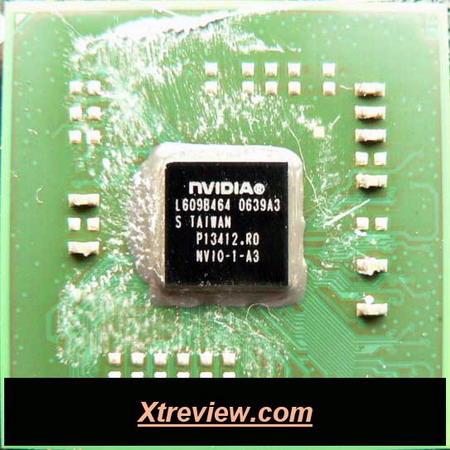 In this chip, to reduce the high-frequency blocks shader from GPU, are placed the TMDS- transmitters and RAMDAC, and also through the thermo-padding contacts with the aluminum plate in the base of cooler The chip has the revision a3 is released by n 39 week of the present year.
Now I propose to verify the temperature conditions Of sparkle caliber p880+ and to estimate to what is capable this so original cooling system. For this traditionally was used the test firefly forest from the synthetic graphic benchmark 3DMark 2006 with the use of anisotropic filtration of level 16x (without the activation of full screen antialising). Room temperature during the test was 24 degree Celsiuss. Enclosed casing. Were as a result obtained the following temperature Of sparkle caliber p880+, that works at default setting: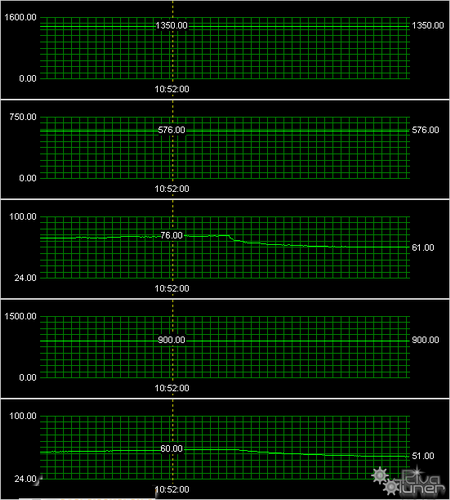 Well, the 76 degrees on GPU and 60 according to the board temperature as a whole can be considered success, if we forget about the so high noise level. just a recall that almost under the same conditions (to 2 degrees lower room temperature) GeForce 8800 GTX worked at 90 degrees along the chip and more than 60 according to the environment temperature . But here altogether only 76 degrees on GPU.
Unfortunately, the so effective cooling system did not make possible to reach impressive results in overclocking , since the graphic processor from default 575 MHz succeeded to overclock only to 621 MHz (+ 8.0%). The memory from1800 MHz to 2106 MHz (+ 17.0%), which corresponds to earlier overclock result on video memory for BFG geForce 8800 GTX.
After checking the overclocking potential of video card again we look at its temperature conditions: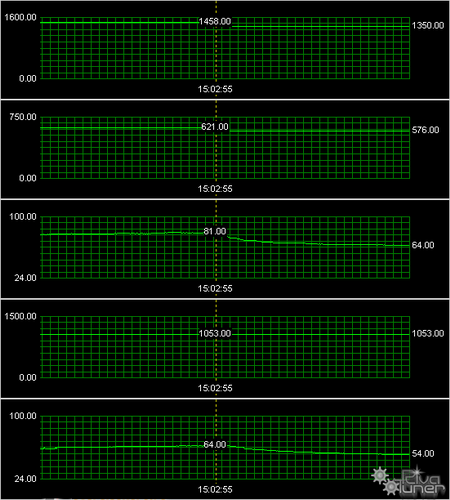 On GPU a increase in the temperature was about 5 degrees, while according to the temperature of board as a whole of 4 degree Celsiuss. A little, it is necessary to say.
I will add that with the video card overclock using sparkle caliber p880+ to frequencies 621/2106 MHz with processor intel core 2 Duo e6400, overclocked to 3760 MHz in two popular benchmarks it was possible to reach the following results: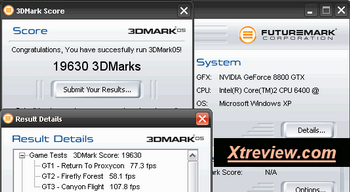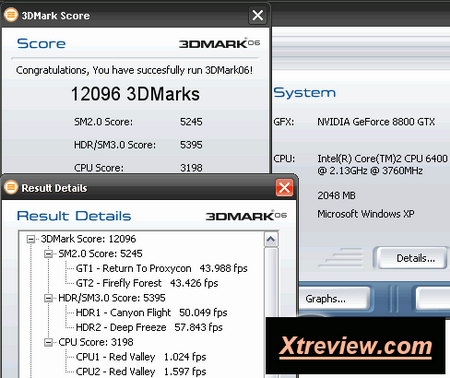 2. Configuration test and the testing procedure
The study the dependence of the speed for video card NVIDIA geForce 8800 GTX was used the following configurations:
Motherboard:

ABIT AN8 SLI (nForce 4 SLI), socket 939, BIOS v.2.0;
DFI lanParty UT NF590 SLI-M2R/G(nForce 590 SLI), Socket AM2, BIOS 29/08/2006;
ASUSTek P5B deluxe/wiFi-AP(Intel p965), LGA 775, BIOS 0804;

Processors:

AMD athlon 64 3000+, 1800 MHz, 1.40 V, L2 512 Kb, Cool&Quiet disabled, (Venice, E6);
AMD athlon X2 3800+, 2000 MHz, 1.30 V, L2 2 x 512 Kb, Cool&Quiet disabled, (Windsor, BH-F2).
Intel core 2 Duo e6400 2133 MHz, FSB 266 MHz x 4, L2 2 x 1024 Kb, SL9S9 malay, (Conroe, B2);

Cooling systems CPU:

Scythe infinity+ 2 x 120- mm fans (~1200 RPM, 23.5 dBA)
Thermaltake big typhoon + noctua NF-S12 120- mm fan (~1340 RPM, ~17 dBA);

Thermo-interface: Arctic silver 5;
Operational memory:

2 X 512 Mb DDR PC3200 corsair TWINXP1024-3200XL (SPD: 400 MHz, 2-2-2-5_1T);
2 x 1024 Mb DDR2 PC6400 corsair CM2X1024-6400C4 (SPD: 800 MHz, 4- 4- 4-12);

Disk subsystem: SATA- II 320 Gb, Hitachi (HDT725032VLA360), 7200 RPM, 16 Mb, NCQ;
case: ATX ASUS ASCOT 6AR 2nd B black&Silver

Fan blowing-in 120- mm fan noctua NF-S12 120- mm (~800 RPM, ~8 dBA);
Fan blowing out on the rear and on side 120- mm fans sharkoon luminous blue LED (~1000 RPM, ~21 dBA);

Power unit: MGE magnum 500 (500 W) + 80- mm fan glacialTech silentBlade (~1700 RPM, 19 dBA).
Monitor: LG FLATRON 795FT plus (max 1600x1200/72 Hz).
Testing GeForce 8800 GTX was done on both at the default frequencies with all platforms (memory on SPD) and with their following overclock:
AMD athlon of 64 3000+ @2.85 gHz with 1.65 V (memory DDR functioned at 510 MHz with latency 2.5-3- 4-8_1T);
AMD athlon X2 of 3800+ @2.88 gHz with 1.55 V (memory DDR2 functioned at 958 MHz with latency 4- 4- 4-12_2T);
Intel core 2 Duo e6400 @2.88 gHz with 1.325 V (memory DDR2 functioned at 900 MHz with latency 4- 4- 4-12);
Intel core 2 Duo e6400 @3.76 gHz with 1.50 V (memory DDR2 functioned at 940 MHz with latency 4- 4- 4-12).
The intermediate overclocking result of processor intel core 2 Duo e6400 is added in order to estimate the difference in performance with AMD athlon X2.
focus attention on the doubly smaller volume of operational memory on platform with processor AMD athlon 64.
All tests were done in the operating system Windows XP professional edition SP2. Drivers chipsets of the motherboard: NVIDIA for nForce 4 SLI version 6.82, for nForce NF590 SLI version 9.34 and Intel chipset drivers version 8.1.1.1010. We used directX 9.0c(last update from October 2006), and also drivers video card forceWare 97.02.
Taking into account the very high performance Of geForce 8800 GTX, and also reduction of prices for 17 and 19- inch LCD monitors,test where done in two resolutions: 1280 x 1024 and 1600 X 1200.
Sparkle caliber p880+ was tested at the default frequencies with the following settings
High qual – tuning driver to High quality, anisotropic filtration and full screen antialising are switched off;
High qual+AF16x+AA4x – tuning driver to High quality, using the anisotropic filtration on the level 16x, and full screen antialising 4x.
The activation of anisotropic filtration and full screen antialising was directly set in games.
we used the following collection of synthetic benchmarks and games:
3DMark 2005 – build 1.3.0, resolution 1024 x 768, default settings;
3DMark 2006 – build 1.1.0, resolution 1280 x 1024, default settings;
Serious sam 2 (Direct 3d) – the version of game 2.070, the standard demo-
Quake 4 (OpenGL) – the version of game 1.3.0 build 2393, demo- record d5
F.E.A.R. – first encounter assault recon (Direct 3d) of – the version of game 1.07, the built-in benchmark, Soft shadows = On;
The elder scrolls IV: Oblivion (Direct 3d) – the version of game 1.1.511, maximum quality, Bloom effects, distant rendering,
Tomb raider: Legend (Direct 3d) – the version of game 1.2, maximum quality, Next of generation content = On,
Prey (OpenGL) – the version of game 1.1, maximum quality,
Company Of heroes (Direct 3d) – the version of game 1.3.0, maximum quality, the built-in benchmark
In the rear enemy is 2nd Faces Of war (Direct 3d) – the version of game 1.01.00,
e. Results of tests using geForce 8800 GTX and their analysis
The test results from 3DMark 2005 and 2006 are useless from a practical view; however, they are interesting to the large number of overclocker . Therefore let us begin analysis of the results precisely by the synthetic benchmarks from companies futuremark.
3DMark 2005
In 3DMark 2005 the more powerful is the processor , the more marks u will get. Even for overclockers, which have in the arsenal successfully overclocked AMD Athlon 64, this processor is not sufficient in order to satisfy the GeForce 8800 GTX. The performance of the overclocked to 2.85 GHz athlon 64 3000+ in this benchmark is approximately equal to the default speed Of intel core 2 Duo. The overclocking Of AMD athlon X2 makes possible for it to appear somewhat better against the background of junior brother, but it continues to lose over conroe. The overclock of the latter to 3.76 GHz derives it into the implicit leaders.
3DMark 2006
In the newer graphic benchmark 3DMark 2006 is realized the support of polynuclear processors. Furthermore, the result of processor benchmark now falls into the general score. In summation, as you can see, the overclock of AMD athlon 64 3000+ does not make possible even to approach yje score of athlon X2, which is inferior to Intel core 2 Duo. With the activation of full screen antialising and anisotropic filtration the overclocked X2 and Conroe has about the same score, but increase from overclock of the latter is no longer so noticeable as in the regime high quality.
Here is the geForce 8800 GTX in real games.
Serious sam 2
in regime high quality using the resolution 1280 X 1024 and we can see the cpu is so noticeable, but in resolution 1600 X 1200 the difference between the platforms is usualy none. AMD athlon X2 and Intel core 2 Duo at equal frequencies are not equal on performance, Conroe is faster . But why then in this regime GeForce 8800 GTX show siliar performance? If benching is not your element, then the sphere of application by so powerful video card depond on the quality regimes.That what we observe with the activation of AF and AA? Yes the simple overclocked AMD athlon 64 3000+ with cost 70 US dollars (Socket 939) is sufficient for this video card! Here the game is heavy in graphic so the benefit from overclocking the cpu dont show up. increase with the passage from X2 or Conroe we can observe only in the resolution 1280 X 1024. We moreover, include HDR and GeForce 8800 GTX in Serious sam 2 becomes the most important.
It would be desirable to note one additional interesting moment. In the regime of testing High quality the results on the weak processors (Athlon 64 3000+ Athlon X2 without overclock) in resolution 1600x1200 obtained higher than in the resolution 1280x1024. Repeated checking confirmed that these are not error.
Quake 4
But here Quake 4 did not support the tendency Of serious sam 2. The competently realized support to multicore allows AMD athlon X2 at frequency of 2.0 GHz to beat the Athlon 64 3000+ overclocked to 2.85 GHz. Intel core 2 Duo in rating is better than both representatives AMD, yes even with overclock at identical frequency X2 it appears more advantageous. Which is interesting, GeForce 8800 GTX in quake 4 is limited by the performance of central processor even in the resolution 1600 X 1200 and the activation of the qualitaty regimes . However, this game is already more than year old; therefore taking into account the sharpness of results in not entirely reasonable.
F.E.A.R.
Entirely differently in contrast to Quake 4 behaves F.E.A.R.… The difference between the platforms exists only in the resolution 1280 X 1024 and regime high quality, further performance is limited only to video card geForce 8800 GTX. But there is one remarkable fact. Look to the results in resolution 1280 X 1024 and in resolution 1600 X 1200 (here only in the simple regime of quality): in the default rating the platform with AMD athlon 64 3000+ anticipates Athlon X2 3800+! Merit, most likely, it lies in the lower latencies of the memory on the platform Socket 939 (DDR-400MHz at 2-2-2-5 and Command rate = 1T against DDR 2-800MHz 4- 4- 4-12 and Command rate = 2T), and also with the absence of optimization with this game under dual core processors. .
The elder scrolls IV: Oblivion
In the game elder scrolls IV: Oblivion AMD athlon 64 3000+ on average FPS also occurs faster than Athlon X2 3800+ (we are here talking about default frequency). The platforms with these processors are approximately equal with overclock and equally they lag behind the platform with intel core 2 Duo e6400. Moreover this is noticeable not only on the average, but also on the the minimum frame rate which is also important. However, in the very heavy quality mode (High quality + aF16x + aA4x) for GeForce 8800 GTX it is sufficient even Athlon 64 @2.85 gHz. But if you prefer to use in this game HDR, then faster processor will not help.
Tomb raider: Legend
Tomb raider: Legend – one of the heaviest game for today video card . Despite this for the so powerful video card as GeForce 8800 GTX, rapid processor and platform are necessary even in the heavy quality mode. In both regimes resolution 1280 X 1024 and 1600 X 1200 today video card on overclocked AMD athlon 64 and X2 demonstrates considerable increase in performance. At the same time the overclock of platform Intel core 2 Duo in the qualitaty regimes does not bring the expected effect. It is obvious that the performance is in this case limited to video card.
Prey
The same engine as in Quake 4, rey demonstrates the same arrangement of forces.
Company of heroes
For the game company Of heroes and simultaneously owners of GeForce 8800 GTX platform from Intel core 2 Duo is recommended in a strict order. Certainly, the possessors of monitors with the support of resolution 1600 X 1200, which ensure in this case at least 85 Hz, and also wide-screen LCD monitors can limit AMD athlon X2. Otherwise entire power Of geForce 8800 GTX will not be used entirely.
In the rear enemy 2 (Faces Of war)
I will only supplement, that this game is very saturated in the graphic plan with the resolution 1600 X 1200 uses only by a little more than 230 Mb video memory from the geForce 8800 GTX:

now the results:
It is not difficult to note that before us pure test of platform, but not video card. The results of GeForce 8800 GTX testing depend neither on the regimes of quality nor on the resolution.
to compare the platforms between them is completely possible, although the geForce 8800 GTX dont have relation with this comparison . Thus, with the overclock AMD athlon 64 occurs faster only than the overclocked Athlon X2. They again played their role latency and absence of the optimization of game under multicpu. In it s turn Intel core 2 Duo, working in the default rating, leaves behind both driven overclocked platforms with processors from AMD. Average frame -rate grows with the overclock Of conroe, which again confirms that to this game in the first turn is necessary a powerful processor.
Conclusion
First of all, before summing up the results it is necessary to focus your attention : that those result are valid only for API directX of 9.0c and present games . . New games, are less depending on central processor and the speeds of platform in entire API directX 10.0 (according to the preliminary information of developers) can in the root change situation. However, concerning today it is completely possible to make the following conclusions.
In the first turn, how powerful should be the platform for GeForce 8800 GTX this should be determined by the selection of game resolution and quality setting. Although with the last condition personally for me is obvious: such video card are acquired, first of all, in order to play with the maximum graphic quality. However, high resolution is not so simple. If you have a good monitor with the support of comfortable for eyes frequency and resolutions 1600 X 1200 and above (or wide-screen LCD), then GeForce 8800 GTX will be sufficient and platform with successfully overclocked AMD athlon 64 3000+. Here it is immediately necessary to add that the engine that realized support for game with at least dual-core processors give a nice gaming boost. As a result it is inferior than theAthlon X2 , that functions in the default rating (examples: Serious sam 2, Quake 4, Company Of heroes and 3DMark 2006). But if the support of dual core processors by the developers of game is forgotten and it is not realized, then platform with Athlon 64 and DDR is faster than Athlon X2 and DDR2.
In that case, when your monitor do not support resolution above 1280 X 1024 (most extended version, in my view) . Although from those tested thoroughly in this article obvious exception only one – game F.E.A.R ; when u will use the full screen antialising and anisotropic filtration there is no difference between platforms in 1280 X 1024. In Serious sam 2 also we can observe something more similar, but it is not so clear as in F.E.A.R. In all other today games for GeForce 8800 GTX is necessary to have fast platform, but is some case even the Intel core 2 Duo e6400 overclocked to 3.76 GHz is not sufficient .
The comparison Of AMD athlon X2 and Conroe with overclock to identical frequency left clearly into the benefit of the first. This is completely expected, although the difference in performance is not so essential. However, is games Intel core 2 Duo e6400 is a lot faster than AMD athlon X2 3800+ after successful overclocking. In this case both processors everywhere allow the possibility Of video card geForce 8800 GTX to ensure comfortable frame - rate for player. So to the owners of platforms Athlon X2, who were aimed at the acquisition Of geForce 8800 GTX, it is not completely required to run Conroe .
Know several words about that examined today video card in conclusion:
Sparkle caliber p880+ 768 Mb (NVIDIA geForce 8800 GTX) – if was no noise from the cooling system, then product completely would be possible to name successful. Likable packing, necessary and sufficient accessories of delivery set, effective cooler, which cools GPU to ~15 degree Celsiuss are better than the reference cooling system Of geForce 8800 GTX . Possibly, with the removal by NVIDIA company of prohibition on the overclock Of geForce 8800 GTX in the series caliber of this producer will appear the overclocked version of this video card. On the whole, if you have 800-850 US dollars and high noise cooling system, then the data video card can completely become your selection.






xtreview is your : Video card - cpu - memory - Hard drive - power supply unit source







we would be happy to answer for your question . if you have suggestion or comment regarding this review our support would be glad to help just join our forum and ask u will get the best answer
to discuss check our forum section :-)
RATE THIS REVIEW