By :motherboard review
Posted:2007-01-27






xtreview is your : Video card - cpu - memory - Hard drive - power supply unit source







Chipset ATI radeon xpress 1150 (version radeon xpress 200, use north bridge RS485 and south SB600)
From the results of our review, the chipset radeon xpress 1150 does not look valued against the competing solution from NVIDIA (this motherboard is positioned at the level of versions geForce 6100, according to the retail prices), but in combination with the south bridge SB600, in which is liquidated the delay in the performance part outlying interfaces (located in SB460), it is not inferior to them in functionality. However, we should not excpect the mass appearance of this motherboard on this of chipset , the motherboard producers wait for the release of the north bridge RS690, which will take place during winter. We have the capability to introduce the few existing models on base of this chipset. Version from MSI is more interesting than Sapphire pure element.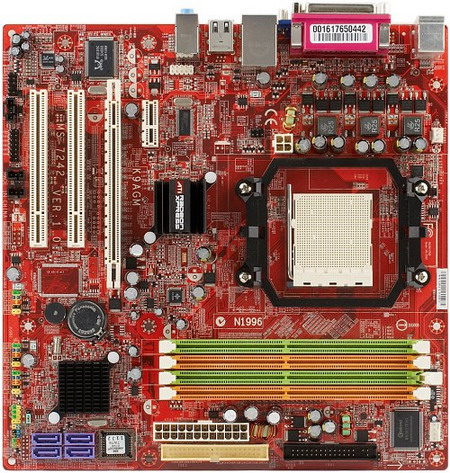 The motherboard design is sufficiently successful, from the traditional shortages in exact figures nothing is observed and it is complicated to find even minor error. It is possible to focus attention perhaps that to the chassis intrusion connector (for connection with sensor of case), it is for some purpose glued to the FDD- port, that does not clearly contribute to the convenience in use .
North bridge, just as south have the modest existing cooling witch come without any additional fan.
In the three-channel pulse power voltage stabilizer are used the field of transistor in the channel, 7 on 1800 F and 4 — on 1000 F, from the capacitors producer : united chemi-Con. Such firm capacitors provider power for chipset circuits and memories. We for the first time do not note that MSI use low end capacitors to minimize the cost of card using less expensive components! And we hope that this will continue .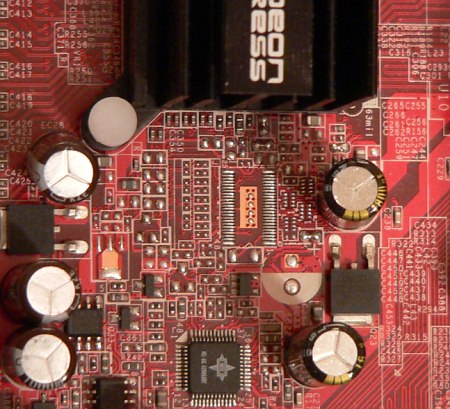 The interesting component is the presence of separate installation for the chosen video card memory (the so called hyper-Memory), unfortunately, the microcircuit is not installed, and in the motherboard description there was no hint to existence of version with the support to video buffer. Possibly, This reserve to the future , after the transfer Of radeon xpress 1150 in the cheap solutions, it was necessary to step back from the initial concept. In this motherboard is also provided the FireWire- controller. Theoretically you can meet in this board the Fast ethernet controller and the DVI- port on the rear panel, installed together with VGA. They is also possible to find other version ( with absence/presence TV- out, S/PDIF In/out), we recommend to focus attention on the available component before making purchase. MSI K9AGM- F is made in format microATX (245×245 mm), it is fixed to the case by 8 screws.
System monitoring (Winbond W83627EHG, according to the data from BIOS setup)
Processor voltage , +3,3, +5, +12 v, +3,3 v stand By;
Fans rotation Frequency;
Processor Temperature (processor built-in sensor ) and motherboard (built-in sensor in the motherboard );
Smart fan : automatic control of the processor fan frequency rotation depending on the temperature of processor. There is the possibility to set the max temperature (40—55 degrees) , and also a minimum rotation frequency (0—87,5%). Smart fan support the total stopping of fan.
Ports, connectors on the surface of motherboard
Processor socket (Socket AM2, in the current BIOS version is declared the support of all processors AMD athlon 64/X2/FX and sempron, released for this socket, including the existing models on 65 nm core brisbane and excluding Athlon 64 X2 5400+ and 5600+ 90 nm core windsor);
4 slots under DDR2 SDRAM DIMM (up to 4 GB DDR 2-400/533/667/800, dual-channel operating mode);
1 slot PCIEx16 for video card;
1 slot PCIEx1;
2 slots PCI;
Power connector: standard ATX 2.2 (24 contacts, it is possible to connect through the usual 20- contact ), 4- contact ATX12V;
Port FDD;
1 Port IDE (Parallel ATA) support 2 devices ATA133 ;
4 port SATA- II (Serial ATA II) up to 4 devices SATA300 , connected to them disks can be combined in RAID- massif of levels 0, 1 and 0+1;
3 port for the connection of additional USB;
Port for the connection sound signal with CD/DVD- drive;
2 ports for the connection of S/PDIF In/out;
Port audio out for connection with analog multichannel audio out;
port for the connection with COM- port;
Port for connection of sensor ;
Port for TV- out;
2 Connector for fans,
Rear panel (from left to right, on the blocks)

PS/2 connection for mouse and keyboard;
1 LPT, 1 VGA;
2 ports USB and 1 RJ-45 (Gigabit ethernet);
2 ports USB;
3 analog audio (Line- In, Line-Out, Mic- In).
Delivery set
Documentation: user management ;
1 cable serial ATA;
1 power adapter SATA to 1 device;
1 cable ATA66, 1 calble for connection FDD;
Silencer to the rear panel ;
CD with drivers and utilities MSI, whose collection is included:

MSI PC alert 4 : utility for monitoring the system parameters (temperature, voltage , processor fan rotation frequency : parameters, accessible in the appropriate BIOS division );
MSI live update : BIOS update from Windows, with the possibility to search and download last version from the site of producer (moreover the possibility to update the bios from the local disk);
MSI security : the complete set of utilities for the convenient passwords storage , control of user profiles and coding contained in hard disk. in addition the antivirus pack and fire wall Norton Internet security 2005.
Integrated controllers
Sound, on the base of chipset support high definition audio and codec realtek ALC883 with the possibility of connection audio system 7.1 , port for connection in frontal audio in/out, Cd- In and S/PDIF- In/out;
Net gigabit ethernet, on the base of PCIE- controller realtek RTL8110SC, with support 10/100/1000 Mbit/s.
The quality of the integrated sound solution we estimated in the regime 16 bits, 44 kHz with the aid of the test program rightMark audio analyzer 5.5 and sound card ESI juli@:


| | | |
| --- | --- | --- |
| Non uniformity ACHKH (from 40 Hz to 15 kHz), dB: | +0.14, 0.18 | Very good |
| Noise Level , dB (a): | - 85.3 | good |
| Dynamic range, dB (a): | 85.2 | good |
| Harmonic distortions, %: | 0.0073 | Very good |
| Inter-modulation distortions + noise, %: | 0.017 | Very good |
| Channels Interpenetration , dB: | - 84.0 | Very good |
| Inter-modulation on 10 kHz, %: | 0.017 | Very good |
Settings
With the aid of cross connections and switches
Cross connection for cleaning CMOS
From BIOS, based on version 2.59 AMI
Possibility of controlling the specific functions of processor
+
K8 Cool\'n\'Quiet


Memory latency settings

-
CAS latency, RAS to CAS delay, Row precharge time, Min RAS active time

Selection of memory frequency

-

Selection of system bus HT

-
Possibility to change the frequency for the system buses
-
Manual distribution of interruptions
-

Change the FSB frequency

-

Change processor multiplier

-
Change processor voltage (vcore)
-
Change memory voltage (vmem)
-
we used the version BIOS 3.1B3 from 08.08.06 witch is the last accessible at the moment of testing ( given by producer).
Performance
Test Configuration:
Processor: AMD athlon 64 X2 4000+
Memory: 2 modules kingston KHX7200D2K2/1G (DDR 2-800, 5-5-5-15-1T)
External video: ATI radeon x1900 XTX, 512 MB. GDDR3
Hard disk: Seagate barracuda 7200.10 (SATA- II, 7200 r/min)
PSU: Chieftec CFT-560-A12C
WASPS: Windows XP SP2
For the comparison was take the value of motherboard sapphire pure element.

It is not amazing, if Sapphire pure element have much more complete set of BIOS setting, including the possibility to set the memory frequency , this would ensure advantage even in tests with external video card. In reality situation proved to be more interesting with external video card the received results can be considered as identical, then with the integrated card, MSI K9AGM was a competitor but only in computational tests, not connected with the work of the integrated 3d- accelerator.
Conclusion
Sufficiently interesting model, MSI clearly decided to not work above the original functionality and it did not even introduce the elementary overclocking function , moreover for all three microATX- card on the integrated chipsets for platform socket AM2, including MSI K9NGM and K9NGM2. And it is logical to expect that in this case the competitive advantage will be the used price .






xtreview is your : Video card - cpu - memory - Hard drive - power supply unit source







we would be happy to answer for your question . if you have suggestion or comment regarding this review our support would be glad to help just join our forum and ask u will get the best answer
to discuss check our forum section :-)
RATE THIS REVIEW