By :motherboard review
Posted:2007-04-05






xtreview is your : Video card - cpu - memory - Hard drive - power supply unit source







Asus M2N- E (NVIDIA nForce 570 Ultra)
The motherboard asus M2N- E completely corresponds to the advanced criteria.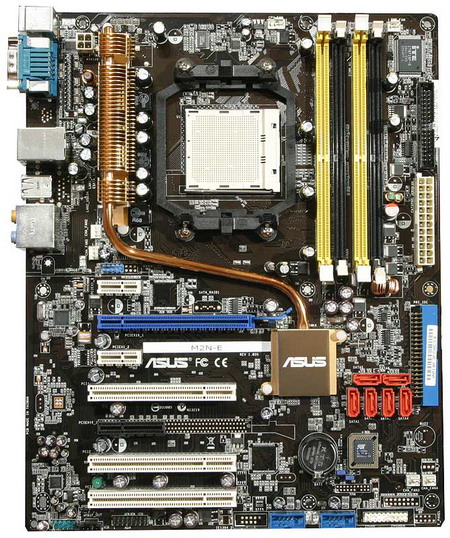 As it is clear from picture, this motherboard do have any noticeable changes in design from the motherboard that we already reviewed M2N-SLI Deluxe, its distinctive special feature is cooling system on chipset.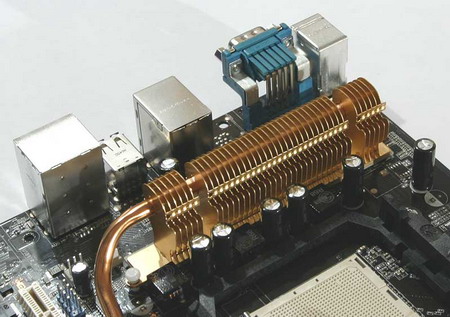 We did not succeed to use drivers and utilities from Cd- disk, supplied with the motherboard (as in all remaining asus motherboard) . First, there are no drivers for Vista on the disk, and second, the installation program do not support this operating system.

Our previous review showed that motherboard asus M2N- E knows how to overclock processors, but not very well. Version BIOS 0802 as before allow to set the voltage processor up to 1.5625 v with 0.0125 v step . As far as memory are concerned, the upper limit is limited to modest 1.95 v – this even lower rating for the utilized by us memory corsair TWIN2X2048-6400C4, which is 2.1 v.
On silence asus M2N- E as almost all the remaining today motherboard , we used memory latency 5-5-5 18-2T. After increase in memory voltage it is possible to decrease the latency to 4- 4- 4- 12-2T. Only some motherboard could start with parameter command rate 1T, but none of them could load Windows.
As far as overclock is concerned, limitation did not slow down the results. Processor succeeded to overclock only to the frequency 270 MHz , to 2.7 GHz, for this it was necessary to increase default voltage from default 1.35 to 1.5 v. as far as memory are concerned, synchronous frequency of 1080 MHz proved to be impossible . memory in bios was set to DDR2 667, i.e. with overclock it functioned at frequency 900 MHz. This operating mode proved to be valid also for the majority of remaining motherboard, but for Asus M2N- E due to the low memory voltage the latency was lower 5-5-5-15-2T. As a result for processor and memory: 270/900 with 5-5-5-15-2T – result below average.
Asus M2N- E SLI (NVIDIA nForce 500 SLI)
Checking this motherboard passed considerably more interesting.
After finishing the installation of operating system, we checked NVIDIA web site to download the corresponding drivers, since there are no drivers for Vista on the Cd- disk, which was supplied with the motherboard.

Well no reference about the nforce 500 motherboard. but, after checking on NVIDIA site , we revealed the interesting document (174 KB, PDF), which compares the technical characteristics of contemporary chipsets nForce for processors AMD. From it , became clear that the entire series chipsets: nForce 500, nForce 500 SLI nForce of 500 Ultra, whose characteristics accuracy repeat the possibilities of well familiar to us chipsets nForce4, nForce4 SLI and nForce4 ultra. So most likely, we deal again with renaming : the chipset nForce 500 become obsolete nForce4 .
This was also confirmed with vista through automatic update .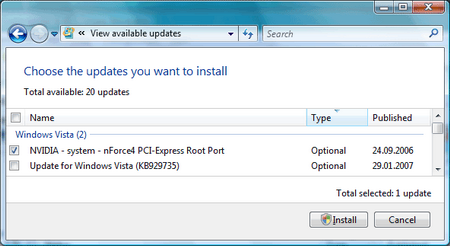 Later I revealed another opinion that these are budget solutions are based on new chip MCP65.
It was possible to explain from the same comparative table that between nForce 550 nForce 500 there is a intermediate chipsets group nForce 520 and 520 LE (510?). They acquired the support of sound HDA instead of AC97, then they were deprived of a part of ports SATA and PATA, and also built-in support Of gigabit ethernet.
Here is how look the Asus M2N- E SLI .
We immediately note the inconvenient arrangement of 24- X power connector with the large chipset radiator. Note the same idea is used for epox motherboard with will not prevent large video card to be installed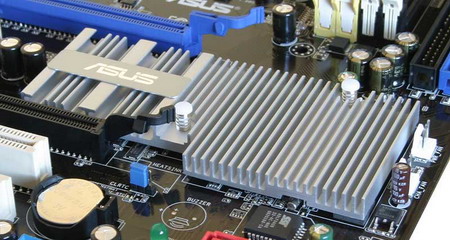 Rear panel also appears completely worthily – besides the traditional connector was located place even for IEEE1394.

As deficiencies we should add the presence of only three fans connector. One will be occupied with processor cooler , but the two remained are not always sufficient .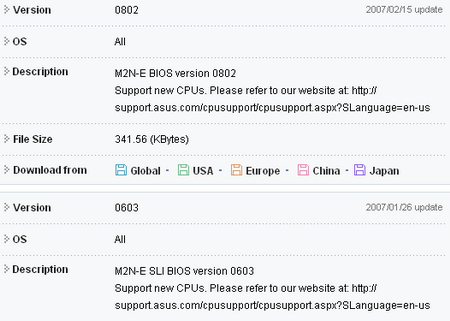 On asus site was errors – version 0802 it related to completely different motherboard, although with the similar name M2N- E. It was necessary to be limited with previous version 0603, which ideally worked. Voltage on the memory is limited to the same 1.95 v – this is insufficient for good memory overclock . As far as processor is concerned, voltage can be changed from 0.8 to… 1.35 v, witch is pretty low.
Without increase in processor voltage we was able to get stable work on frequency 250 MHz. As far as memory are concerned, this motherboard has pretty good result . installed as DDR2 800, it functioned at the frequency 1 GHz with latency 5-5-5-15-2T. So as a result – 250/1000 5-5-5-15-2T – this the weakest overclock.
Asus M2R32-MVP (AMD 580X CrossFire)
The motherboard asus M2R32-MVP is based on chipset AMD 580X CrossFire ( RD580, previously known as ATI crossFire xpress 3200).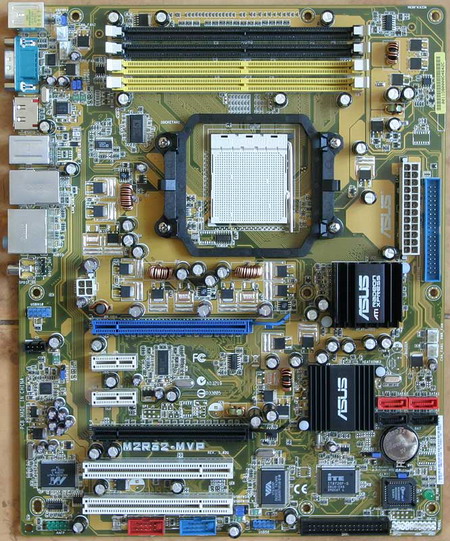 Motherboard looks like usual motherboard . It is possible to focus attention only to the nonstandard power diagram .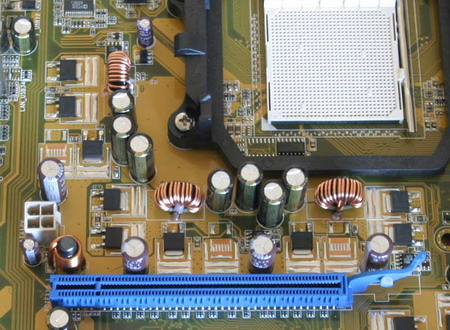 Chipset ATI differ significantly from NVIDIA chipsets in terms of smaller energy consumption and as consequence, by smaller heat emission; therefore it is possible to forego the active cooling, it is sufficient to use usual aluminum radiators.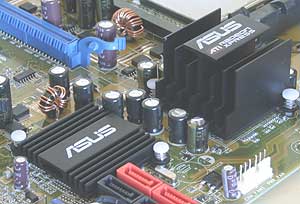 Rear panel appears a little modest , on it was located place for connectors external SATA (eSATA or SATA ) and IEEE1394, but LPT- port disappeared, there is coaxial SPDIF, but no optical.

As a whole usual motherboard without surprising advantages and scandalous disadvantages.
Processor voltage can be changed from 0.8 to 1.5625 v with 0.0125 v step . furthermore, there is a parameter vcore overVoltage, which can take the values auto, Enable, Disable. On memory , voltage can be changed from 1.8 to 2.45 v with variable step. It is possible laso to change frequency and voltage of system bus hyperTransport.
As a result , processor with voltage1.55 v was overclocked to 2.8 GHz, and memory, installed in BIOS as DDR2 667, operated at frequency 933 MHz with latency 4- 4- 4- 12-2T. Immediately I want to say that 280/933 4- 4- 4- 12-2T – is this the most available result of today\'s testing, i.e. Asus M2R32-MVP on chipset AMD 580X CrossFire overclock just as the majority of motherboard on NVIDIA chipset . As far as work in the default rating is concerned, Asus M2R32-MVP appears even better than other motherboard, since for the memory not only it was possible to set the parameter command rate 1T, to start, to load operating system, but also to pass all tests in regime 200/800 4- 4- 4- 12-1T.
In reality I have not described all problems encountered during tests with the motherboard asus M2R32-MVP. the system update Windows vista, after the hard install process proposed to install driver for southern bridge with a weight 1 MB., on ATI site at the same time was found driver with triply larger volume.

Furthermore, Asus motherboard did not work correctly with USB- keyboard,. Probably, problems are connected with BIOS realization , since analogous were encountered also with motherboard asus M2V.
Asus M2V (VIA K8T890)
Asus M2V is the first motherboard on chipset VIA K8T890, supporting processors Socket AM2.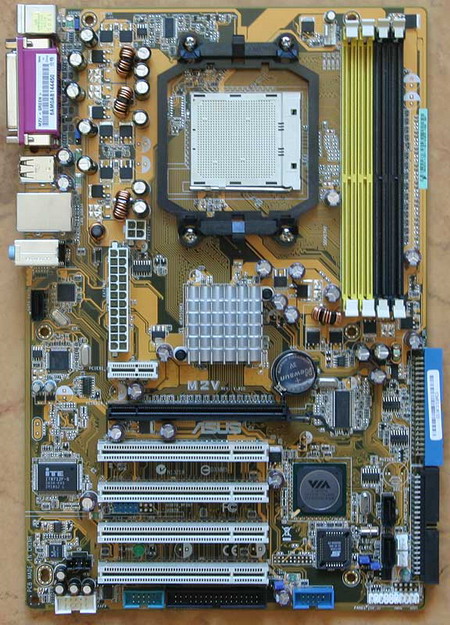 The power system is located almost in the center of motherboard, cause disappointment, but the width of motherboard is not very great and so inconvenient arrangement.
The chipset VIA K8T890 is much colder that chipsets NVIDIA, the south bridge VIA VT8237A can work generally without radiator, and on north is installed the most usual aluminum cooler.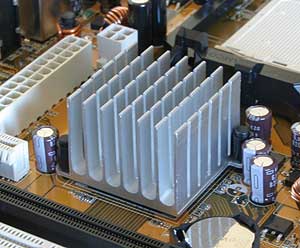 In the division jumperFree (Bios setup) are only two parameters: the possibility to change the system bus frequency from 200 to 400 MHz and increase in memory voltage from 1.8 to 1.95 v.
The remaining options relating to overclocking was located in division CPU configuration. The processor multiplier can be decreased up to x4, but for some reason it is not possible to set the value x6 and x7. It is possible to change frequency and memory latency , but there is no parameter, which changes Command rate 1T/2T, as a result the motherboard in all cases is set to 2T. The frequency of system bus hyperTransport by default is set to 800 MHz, changing this value to 1000 MHz result in no boot.
The installation of operating system past without errors, here ports USB for some reason refused to work in regime 2.0. The installation of drivers VIA Hyperion 5.11a did not solve the problem .
At default rating 200/800 4- 4- 4- 12-2T all tests were passed, however, as far as overclock are concerned, here all proved to be simply bad. The motherboard did not start up at the frequency 255 MHz. To load OS was possible only with frequency 220 MHz. No comment here the result was even lower than with first asus motherboard.
ECS 761GXM- M (SiS 761GX)
ECS 761GXM- M proved to be the rare chipsets SiS.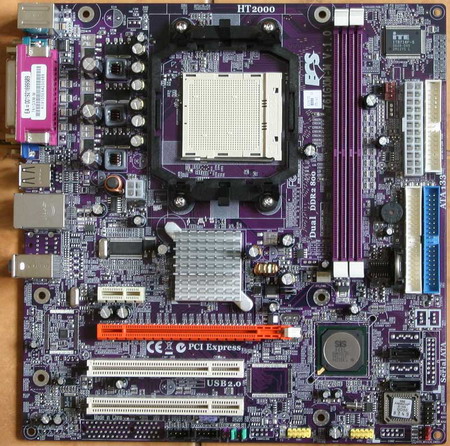 Focus attention, that even on such inexpensive motherboards has good processor power diagram . Probably, in the course of time in such motherboards will appear solid-state capacitors.

Rear panel appears completely usually for this inexpensive motherboard. It is clear that in such budget motherboard it is possible to find many deficiencies, beginning from the presence of only two slots for memory module and concluding by the absence of connectors for additional fans.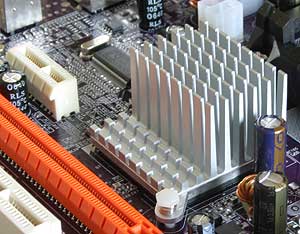 The installation of operating system Windows vista is past without adventures, we did not only find in drivers for network and sound card .
Driver for six-channel ALC655 was taken from site realtek, while driver with support to windows vista for the rare broadcom AC131 was located on elitegroup site .
The attempt to update the bios resulted in a failure, since in the site elitegroup was shown the version for PCB 2.0, and our motherboard had 1.0 revision . We had some problems with usb port under vista , using the usual PS/2 do not help also. Computer without keyboard and mouse is very uncommon so test where ended here.
EPoX EP-AF570+ ultra/G (NVIDIA nForce 570 Ultra)
We passe now to EPoX EP-AF570+ ultra/G.
We note from the start the four -phase processor diagram, which connects solid-state capacitors.
Here is how look the cooler in epox motherboard just like the one used in Gigabyte motherboard.
On the motherboard are placed the large and convenient buttons of start and Reset, and also the indicator of the Post- codes, which the bios shows the processor temperature .

Rear appears other .We note that the disk with drivers and utilities works in Windows vista .
TN installer working in Vista proved to be useless, since there are no drivers for this operating system on the disk.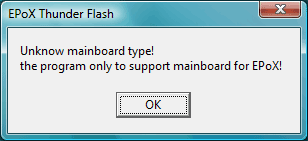 The frequency of system bus is possible to raise up to +250 MHz , voltage on processor up to +0.3 v with 0.0125 v step , on the memory from 1.8 to 3.2 v with 0.1 v step. furthermore, it is possible to increase voltage on chipset, system bus hyperTransport and VTT.
In the default setting the motherboard without problems past all tests in regime 200/800 4- 4- 4- 12-2T, and with increase in processor voltage to 1.55 v allowed stable work at 280/933 4- 4- 4- 12-2T . This is a good result.
As a whole ePoX EP-AF570+ ultra/G appears good performer .
EPoX EP-AF570 pro/G (NVIDIA nForce 570 Ultra)
The motherboard ePoX EP-AF570 pro/G appears simpler and cheaper than the one above. We note that this motherboard has a completely different design.
From the four-phase power diagram remained only three. Disappeared the light-emitting diodes and solid-state capacitors, buttons of start and Reset.
The rear panel remained as before.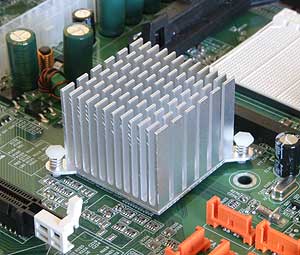 In the default setting the motherboard without problems past all tests at frequencies 200/800 4- 4- 4- 12-2T, with a increase in processor voltage up to 1.55 v , this last stably functioned at 2.8 GHz frequency . Memory Installed in BIOS as DDR2 667 operated at 933 MHz frequency , but here it was not able to pass checking in S&M with latency 4- 4- 4- 12-2T. As a result of stable work we have : 280/933 5-5-5-15-2T – this average value according to today\'s results .
EPoX EP-MF4 Ultra- e (NVIDIA nForce4 ultra)
Motherboard on chipset NVIDIA nForce4 ultra appeared with processors AMD socket 939 and memory DDR, but there are no obstacles to modernize the motherboard for support Of socket AM2 and memory DDR2.
As far as motherboard is concerned, we note the basic advantages (4- X phase nourishment, the indicator of the Post- codes) and disadvantages in the motherboard (24- X power contact is badly placed in the center). However, I would want to focus your attention on chipset radiator.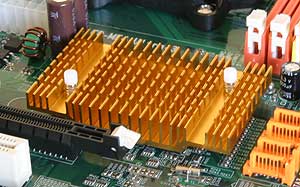 Approximately the same radiators were installed on motherboards ePoX, based on chipset nForce3 and nForce4, for example, series EP-9NDA and EP-9NPA. We note that this cooler was not enough for nforce 4 and 3 motherboard , so for stable overclocked operation we recommend to place a fan over it .
If we compare this motherboard with those based on chipset nForce 570, then in EPoX EP-MF4 Ultra- 3 was noted only one, but not very essential difference : the upper limit of memory voltage was lowered from 3.2 to 2.5 v. in practice , in the majority of cases this will be sufficiently.
All our theoretical reasoning\'s were confirmed , with stock voltage this motherboard worked at 280/933 4- 4- 4- 12-2T without problems.
EPoX EP-MF 4- J3 (NVIDIA nForce 4-4x)
The chipset NVIDIA nForce 4-4x differ from the valuable nForce4 only in terms of the maximum system bus frequency ( hyperTransport = 800 MHz ). However, I found no differences in BIOS of ePoX EP-MF4 Ultra- 3 and EPoX EP-MF 4- J3, the latter noticeably worked in the default setting at HT 1000 MHz frequency . No differences between chipset was noted by CPU- Z utility .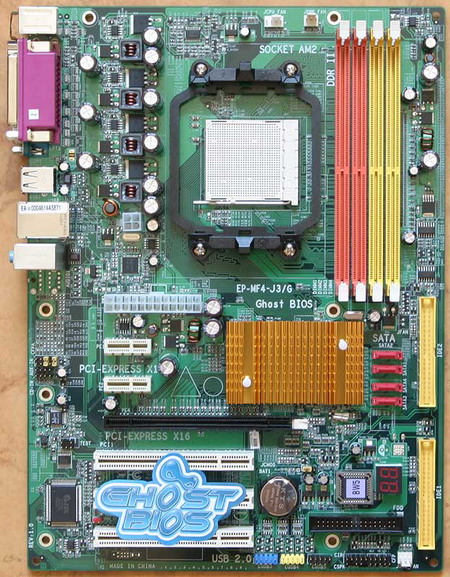 We note also Difference in the sound controllers: EP-MF4 Ultra- 3 uses 8-channel Realtek ALC850, and on our EP-MF 4- J3 has only 6-channel Realtek ALC655.

Due to the fact that the motherboards are practically identical, EPoX EP-MF 4- J3 repeated the results obtained earlier: 280/933 4- 4- 4- 12-2T .
Gigabyte GA -M55S-s3 (NVIDIA nForce 550)
Here the motherboard gigabyte GA -M55S-s3, based on chipset NVIDIA nForce 550, at first view this is the most favorable motherboard.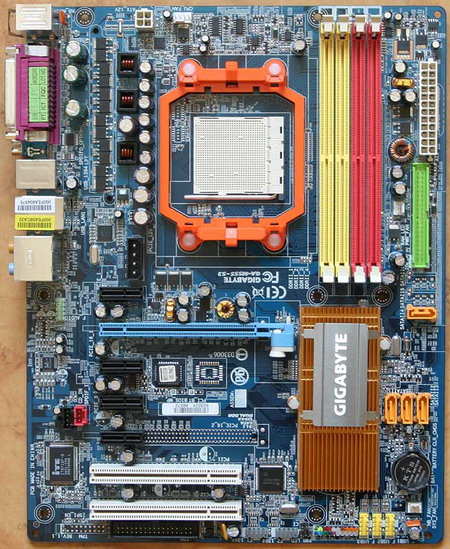 Of course we cannot say that the motherboard does not have deficiencies. It is possible to note the small quantity of PCI slots and fans connectors in addition to the inconvenient arrangement of FDD and the soldered BIOS microcircuit .
Gigabyte uses the same cooler, that we saw on the example Of asus and EPoX .
Rear panel appears simply to be the most complete, besides the required ports there is a IEEE1394, which is ensured by controller from Texas instruments.

Possibilities for overclock are : the System bus frequency can be (theoretically) increased up to 500 MHz, on memory it is possible to set up to +0.7 v over the standard with a small 0.025 v step , on processor the voltage can be changed from 0.8 to 1.55 v.
The maximum overclock of processor was 2.7 GHz, and 000 MHz for the memory with latency set to 5-5-5-15-2T.
Installer on the disk with drivers and programs does not work with Windows vista.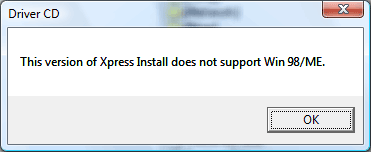 Motherboard Test
Here is the components used in Test :
Processor – AMD athlon 64 X2 3800+ (2000 MHz, windsor F2)
Memory – 2 * 1024 MB. corsair TWIN2X2048-6400C4;
Video card – NVIDIA geForce 7900GT;
Hard disk – maxtor 6L200M0, SATA 200 GB;
Cooling system – zalman CNPS9700 LED;
Power unit – sunbeamtech nuuo SUNNU550-EUAP (550w);
Operating system – Windows vista x86.
In all cases where installed fan over the chipset radiators and memory .
For motherboard on chipset NVIDIA were used drivers version 15.00 for nForce 590 SLI, nForce 570 SLI/570/550 and nForce4, for Asus M2R32-MVP on chipset AMD 580X CrossFire the driver of south bridge was version 7.2, while for Asus M2V on chipset VIA K8T890 was used VIA hyperion 5.11a. Video card worked with driver forceWare 100.65. The technology cool\'n\'Quiet was disconnected.
Tests Results
Default setting
As you see, according to tests all motherboards show approximately equal speed. Theoretically all systems work without overclock, in identical regime 200/800 4- 4- 4- 12-2T, with exception of motherboards asus M2R32-MVP and Asus M2N32-SLI deluxe, which was used the parameter command rate 1T, but in the given tests it has no effect on the system speed.
Here we have a Completely different result with hard disk. All systems were divided in two groups: the first one with 5200 and the second with 5500.
In Windows vista appeared new option in HDD properties : enable advanced performance.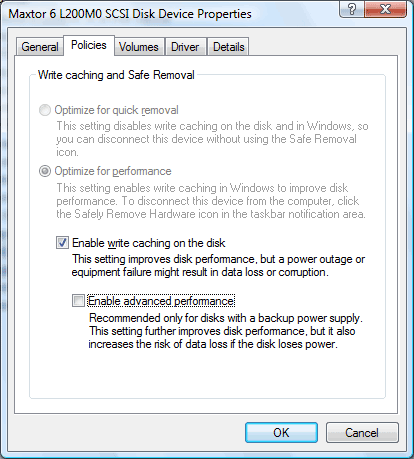 Probably, this option solves the improved caching .
We note that the chipset nForce 5xx work faster with HDD than nForce4,
In Super Pi the best result was showed by motherboard gigabyte GA -M55S-s3.
The rate of data copying in Everest memory test is clearly worse in motherboards on chipset SIS, Via and ATI.
Here also it is possible to isolate two groups: The first one with approximately 6300, and the second with 6100.
Overclock
With overclock all is considerably simpler – the higher frequency and lower latency = better performance.
The difference between motherboard gigabyte GA -M55S-s3 and Asus M2N- E can be explained by differences latencies setting.
As far as HDD tests are concerned, the processor and memory overclock did not influence their results.
Sums
First we must note that the integrated memory controller in AMD processor do the hole job of the motherboard. You can take motherboard on the sufficiently contemporary and expensive nForce 590 SLI or with cheap nForce4 and as a result u will obtain approximately identical speed.
We should note also that the motherboard from SiS, VIA and AMD are considerably worse than Nvidia based . None of the tested motherboards on these chipsets left favorable impression, all three encountered different kind of problems. ECS 761GXM- M did not even work in normal mode, Asus M2V practically refused to overclock processor. The motherboard asus M2R32-MVP, at first view, appears good , in default setting it could work with Command rate 1T, with overclock it achieved the same results, as other motherboards…






xtreview is your : Video card - cpu - memory - Hard drive - power supply unit source







we would be happy to answer for your question . if you have suggestion or comment regarding this review our support would be glad to help just join our forum and ask u will get the best answer
to discuss check our forum section :-)
RATE THIS REVIEW