By :hardware review
Posted:2006-04-24






xtreview is your : Video card - cpu - memory - Hard drive - power supply unit source







Fx57 benchmark overclock - Fx 57 review - A64 fx57 review-
AMD Athlon 64 FX-57 Processor Review

AMD has overclocked its top gaming processor to 2.8GHz. Besides, the Athlon 64 FX is now based on the new 90nm San Diego core which brings in SSE3 support, improved overclockability and reduced heat dissipation. But are these things worth paying over $1000 for? Find the answer in our report!
The market activity of PC hardware manufacturers doesn't seem to be abating with the beginning of the astronomical summer in the northern hemisphere. Just a few days ago the release of the new GeForce 7900 GTX graphics card from NVIDIA pushed the performance bar of top-end gaming systems higher and now AMD joins its force to raise this bar even higher by introducing the new processor for gaming systems. It is called Athlon 64 FX-57
AMD and Intel had both explicitly expressed their intention to focus on dual-core processors, yet the new Athlon 64 FX-57 is a single-core processor. This fact reveals the targeting of this model at gaming applications that currently do not use multi-threading. We already proclaimed the Athlon 64 FX-55 the best gaming processor and its reputation has remained unchanged ever since, and now AMD wants to stress the strong points of its K8 architecture which still allows climbing up the frequency stairs. Intel in fact had long given up competing with AMD in this market sector. Having reached 3.8GHz frequency, Pentium 4 series processors went another way of development: this series has only been adding new features and increasing the L2 cache size in the last year and a half. Due to this reason as well as some architectural peculiarities, modern processors of the NetBurst architecture have long been unable to challenge the performance of the Athlon 64 in games.
Drawing the users' attention to high-performance single-core processors, which have already come to be regarded by some as kind of obsolete, AMD emphasizes the fact that the choice between single- and dual-core architectures should be made depending on the specific tasks to be solved. There really is the problem of such choice today. As our tests of dual-core processors showed, the second core doesn't bring any profit at all in a number of applications. Single-core processors, on their part, boast a higher clock rate and are often faster than their dual-core competitors.
The release of the new model in the Athlon 64 FX series brings certain changes into AMD's product range. First, this release doesn't stop the shipments of the previous model, Athlon 64 FX-55. The price of this previous model does not change ($827), while the new Athlon 64 FX-57 is going to cost $1031, which is higher than the price of the dual-core Athlon 64 X2 4800+. Thus, AMD is now offering four series of desktop CPUs, each consisting of at least two models: Athlon 64 FX, Athlon 64 X2, Athlon 64 and Sempron. It's all more or less clear with the latter two series – these are middle-range and low-end products. As for Athlon 64 FX and Athlon 64 X2, these are products of the same top-end price category, but intended for different applications.
We want to mention one more thing: the release of the Athlon 64 FX-57 is not the last release of a single-core processor from AMD. This manufacturer officially confirms that they have no plans to make faster processors in the single-core Athlon 64 series the top model of which has a rating of 4000+, but these intentions do not cover the Athlon 64 FX series. As far as we know, new single-core processors in this series are going to come out in the next year, too. AMD will step up the frequency of the Athlon 64 FX at least one more time.
But we're getting rather too far into the future. Let's get back to the present day and see how the new Athlon 64 FX-57 is going to please the user.
Athlon 64 FX-57 in Detail Review
Before getting right to the new processor we want to remind you some facts about the previous CPU in this series. The Athlon 64 FX-55 had a frequency of 2.6GHz and was manufactured on 0.13-micron tech process combined with Dual Stress Liner technology. The fact that some special tricks were necessary to release a 2.6GHz model meant the potential of the older tech process was exhausted.
It is quite natural then that the new model in the Athlon 64 FX series is manufactured on a more advanced tech process. Fortunately, AMD's 90nm technology has been used in manufacture for a long while already. So even though the Athlon 64 FX-57 is the first 90nm processor in its series, it doesn't have anything new about itself. This CPU is based on the same core as is used in senior 90nm Athlon 64 model.
The Athlon 64 FX-57 has raised the frequency of processors of this series by a next 200MHz. It means AMD's processors have reached 2.8GHz clock rate. This CPU is traditionally equipped with a 1MB L2 cache and a dual-channel memory controller that supports DDR400 SDRAM, and is intended for ordinary Socket 939 mainboards. This combination of characteristics means only one thing: this processor is based on the San Diego core which is a close relative of the currently popular Venice. So, the Athlon 64 FX-57 has got all the advantages of this core, particularly SSE3 support and the improved memory controller that boasts a higher performance and enhanced compatibility (it can work in DDR400 mode even if you install four memory modules).
The formal specification of the Athlon 64 FX-57 is listed in the following table:
Athlon 64 FX-57

Ordering P/N

ADAFX57DAA5BN

Frequency

2.8 GHz

Packaging

939-pin organic micro-PGA

L2 Cache

1MB

Memory Controller

128-bit, Dual Channel

Supported Memory

DDR400 SDRAM

Hypertransport Frequency

1 GHz

Core Stepping

E4

Process Technology

90 nm, SOI

Transistor count

114 million

Die Size

115 mm2

Thermal Power

104W

Max Temp

63oC

Voltage

1.35V - 1.4V

AMD64 Support

Yes

NX-bit Support

Yes

Cool'n'Quiet Support

Yes
And this is what the diagnostics utility CPU-Z has to say about this processor: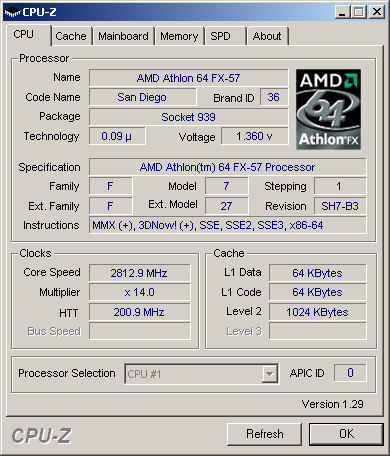 It is an important thing that the higher frequency of the Athlon 64 FX does not affect its heat dissipation. The 90nm San Diego core of the Athlon 64 FX-57 processor has the same typical heat dissipation as the previous CPU model in this series. Thus, the new CPU does not bring any additional requirements to the mainboard and is widely compatible with available platforms.
Our measurements of the real power consumption of the new processor (under a load created with the special-purpose S&M utility) agree with the things said above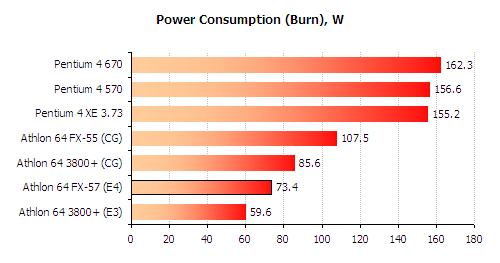 In fact, the power consumption of the new processor is even lower than that of the Athlon 64 FX-55 on the 130nm core. The Athlon 64 FX-57 consumes less than even the senior Athlon 64 models on older, revision CG 130nm cores.
Having got a new processor on the San Diego core into our hands we of course checked its overclockability. We had reached to about 2.9GHz overclocking processors on the Venice core, which is an analog of the San Diego but with the amount of L2 cache memory reduced to 512KB. Athlon 64 FX processors are usually manufactured out of cores with highest overclockability so their frequencies may be higher at overclocking than those of Athlon 64 models. Besides that, being targeted at enthusiastic users, the Athlon 64 FX has a non-locked multiplier which you can easily change to overclock the processor.
For our practical overclocking tests we assembled a system with a DFI NF4 Ultra-D mainboard on the NVIDIA nForce4 chipset. The processor was air-cooled with an AVC Z7U7414001. The core voltage was lifted by 10% above the default for the time of our tests.
And we should confess we got quite predictable results: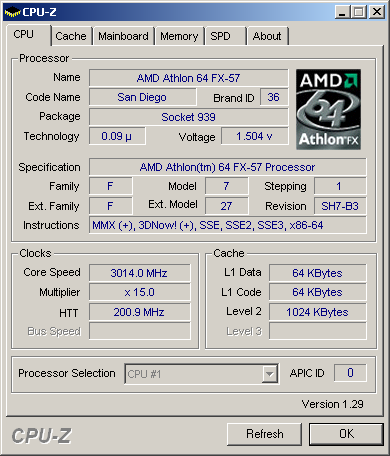 The maximum frequency the processor remained stable at was near 3GHz. That is, the Athlon 64 FX-57 has a 7% frequency reserve. This is not much, but you shouldn't expect more from the senior model in the series. Yet even this result gives hope that AMD will be able to release an Athlon 64 FX-59 even on the current core after certain adaptation of the tech process.
We also want to note that AMD is beginning to offer updated Athlon 64 FX-55 on the same San Diego core along with the release of the Athlon 64 FX-57. Thus, both Athlon 64 FX processors will have the same functional characteristics. You can easily tell a new 90nm Athlon 64 FX-55 with SSE3 support by the marking which reads like "ADAFX55DAA5BN". Frankly speaking, these processors are going to be more appealing for overclockers since they will have the same core as the Athlon 64 FX-57 with a non-locked multiplier, but will cost $200 less.
In the course of this test session we will compare the performance of the new Athlon 64 FX-57 processor with the performance of top-end single- and dual-core processors from the same market segment, namely from such processor series as Athlon 64, Athlon 64 FX, Athlon 64 X2, Pentium 4, Pentium 4 Extreme Edition and Pentium Extreme Edition. We have several platforms assembled from the following components:
Processors:

AMD Athlon 64 X2 4800+ (Socket 939, 2.4GHz, 2x1024KB L2 cache, E6 core revision – Toledo)
AMD Athlon 64 FX-57 (Socket 939, 2.8GHz, 1024KB L2 cache, E4 core revision – San Diego)
AMD Athlon 64 FX-55 (Socket 939, 2.6GHz, 1024KB L2 cache, CG core revision – Clawhammer)
AMD Athlon 64 4000+ (Socket 939, 2.4GHz, 1024KB L2 cache, CG core revision – Clawhammer)
AMD Athlon 64 3800+ (Socket 939, 2.4GHz, 512KB L2 cache, E3 core revision – Venice)
Intel Pentium Extreme Edition 840 (LGA775, 3.2GHz, 2x1MB L2)
Intel Pentium 4 Extreme Edition 3.73GHz (LGA775, 3.73 ÃÃö, 2MB L2)
Intel Pentium 4 670 (LGA775, 3.6GHz, 2MB L2)
Intel Pentium 4 660 (LGA775, 3.6GHz, 2MB L2)
Intel Pentium 4 570 (LGA775, 3.8GHz, 1MB L2)

Mainboards:

ASUS A8N SLI Deluxe (Socket 939, NVIDIA nForce4 SLI)
ASUS P5ND2-SLI Deluxe (LGA775, nForce4 SLI Intel Edition)

Memory:

1024MB DDR400 SDRAM (Corsair CMX512-3200XLPRO, 2x512MB, 2-2-2-10)
1024MB DDR2-667 SDRAM (Corsair CM2X512A-5400UL, 2x512MB, 4-4-4-14)

Graphics card: PowerColor RADEON X800 XT (PCI Express x16)
Disk subsystem: Maxtor MaXLine III 250GB (Serial ATA-150)
Operating system: Microsoft Windows XP SP2
Performance Review of Fx 57
Office applications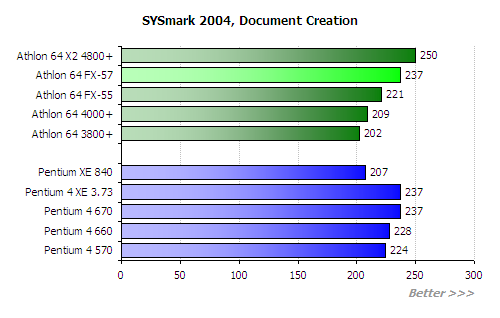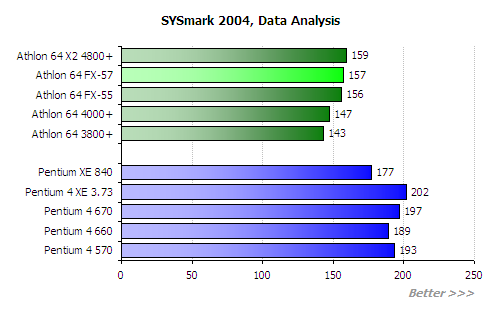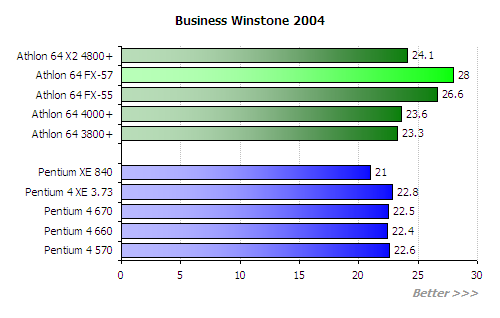 AMD's processors have traditionally been good in Business Winstone 2004. The Athlon 64 FX-57 improves on their results further, mostly thanks to its higher 2.8GHz clock rate. In SYSmark 2004, however, the new processor is not a leader because this benchmark simulates the user's working with several applications simultaneously. Pentium 4 processors that support Hyper-Threading technology are better suited to this kind of load.
Digital content creation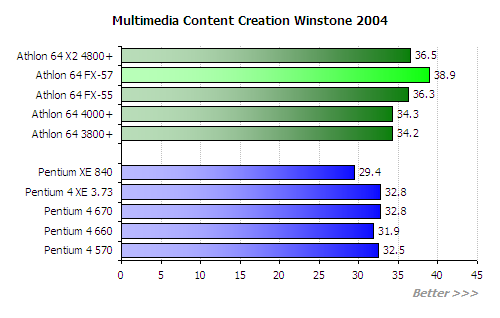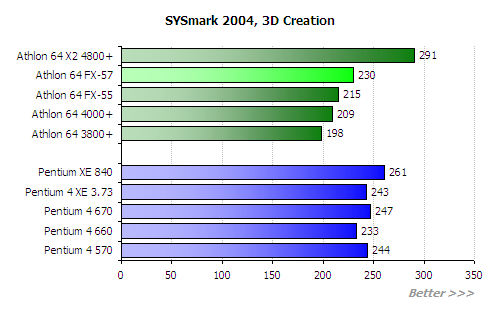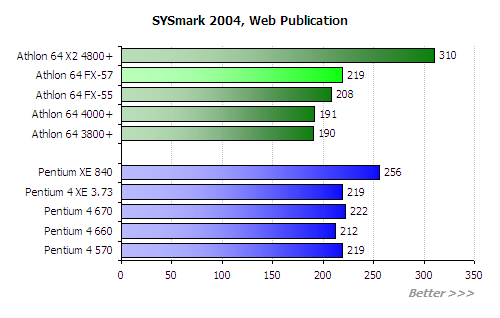 Multi-threading is also actively used in tests that simulate the user's work in digital content creation applications, but the Athlon 64 FX-57 is at least no worse than the senior Pentium 4 models here.
PCMark04, 3DMark 2001 SE, 3DMark05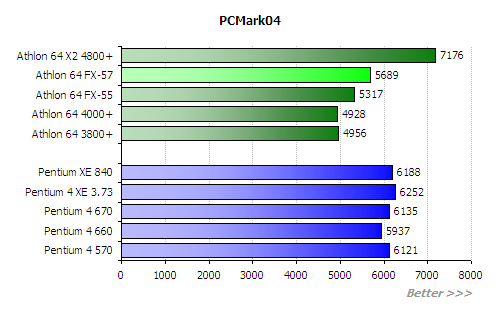 PCMark04 is very sensitive to the number of processor cores, both real and virtual ones. The Athlon 64 and Athlon 64 FX processors are single-core solutions and perform not very well in this test.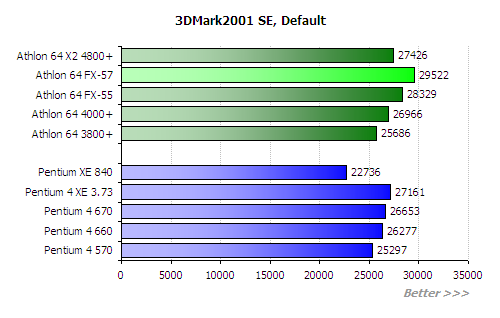 AMD's new processor is the best one in 3DMark 2001 SE. This is the first gaming test to show the high performance of the new CPU.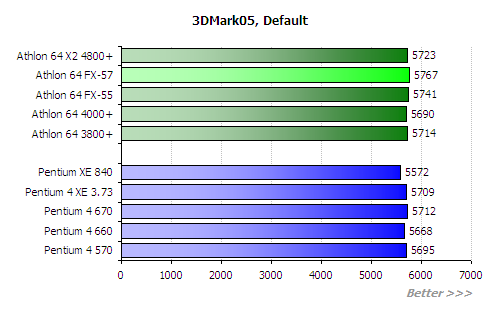 The results of the newer 3DMark05 benchmark are greatly limited by the performance of the graphics subsystem. Anyway, the platform with the new AMD processor turns in the best result.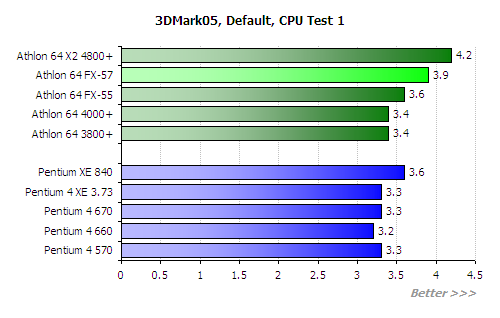 In the CPU tests from the same benchmark the Athlon 64 FX-57 is only inferior to the dual-core processors. This is normal as the CPU load is distributed in two threads here: physics modeling and vertex shader execution.
Gaming applications benchmark fx 57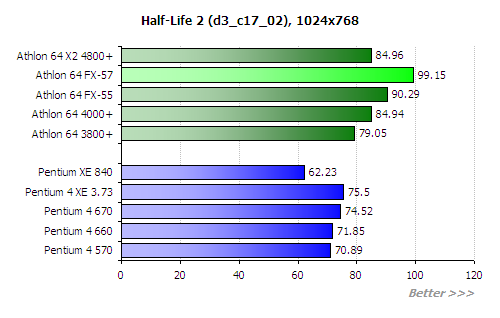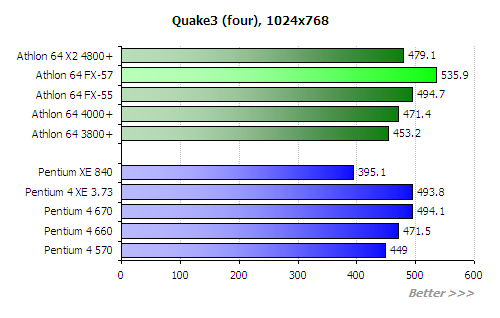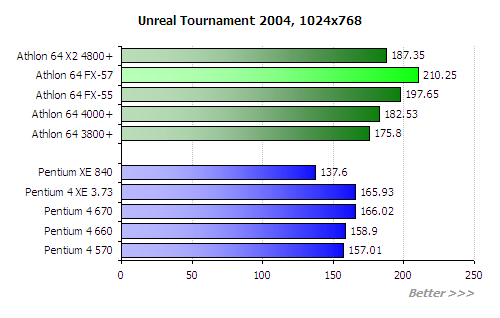 There can be no doubt now that the Athlon 64 FX-57 is currently the fastest processor in games
Data compression fx57 benchmark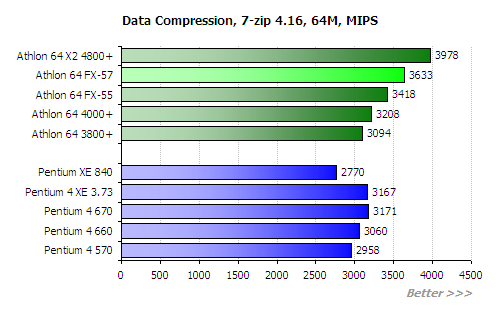 AMD's new product is fast in data compression programs. It is first in WinRAR and second, after the dual-core Athlon 64 X2 4800+, in 7zip which supports multi-threading.
Audio, video encoding fx57 benchmark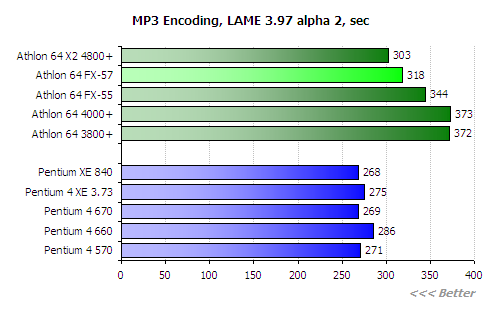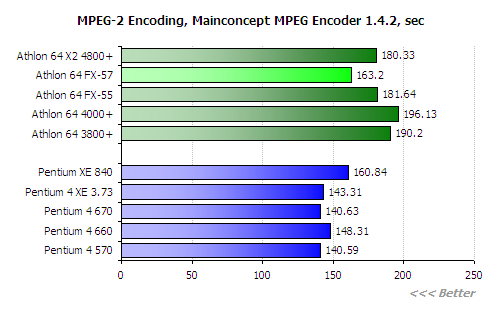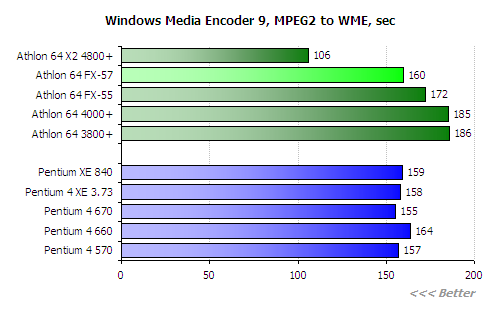 We have already noted in our reviews that dual-core architectures perform better at encoding media data. Our point is once again confirmed by this test. The Athlon 64 X2 4800+ generally handles encoding tasks somewhat faster than the Athlon 64 FX-57. And still, the 400MHz higher frequency of the FX-57 helps it to beat even the Athlon 64 X2 4800+ in some cases (see the results of encoding with the Mainconcept and XviD codecs).
Pentium 4 processors are better optimized for processing streaming media data, though. The Athlon 64 FX-57 with its 2.8GHz frequency and support of SSE3 instructions is anyway slower than the senior Pentium 4 models with such codecs as Lame, Mainconcept, and DivX.
Image-, video-editing applications fx57 benchmark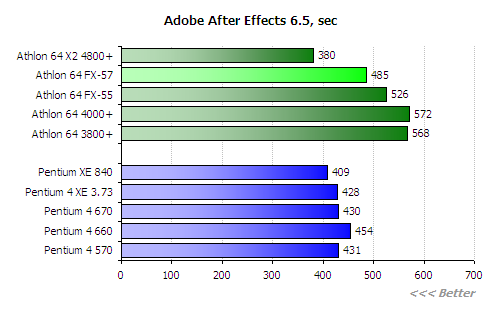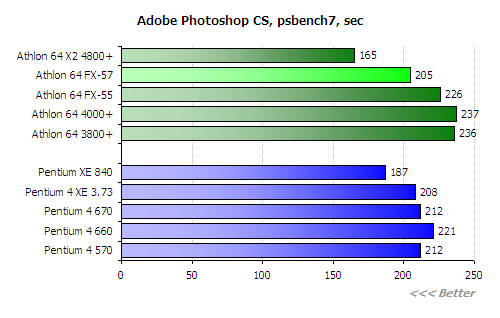 The higher clock rate of the Athlon 64 FX-57 has changed the balance of forces in these Adobe applications. This processor is the fastest single-core CPU in Photoshop and Premier. In Adobe After Effects, however, the K8 architecture is less efficient than NetBurst.
Mathematical computations fx57 benchmark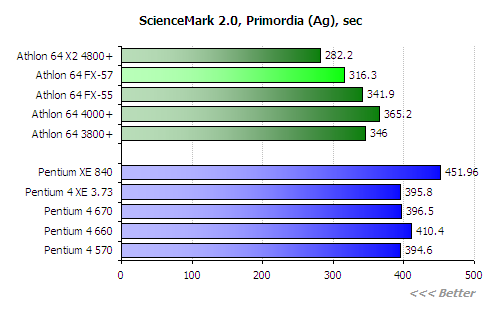 Did you expect anything else in mathematical modeling tasks? The high-performance FPUs of Athlon 64 CPUs leave no chance to the competing processors.
3D rendering fx57 benchmark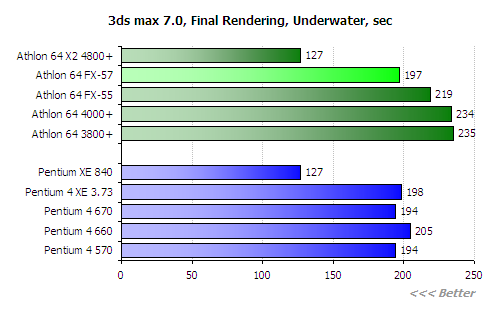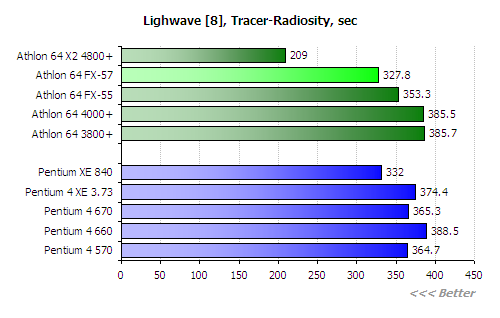 If there were no dual-core architectures, the Athlon 64 FX-57 would be the best processor for 3D rendering. But such tasks can be easily paralleled, so the use of single-core architectures is now inefficient for them
Conclusion of our fx57 review
You must have been out of touch with the desktop processor market, if you have got any surprising information from this review. The Athlon 64 FX-57 has performed most expectedly in all our tests, yielding predictable performance, overclocking, and power consumption results. And we guess you won't be surprised if we call the tested Athlon 64 FX-57 the best gaming processor for today. It also performs well in many other applications, by the way. In fact, this CPU is not the leader in two cases only. It is worse than dual-core processors in multi-threading applications and than CPUs of Intel's NetBurst architecture at encoding audio and video content.
Considering these things, the Athlon 64 FX-57 is going to be a good choice for a games-oriented computer. An additional bonus is the non-locked multiplier that allows overclocking this processor easily, especially with extreme cooling methods. Note also that using AMD's most progressive core for today (San Diego) the Athlon 64 FX-57 has some extra advantages over the previous models in this series. It has a higher overclocking potential, relatively low heat dissipation and power consumption, SSE3 instructions support, and an improved memory controller.
On the other hand, if you are not a dedicated gamer, you may want to consider a dual-core Athlon 64 X2 that shows itself brilliantly in multi-threading environments.
Well, this problem of choice between Athlon 64 FX and Athlon 64 X2 stands only for wealthy PC enthusiasts as yet: the manufacturer asks quite a lot of money – around $1000 – for a processor of that class. And this high price seems to be the main drawback of modern top CPU models from AMD.






xtreview is your : Video card - cpu - memory - Hard drive - power supply unit source







we would be happy to answer for your question . if you have suggestion or comment regarding this review our support would be glad to help just join our forum and ask u will get the best answer
to discuss check our forum section :-)
RATE THIS REVIEW