By :video card review
Posted:2006-05-12






xtreview is your : Video card - cpu - memory - Hard drive - power supply unit source







7300gs review benchmark overclock : msi
NVIDIA® GeForce® 7300 graphics processing units (GPUs) allow you to experience the latest gaming effects without compromising performance. Boasting the 3D graphics features of today's most advanced GPUs—including full support for Microsoft® DirectX® 9.0 Shader Model 3.0 and true high dynamic-range (HDR) lighting—GeForce 7300 GPUs also bring stunning, high definition video and superb picture clarity with minimal CPU usage with NVIDIA® PureVideoв"ў technology. For the performance and features you need to play the latest games and enjoy home-theater quality video, make sure your PC is equipped with a GeForce 7300 GPUs.

Available Models: GeForce 7300 GT, GeForce 7300 GS, and GeForce 7300 LE



NVIDIA® CineFX® 4.0 Shading Architecture
Vertex Shaders

Support for Microsoft DirectX 9.0 Vertex Shader 3.0
Displacement mapping
Geometry instancing
Infinite length vertex programs

Pixel Shaders

Support for DirectX 9.0 Pixel Shader 3.0
Full pixel branching support
Support for Multiple Render Targets (MRTs)
Infinite length pixel programs

Next-Generation Texture Engine

Accelerated texture access
Up to 16 textures per rendering pass
Support for 16-bit floating point format and 32-bit floating point format
Support for non-power of two textures
Support for sRGB texture format for gamma textures
DirectX and S3TC texture compression

Full 128-bit studio-quality floating point precision through the entire rendering pipeline with native hardware support for 32bpp, 64bpp, and 128bpp rendering modes
64-Bit Texture Filtering and Blending
Delivers true high dynamic-range (HDR) lighting support
Full floating point support throughout entire pipeline
Floating point filtering improves the quality of images in motion
Floating point texturing drives new levels of clarity and image detail
Floating point frame buffer blending gives detail to special effects like motion blur and explosions
NVIDIA® Intellisampleв"ў 4.0 Technology
Advanced 16x anisotropic filtering (with up to 128 taps)
Blistering-fast antialiasing and compression performance
Gamma-adjusted rotated-grid antialiasing removes jagged edges for incredible image quality
Transparent multisampling and transparent supersampling modes boost antialiasing quality to new levels
Support for normal map compression
Support for advanced lossless compression algorithms for color, texture, and z-data at even higher resolutions and frame rates
Fast z-clear
NVIDIA® UltraShadowв"ў II Technology
Designed to enhance the performance of shadow-intensive games
NVIDIA® SLIв"ў Technology
1
Patented hardware and software technology allows two GeForce-based graphics cards to run in parallel to scale performance and enhance image quality on today's top titles.
Quad SLI technology enables SLI support for four GPUs, providing mind-blowing performance and image quality at extreme resolutions
NVIDIA® PureVideoв"ў Technology
Dedicated on-chip video processor
High-definition H.264, MPEG2 and WMV9 decode acceleration
Advanced spatial-temporal de-interlacing
Inverse telecine (2:2 and 3:2 pull-down correction)
High-quality video scaling
Video color correction
Microsoft® Video Mixing Renderer (VMR) supports multiple video windows with full video quality and features in each window
NVIDIA® TurboCacheв"ў Technology
2
Combines the capacity and bandwidth of dedicated video memory with dynamically allocated system memory to dramatically turbocharge performance
Built for Microsoft® Windows Vistaв"ў
Third-generation GPU architecture built for Windows Vista
Delivers best possible experience when running Windows Vista 3D graphical user interface
New OS supported by renowned NVIDIA® Unified Driver Architecture (UDA) for maximum stability and reliability
NVIDIA® PureVideoв"ў technology delivers high-quality VMR pipeline for best-in-class video for Windows Vista
Advanced Display Functionality
Dual integrated 400MHz RAMDACs for analog display resolutions up to and including 2048x1536 at 85Hz
Dual-link DVI capability to drive the industry's largest and highest resolution digital flat panel displays up to 2560x16003
Integrated HDTV encoder provides analog TV-output (Component/Composite/S-Video) up to 1080i resolution
Full NVIDIA® nView® multi-display technology capability
High Speed Interfaces
Designed for PCI Express x16
Designed for high-speed GDDR3 memory1
NVIDIA® Digital Vibrance Control® (DVC) 3.0 Technology
DVC color controls
DVC image sharpening controls
Operating Systems
Windows XP/Windows XP 64
Built for Microsoft Windows Vista
Windows 2000
Linux
Macintosh OS X
API Support
Complete DirectX support, including the latest version of Microsoft DirectX 9.0 Shader Model 3.0
Full OpenGL support, including OpenGL 2.0
1 Feature available on select GeForce 7 Series GPUs only.
2 Feature available on GeForce 7300 GS and LE GPUs only.
3 Feature available on select GeForce 7 Series GPUs only.
GeForce 7 Series GPUs Model Comparison
PCI Express
AGP 8X/PCI Express
PCI Express
PCI Express
SM3.0
SM3.0
SM3.0
SM3.0
4.0
4.0
4.0
4.0
Y
Y
Y
Y1
Y
Y
Y
Y
n/a
n/a
n/a
Y
256-bit
256-bit
128-bit
128-bit2/64-bit
GDDR3
GDDR3
GDDR3/DDR2
GDDR3/DDR2
0.09 µ
0.11 µ
0.09 µ
0.09 µ
400MHz
400MHz
400MHz
400MHz
1 Requires NVIDIA® ForceWare® Release 90 driver
2 128-bit memory interface only available on GeForce 7300 GT
The 7300 gs Card

For this review, we will offer a brief recap of the card's features for reference, and look at some performance tests with our EVGA e-Geforce 7300 GS.

The GeForce 7300 GS was introduced by NVIDIA to take the place of the 6200 TurboCache on their budget end of graphics cards, and it does the job well, we've found. As the name implies, the 7300 GS is based on the GeForce 7 architecture, but it's been stripped down quite a bit.

There is a half-size version of the card which only has DVI and TV-out connections, but the EVGA 7300 GS that we have is full size and includes a VGA D-sub as well. The card is quite small and light, which makes sense given its budget classification. There are no external power connectors, and there is a very small fan on the GPU to keep it cool, with the EVGA logo in the center of it.


Like the 6200, the 7300 GS uses TurboCache technology, which basically allows the card to "page" memory into system RAM in order to extend the card's memory. The 7300 GS also has higher clock speeds than the 6200 (550MHz/350MHz vs 350MHz/350MHz), which will give it a boost in performance over this card.

The 7300 GS also has 3 vertex and 4 pixel pipelines, the same as the 6200, but our EVGA 7300 GS has a larger memory size of 256 MB verses 16-64 MB of the 6200TC. Currently, SLI with this part is not supported, but we would be surprised if we don't see this feature enabled at some point later on. DVD decoding is another feature of this card, and it will likely include high definition video capabilities in future driver updates.

As we mentioned earlier, EVGA is a company with which we've had good experiences in the past, as their prices and warranty policy set them apart from the others. For those not familiar with their warranty policy, EVGA provides a lifetime warranty and will replace your card for any reason other than physical damage (this means damage due to things like power surges, and user-overclocking is covered). If you are looking for a 7300 GS, the EVGA version would be a good part to consider.
BENCHMARK 7300gs
My test system was as follows:



Testbed
Processor:
AMD Athlon 64 FX-57 2.8 GHz Processor
Memory:
1 GB corsair 2*512 DDR500 RAM
Motherboard:
Gigabyte NVIDIA nForce 4
Hard Drive:
Raptor 100000 rpm
Power Supply:
Antec True Controle 550W
Battlefield 2 7300gs benchmark
Halflife 2 Lost Coast 7300gs benchmark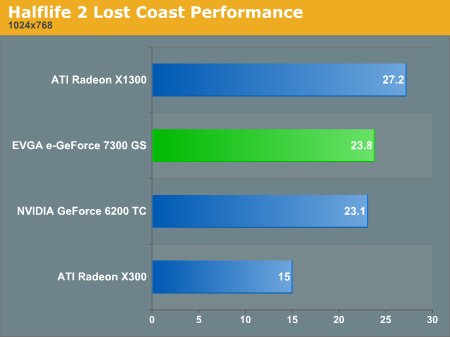 Quake 4 7300gs benchmark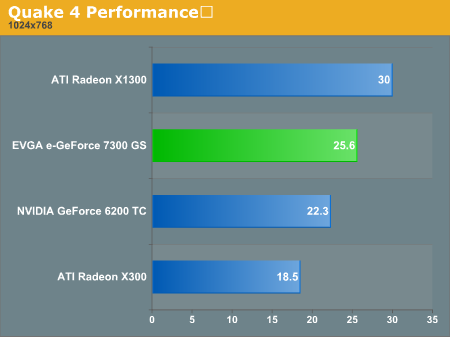 As these graphs show, with high quality settings enabled, the framerates we see with these cards aren't quite playable for the most part over 800X600 resolution. If you don't mind playing at 800X600, then Halflife2 Lost Coast and Quake 4 will run fine on the 7300 GS at high quality, but you will have to bump down the quality settings if you want smooth game play at higher resolutions. We can see how the 7300 GS performs more similarly to the X1300 than to the 6200 TC, which confirms our suspicions and shows this card to be a good replacement to the 6200.
Full List of 7300gs future
GeForce 7300GS Chipset Features
Full Microsoft® DirectX®9.0 Shader Model 3.0 Support
The standard for today's Purchase and next-generation consoles enables stunning and
complex efects for cinematic realism. NVIDIA® GPUs offer the most complete implementation of the Shader Model 3.0 feature set -- including vertex texture fetch (VTF) -- to ensure top-notch compatibility and performance for all DirectX9 applications.
True High Dynamic-Range (HDR) Rendering Support
The ultimate lighting effects bring environments to life for a truly immersive, ultrareailstic experience. Based on the OpenEXR technology from Industrial Light and Magic, NVIDIA's 64-bit texture implementation delivers state-of-the-art high dynamic-range (HDR) visual effects through floating point capabilities in shading, filtering, texturing, and blending.
NVIDIA CineFX® 4.0 Shading Architecture
Delivers advanced visual effects at unimaginable speeds. Full support for Microsoft ® DirectX® 9.0 Shader Model 3.0 enables stunning and complex special effects. Next-generation hader architecture with new texture unit design streamlines texture processing for faster and smoother gameplay.
PCI Express Certified
Designed to run perfectly with the next-generation PCI Express bus architecture. This new bus doubles the bandwidth of AGP 8x delivering over 4GB/s in both upstream and downstream data transfers.
NVIDIA® PureVideoв"ў Technology
The combination of high-definition video processors and software delivers unprecedented picture clarity, smooth video, accurate color, and precise image scaling for all video content to turn your PC into a high-end home theater.
Adaptable Programmable Video Processor
PureVideo's programmable technology adapts to new video encoding formats as they are developed to provide a future-proof video solution.
High-Definition MPEG-2 and WMV Hardware Acceleration
Smoothly playback all MPEG-2 and WMV video - including WMV-HD - with minimal CPU usage so the PC is free to do other work.
Advanced Motion Adaptive De-Interlacing
Smoothes video and DVD playback on progressive displays to deliver a crisp, clear picture that rivals high-end home theater systems.
Video Scaling and Filtering
High-quality scaling and filtering technology delivers a clear, clean image at any window size, including full-screen HDTV resolutions up to 1080i.
Video Color Correction
Color temperature correction makes actors' faces appear natural, rather than washed out and pale, when playing videos on LCD and CRT displays. Display gamma correction ensures videos are not too dark, overly bright, or washed out regardless of the video format or display.
NVIDIA® ForceWareв"ў Unified Driver Architecture (UDA)
Delivers a proven record of compatibility, reliability, and stability with the widest range of games and applications. ForceWare ensures the best out-of-box experience for every user and delivers continuous performance and feature updates over the life of NVIDIA ® GeForce GPUs. Includes full support for PCI Express and AGP.
NVIDIA® nViewв"ў Multi-Display Technology
Advanced technology provides the ultimate in viewing flexibility and control for multiple monitors.
NVIDIA® Didital Vibrance Control 3.0 Technology
Allows the user to adjust color controls digitally to compensate for the lighting conditions of their workspace, in order to achieve accurate, bright colors in all conditions.
OpenGL® 2.0 Optimizations and Support
Ensures top-notch compatibility and performance for all OpenGL applications.
Single-Link DVI Support
Able to drive the industry's largest and highest resolution flat-panel displays up to and including 1900x1200.
Key Specifications
550MHz core clock speed
810MHz 256MB DDR2 memory
64-bit memory interface
4 Pixel pipelines NVIDIA CineFX 4.0 engine
Performance
System Memory Equip.

256MB

512

1GB

256MB

512

1GB

VGA On-board Memory

128MB
256MB

Total Memory Enabled by TurboCache

128MB
256MB
256MB
256MB
256MB
512MB






xtreview is your : Video card - cpu - memory - Hard drive - power supply unit source







we would be happy to answer for your question . if you have suggestion or comment regarding this review our support would be glad to help just join our forum and ask u will get the best answer
to discuss check our forum section :-)
RATE THIS REVIEW