By :hardware review
Posted:2006-05-19






xtreview is your : Video card - cpu - memory - Hard drive - power supply unit source







Intel pentium 4 Core yonah Duo review Overclocking benchmark
Some time ago we posted an article devoted to the possible use of dual-core mobile Core Duo processors (aka Yonah) in desktop platforms. Intel made it possible through active promotion of their Viiv platform. According to this concept the notebook processor models can officially be used in multimedia platforms. Note that the mobile Core Duo processor that has inherited its microarchitecture from the Pentium M solution proved pretty competitive in our test session. Its performance turned out up to the level of desktop processors from the same price group, however, unlike competitors, Core Duo could boast relatively low heat dissipation. All these factors summed up gave us a clear idea that Core Duo could turn into a great choice for your home system.
However there is one very unpleasant obstacle on Core Duo's way to desktop platforms: there are very few Socket 479 mainboards out there and besides, they can hardly be called enthusiast-friendly. The Viiv mainboard from ASUS we have reviewed recently (for details see our article called Meet the Viiv Platform: Intel Core Duo for Desktops) has pretty typical features for a solution of its class: microATX form-factor, integrated graphics core and very scarce overclocking-friendly options. We believe that other mainboards designed for Viiv platforms may also suffer from this discouraging peculiarities.
Here I have to stress that since the mainboard we used for our previous Core Duo test session didn't offer much of overclocking flexibility, we didn't manage to really investigate the overclocking potential of this CPU, although we expected it to be quite impressive. Of course, Core Duo processors based on the Yonah core are manufactured with 65nm technological process and boast low heat dissipation thanks to their micro-architectural peculiarities. Moreover, they belong to mobile processor family and it means that their clock frequency is kept at a lower rate for the sake of lower heat dissipation and not for micro-architectural or technological reasons, because notebooks have very strict requirements when it comes to thermal characteristics. In other words, if we are not worried about the heat dissipation of Core Duo processor exceeding 31W, which is a funny number for desktop platforms, then we might be able to increase the core clock speed of our processor far beyond 2.16GHz. And this frequency is currently the maximum clock speed for the CPUs of this processor family.
Luckily, not all the mainboard manufacturers blindly follow Intel's recommendations when it comes to designing "proper" mainboards meeting all the official requirements. Some vendors are not afraid to fall into microprocessor giant's disgrace and offer solutions with all the enthusiast-friendly features. In our previous review we have already mentioned AOpen Company and their Socket 479 i975Xa-YDG mainboard targeted for hardcore users and based on i975X chipset. This mainboard has nothing to do with Viiv platform, but it is also designed for desktop systems built around Core Duo and Core Solo processors on Yonah core. AOpen didn't position this platform as a solution for multimedia systems. i975Xa-YDG is a fully-fledged solution for gamers and overclockers. The only problem about AOpen i975Xa-YDG is that it is extremely difficult to find. They manufacture this solution in very small quantities, they even don't have enough samples to give out to reviewers. So, we don't expect this product to start selling freely any time soon, no matter how sad that is.
However, we were the lucky ones. After three long months of hopeless waiting we have finally managed to get our hands on this interesting product for a few days. As a result we are happy to offer you this second article that is dedicated to Core Duo in the desktop segment. However today we are going to pay special attention to the part of our testing that we had to disregard last time. Namely, we are going to se what the Core Duo processor has to offer overclocking fans. At the same time we will also discuss in greatest detail the remarkable AOpen i975Xa-YDG mainboard that some lucky ones may still manage to find in stores one day.
AOpen i975Xa-YDG: Closer Look
So, the AOpen i975Xa-YDG Socket 479 mainboard designed for Core Duo and Core Solo mobile processors is based on the top-of-the-line i975X desktop chipset. Intel designed this solution for a totally different application field. In fact, this chipset was initially intended for LGA 775 mainboards supporting Pentium 4 and Pentium D processors. However we shouldn't forget that CPUs with NetBurst architecture and contemporary mobile Intel CPUs use the same front side bus aka Quad Pumped Bus. This is exactly why it becomes possible to create hybrid solutions like our today's testing participant that supports mobile processors but is actually based on a desktop core logic set. However, I didn't at all mean to diminish the engineering achievements of the AOpen guys, especially since AOpen i975Xa-YDG mainboard has been designed from scratch, because Intel certainly doesn't offer any reference circuitry designs that could help the developers of solutions like that. So, AOpen i975Xa-YDG is a truly unique product.
The table below contains the main technical specs for AOpen i975Xa-YDG mainboard:
AOpen i975Xa-YDG

CPUs

Intel Core Duo/Core Solo for Socket 479

Chipset

Intel 975X (i975X + ICH7)

FSB frequency

133-320MHz (with 1MHz increment)

Overclocking-friendly functions

Adjustable processor Vcore, Vmem, North Bridge voltage
and PCI Express bus voltage.
Independently adjustable PCI Express clock rate.
Automatic CPU overclocking.

Memory

4 DDR2 DIMM slots for dual-channel
DDR2-667/533 SDRAM

PCI Express slots

2 x PCI Express x16
2 x PCI Express x1

PCI expansion slots

2

USB 2.0 ports

8 (4 – on the rear panel)

IEEE1394 ports

2 (1 – on the rear panel, via the TI 1394a controller)

ATA-100/133

1 ATA-100 channel (in the chipset)
2 ATA-133 channels
(via the ITE IT8212F controller, with RAID support)

Serial ATA

2 Serial ATA-150 channels
(with RAID support, implemented in the chipset)
1 Serial ATA-300 channel
(implemented via the JMicron JMB360 controller)

ATA RAID support

RAID 0, 1, Matrix Storage in the chipset
RAID 0, 1, 0+1 in ITE IT8212F controller

Integrated sound

8-channel HD codec: Realtek ALC880

Integrated network

Gigabit Ethernet controller: Marvell 88E8053

Additional features

None

BIOS

Phoenix-AwardBIOS v6.00PG

Form-factor

ATX, 305mm x 244mm
Although AOpen i975Xa-YDG mainboard is equipped with a Socket 479, it is compatible with far not all processors featuring this type of packaging. Only the latest 65nm Core Duo and Core Solo CPUs can work in this board, while the older Pentium M solutions will be incompatible. The issue lies with Intel's decision to deprive these processors of their pin-to-pin compatibility, so AOpen engineers couldn't really do much about it. However, we can confirm with all certainty that these mainboards will be compatible with the upcoming Core processors also known as Merom. AOpen i975Xa-YDG will definitely support these processors and all you will have to do to ensure that is to update the BIOS.
The chipset North Bridge is cooled down by a massive passive aluminum heatsink of a pretty common shape. The South Bridge has no cooling whatsoever.
I would like to specifically dwell on the processor cooling AOpen engineers suggest for their i975Xa-YDG mainboard. The thing is that there are no standard desktop coolers for Core Duo and Core Solo processors, because they are primarily targeted for mobile computer systems. Therefore, there is a special cooler with all the necessary retention supplied with the mainboard.
This cooler doesn't really look impressive. It includes an aluminum heatsink with a square sole 70mm x 70mm and 33 fins 20mm tall. It is topped with a 70mm fan with the maximum rotation speed of 2,000rpm. An indisputable advantage of this cooler is its sufficient efficiency for mobile processors and at the same time quiet operation.
Although AOpen doesn't position its mainboard as a solution for quiet and economical systems, AOpen i975Xa-YDG mainboard supports SpeedStep technology that allows dropping the CPU speed down to 1GHz in idle mode.
Therefore, the awkwardly implemented hardware monitoring of the CPU status leaves a strange impression. While Intel introduced a more precise mechanism for core temperature control using the built-in diode in its new Core Duo and Core Solo processors, AOpen i975Xa-YDG doesn't use this diode at all. To get the thermal measurements they use the diode beneath the processor socket, which is a truly archaistic method generating huge measuring errors.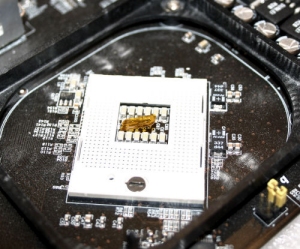 In conclusion to our mainboard features discussion i would like to say a few words about the bundle. The mainboard we received for our test session arrived not in its authentic box without any accessories. However, the company representative assured us that the mass mainboards (the existence of which is still quite questionable) also come bundled with an IrDA port and a remote control unit that allows to start and navigate through multimedia applications as well as perform processor overclocking in real time.
pentium Yonah Core Duo T2600 Overclocking Experiment - Review
For our experiments we took the same Intel Core Duo T2600 processor as the one we used to test our Viiv platform.
This CPU works at 2.16GHz nominal clock speed and 13x clock frequency multiplier. So, this processor uses 166MHz front side bus (667MHz if we recalculate it into the terms of Quad Pumped Bus). This frequency is standard for all mobile processors from Core Duo and Core Solo families. As far as the Vcore of our processor is concerned, it equaled 1.25V, although this parameter may vary between 1.25V and 1.4V by different Yonah based CPU models.
We have checked that right away when we started overclocking our Intel Core Duo T2600 CPU. By raising the Vcore just a little bit – up to 1.4V – we got our CPU to run at 2.6GHz set as 13x200MHz. Of course, we knew that this processor can do even better. However, AOpen i975Xa-YDG allows to continue CPU overclocking beyond 200MHz FSB frequency only after you perform a few tricks. Namely, you have to reset two jumpers on the mainboard PSB.
Once the jumpers have been set to allow access to higher FSB frequencies, the BIOS Setup of AOpen i975Xa-YDG increases the supported frequency range from 200MHz to 320MHz.
So, we continued our overclocking experiments. With the Vcore set to 1.4V, our gradual overclocking stopped at 210MHz FSB frequency. Further frequency increase resulted into unstable system operation. However, we couldn't possible be satisfied with this result, so we raised the processor core voltage by another bit – to 1.5V. However before we proceeded, we decided to replace the default cooler with a more solid-looking boxed cooler for the top Socket 478 Pentium 4 processors, which was definitely more efficient. Since AOpen i975Xa-YDG mainboard uses a standard Socket 478 cooler retention mechanism, the cooling system that we chose is "relatively" compatible with the board, as we have already mentioned above.
Once the cooler had been replaced, we managed to increase the FSB frequency to 231MHz. At this speed the CPU remained stable, however if the FSB frequency rose at least 1MHz higher, stability was gone. So, the maximum frequency we managed to get our Core Duo T2600 work at was 13x231MHz=3.0GHz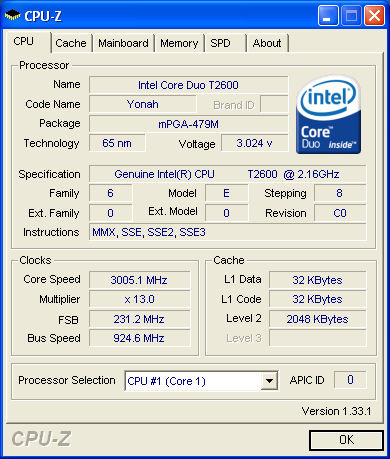 I have to stress that this is a great result. With the top Core Duo processor model working at 2.16GHz clock speed we managed to achieve 40% frequency growth. No other processor families can boast overclocking potential like that of their top models. So, our suppositions cam absolutely true: the overclocking potential of contemporary mobile Core Duo processors installed in desktop systems was really impressive. It is important however that you know to take advantage of it and for that you definitely need an AOpen i975Xa-YDG mainboard with its great overclocking friendly functions.
Note that when we overclocked the Intel Core Duo T2600 processor to 3.0GHz by raising the FSB frequency to 231MHz, the DDR2 SDRAM frequency inevitable went up, too. Therefore, when we tested a system with the overclocked processor the memory worked at 770MHz. The timings remained at 4-4-4-12.
Benchmark: Intel Core Duo T2600 Overclocked
Synthetic Benchmarks: PCMark05, 3DMark06 and ScienceMark 2.0
First of all we decided to check the performance of our testing participants in popular synthetic benchmarks.
First of all we decided to check the performance of our testing participants in popular synthetic benchmarks.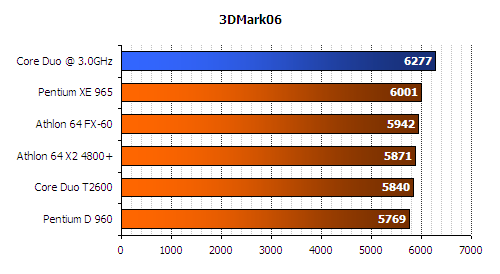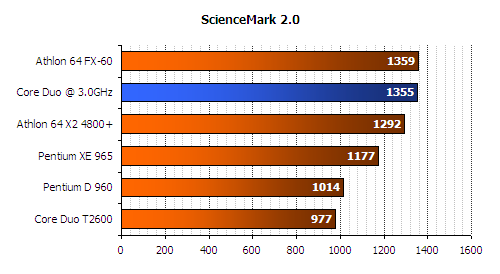 Synthetic benchmarks show clearly that the Core Duo processor overclocked to 3.0GHz wins over the top-of-the-line desktop processors from the highest price range. Of course, Yonah's performance scales greatly as the frequency increases. The 40% frequency growth resulted in almost 40% performance improvement in CPU tests. As a result, if we said that Core Duo T2600 working at its nominal speed performed up to the mark, then the performance of the overclocked Core Duo can truly be called undefeated. It only loses in two cases. One, it yields to the Pentium XE 965 in the memory subsystem test, because it features half as big total L2 cache capacity. And two, it loses to Athlon 64 FX-60 in ScienceMark 2.0 test because of the weak FPU unit, which Yonah inherited from the P6 micro-architecture.
General Performance
We tested the general performance in office and digital content creation applications with the help of SYSMark 2004 SE benchmarking suite, which also uses multi-threading very actively
Audio and Video Encoding benchmark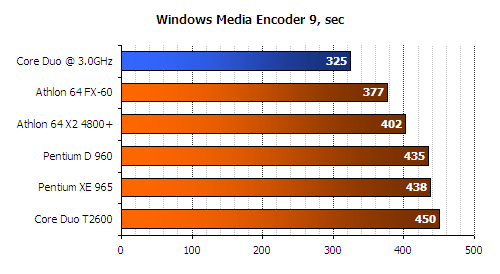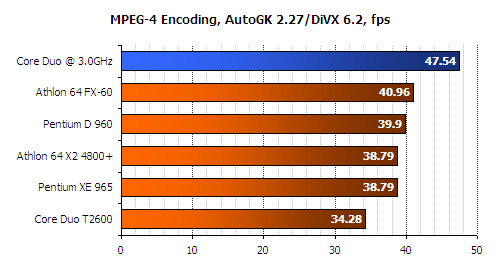 Audio and video encoding tasks are far not the strengths of the mobile Core Duo processor working at the nominal speeds. It was defeated by the desktop products during encoding of all types that we used in this test session. Its slow results in applications of this type are determined by slow processing of FPU and SSE instructions that are actively used for streaming operations on multimedia data.
However, once we overclock it, the situation changes dramatically. At 40% higher clock speed Core Duo processor managed to improve its performance in encoding tasks by practically the same percentage. As a result, the 3GHz Intel Core Duo processor easily outperforms Athlon 64 FX-60 and Pentium XE 965.
Image and Video Editing benchmark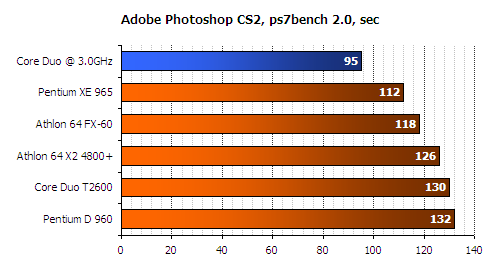 The same is true for the Core Duo performance in popular Adobe applications: Adobe Photoshop and Adobe Premiere. Overclocked Core Duo CPU is the leader here.
Other Applications
Since it is extremely interesting to compare the performance of the Core Duo processor against the desktop CPUs, we decided to add a few more widely spread programs to our list of tests.
The 7-zip archiving tool that supports multi-threading quite efficiently we measured the data compression and decompression speeds.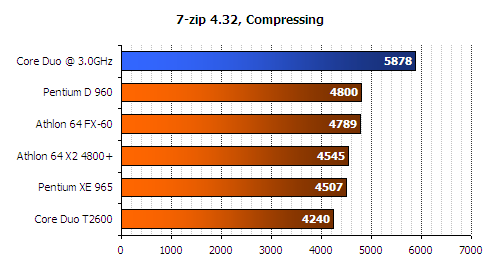 Gaming benchmark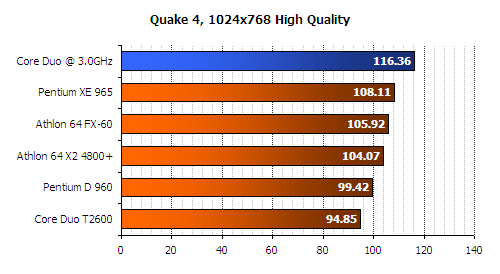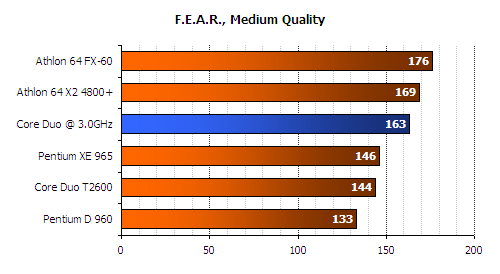 We have already got used to the fact that AMD processors with K8 micro-architecture defeat their competitors from Intel in gaming applications. Core Duo at its nominal frequencies cannot change the situation. However, when we overclock it, the picture gets totally different in no time. 3.0GHz Intel Core Duo gets far ahead of Athlon 64 FX-60 in most 3D games. And even if we overclock the AMD processor, the situation will hardly change. Athlon 64 FX-60 works at the top of its frequency potential and is very unlikely to cope with even 10% frequency increase above the nominal. But even a 10% performance gain will not help Athlon 64 FX-60 to regain its leadership in games.
Conclusion
First of all, I would like to repeat the conclusions that we drew in our previous review. Core Duo processor is a pretty good product not only for the mobile segment but also for the desktop application. Its performance with the typical desktop workload is comparable against the dual-core Athlon 64 X2 and Pentium D solutions, but at the same time Core Duo is a way more economical. Heat dissipation and power consumption of this processor are a few times lower than by desktop processors because it was initially designed for the mobile market.
Our today's review has also revealed another important feature of this CPU: its excellent overclocking potential. If we look at Core Duo as at a desktop CPU, keeping its heat dissipation and power consumption at low level will not be so critical any more. As a result, we can achieve truly remarkable overclocking results, and Core Duo is perfectly fit for that. Take for instance its fine 65nm production process. As we have revealed during our practical experiments, Core Duo can be easily overclocked to 3.0GHz, which is 40% above the nominal clock speed.
The performance of the overclocked Core Duo processor working at 3.0GHz is admirable. It is outpaces top dual-core processors from AMD and Intel, such as Athlon 64 FX-60 and Pentium Extreme Edition 965. And the performance advantage is more than tremendous in most tasks.
I would also like to point out that the today's results show very clearly what the upcoming Intel Conroe processors will be capable off. These CPUs will have similar architecture and will be manufactured with the same technological process. Moreover, Conroe micro-architecture will also have a few differences from the Core Duo, which will determine even higher performance. These differences will be faster instruction processing (four instead of three instructions per clock cycle) and twice as fast FPU/SSE units.
So, we should get used to the fact that Intel is going to regain its market share as the manufacturer of fastest processors out there. Looks like the era of AMD Athlon 64 is coming to an end. The upcoming hit, the new Conroe processor, is very likely to win the hearts of all user groups including gamers and overclockers.
However, there is still quite some time left before Conroe comes out, so let's get back to our today's hero, the Core Duo processor. Of course, it can become a great solution for hardware enthusiasts. And we would strongly recommend this CPU to these users if it hadn't been for one "but". Unfortunately, there is a big issue with the platforms for this processor. Most contemporary Socket 479 mainboards supporting Core Duo and Core Solo processors are being designed for Viiv systems. And this certainly imposes some frustrating limitations onto their features: MicroATX PCB design, maximum level of integration, scarce overclocking options. The only solution acceptable for overclockers and hardcore users is the mainboard we reviewed today - AOpen i975Xa-YDG.
This mainboard offers an interesting range of features and will be ideal for overclocking fans. We could even disregard a few drawbacks we have pointed out earlier, because there are no alternatives in the Socket 479 market today. But unfortunately, this mainboard is practically unavailable in retail, so we can hardly hope that it will ever become an ideal Core Duo platform.
Despite this sad statement you shouldn't be too much upset about the absence of AOpen i975Xa-YDG mainboard anyway. Even if it suddenly hits the shelves tomorrow, because there is a little more than two months left before Conroe platforms come out. So, at this time we would suggest to be patient and wait for the promising Conroe processor.






xtreview is your : Video card - cpu - memory - Hard drive - power supply unit source







we would be happy to answer for your question . if you have suggestion or comment regarding this review our support would be glad to help just join our forum and ask u will get the best answer
to discuss check our forum section :-)
RATE THIS REVIEW