The first Intel processors with the integrated graphic core will use a two-chip layout, uniting on one base layer two crystals - with the processor core and the northern bridge components, respectively. The Crystals will be released according to different technological standards: computational core - on 32 nm technical process, and north bridge - on the older 45 nm technical process. As explains associate, some special features of the layout of clarkdale ¬†and Arrandale processors deserve special attentionÖ
If we discuss logically, Intel had to place the memory controller on one crystal with the processor core, indeed precisely for the acceleration of their interaction thought the entire integration. However, as associates assert, the functional blocks of  processors generation westmere were distributed between two crystals : the memory controller proved to be on 45 nm crystal, and processor core on 32 nm crystal.
Besides the computational core on 32 nm crystal was arranged the cache in the second and third levels, and also, supposedly, the QPI bus controller . Specifically, it will connect two crystals, ensuring the high-speed data transmission  .
The confirmation of the not entirely usual arrangement of memory controller in clarkdale and Arrandale processors can be found also in the official Intel presentations  , published in IDF fall 2009: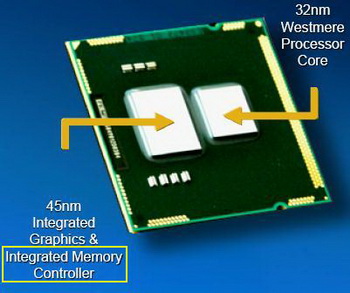 Intel give preference to a increase in the interaction rate of graphic core and memory system . The questions of interaction optimization between the memory controller and processor core relies on the possibility of QPI bus. We can assume that tests to the memory controller speed will reveal delay in clarkdale from Lynnfield.

Associates simultaneously recall that the mobile processors arrandale can be dynamically switched between discrete video card and built-in graphic core with the purpose of electric power savings  . The technology turbo boost, dynamically increases the frequency of the most loaded processor core. The desktop processors clarkdale are deprived from such privileges .


Related Products :