Today appeared the images of barts core and printed-circuit board radeon HD 6870 without cooling system.
The form of core crystal came out rectangular, in the packing it will develop up to 45 degrees. This video chip coincides with Cypress (Radeon HD 58xx); therefore video card producers can use the design of printed-circuit boards from video card last series, and even simplify it, since Barts consumes less electric power. The core crystal area is approximately equal to 230 sq. mm, which corresponds to 68% of cypress core area  .
As it was explained, this video card will have sufficiently uncommon layout .
The video chip has four-phase power system. The video card series radeon HD 68xx has two ports mini-DisplayPort, which correspond to the specifications displayPort 1.2, can support up to six monitors.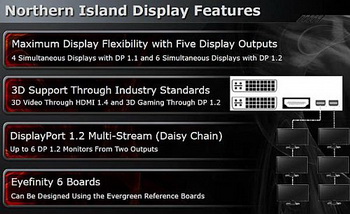 For the support of 3D image in  games will be used the standard displayPort 1.2, for 3D films - HDMI 1.4. From September last year AMD dispatched more than 25 ml graphical solutions with directX 11 support. European stores already assume orders for Radeon HD 6850 on the price from 189 Euros, and also for Radeon HD 6870 on the price from 255 Euros.



Related Products :