The corporation compro in its press release officially declared about the production of new external TV- tuner videoMate v300, which ensures resolution 1680x1050, 1600x1200, 1440x900, that supports HDTV with resolution from 480i/480p to 1080i and equipped with component and S -Video for connection to the television set, plasma or to LCD  monitor.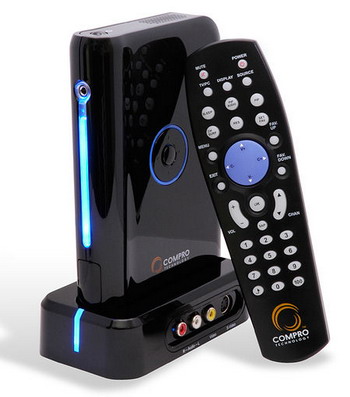 VideoMate v300 is designed for the work with monitors by diagonal from 15 to 22 inches, standard 4:3/5:4 or wide-format 16:9/16:10. Besides personal computers, TV- tuner can be connected to the gaming console as xbox, Xbox360, PS2, PS3 and Wii.
To the users Of v300 is proposed selection between display regime versions optiMode: TV, Game, Cinema and Custom, and also the selection of size optiRatio 4:3, 16:9, Panorama, Full screen and SmartZoom. The panel for remote control enters in the delivery set.
Characteristics Of videoMate v300:
The analog TV- tuner PAL/SECAM, support stereo sound (NICAM/A2 in PAL, MTS/BTSC or EIAJ in NTSC)
Plug & play, does not require installation of drivers
Component HDTV- entrance (Y, Pb, Pr), support resolution from 480i/by 480p to 1080i
resolution: 1680x1050, 1440x900 and 1600x1200
Output size: 4:3, 5:4, 16:9 and 16:10 (OptiRatio 4:3, 16:9, Panorama, Full screen and SmartZoom)
Output regimes: TV, Cinema (3:2), Game and Custom (individual settings )
Preview of image from nine channels in one window, function PIP (picture- in picture)
Audio: Dynamic bass boost, Stereo effect, Stereo
IN/OUT: S -video and composite of video/audio
Timer : 30, 60, 90 and 120 minutes

Related Products :