SSD Consumer gradually approached the top of the interface bandwidth SATA 6 Gb / s.  Read and write speeds of SSDs top models reached 550 MB / s, which corresponds to the maximum practical bandwidth Serial ATA 600.
The natural replacement of Serial ATA 600 can be a standard Serial ATA 1200.  In any case, it sounds logical.  However, the realization and commercial introduction of Serial ATA in 1200 may not be  that easy.  Similar standard SAS 12 Gb / s is implemented with considerable difficulties.  For users  the introduction of SATA 1200 will mean seamless transition from one drive to another, but to speed SATA interface twice require more sophisticated controllers and new interface cables, which could lead to higher prices for SSD with the new interface without appreciable  use.  
An easier option would be switching to a standard SATA Express.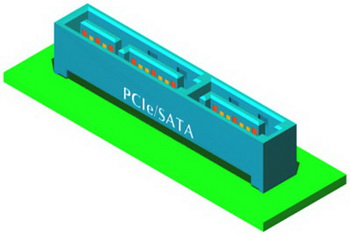 The most attractive in the standard SATA Express is that it uses the standard line and protocol PCI Express.  Using two or four lines of PCI Express 3.0, interface transfer rate can be 2 or 4 GB / s.  This is a much larger than capacity of Serial ATA 1200.  Besides, the proposed terminal would be universal for SATA Express and SATA drives.  It can be connected as the old drive, using conventional cables, and new disks with an PCI Express.  
With the implementation of PCI Express will be easier in the case of laptops.  For them, the company offered  the form factor Intel Next Generation Form Factor or NGFF.  Connectors to Drive NGFF already has two lines and four PCI Express 3.0.  The company actively promotes the idea of a compact disk systems.
Finally, several years in development of a new protocol - NVM Express, which will replace the usual AHCI (Advanced Host Controller Interface).  NVM Express protocol designed to work with solid state drives, and bring to their work a lot of interesting things, including, for example, the ability to organize all of the 64,000 simultaneous requests, each of which can contain 64,000 teams.  Interface AHCI, by comparison, can send a disk at the same time not more than 32 teams.

Currently, Intel NVM Express organizes support in the form of individual drivers.  In the future, support for this protocol will be added into the new versions of operating systems, or appear in the form of a patch for modern systems, including Windows 8.  Drives with support for NVM Express promised to release  release OCZ and Micron (P320h).  


Related Products :