According to the preliminary Gartner analysts calculation  , in the first quarter 2013, the PC market was sold 79.2 million systems.    Decline in PC sales recorded in all regions of the world, but most of the affected regions EMEA, which includes Europe, Africa and the Middle East.  Cyprus, Egypt, Libya, Syria ...  This region is clearly not up to the computers.  Now the main motive in explaining the decline in sales, is the theme of migration, use of smartphones and tablets.  But the market is declining, and it is the fourth consecutive quarter.
The main hope for the growth of PC shipments (Gartner does not include delivery of tablets in these statistics) are associated with the upgrade of office park and corporate PCs.  Peak Pack is passed, according to observers, but the demand for office systems is high, and their sales are comparable to home systems market, where interest in computers is reduced.  

Lenovo slowdown  analysts explain by the poor sales of systems in the Asia-Pacific region, which accounts for 50% of Lenovo shipments .  Dell has maintained its share of the PC market, but shipments of its systems were down.  
The personal computer market in the U.S. for the quarter amounted to 14.2 million units.  Compared with the first quarter last year decline was 9.6%.  This is the sixth consecutive quarter, when sales of PCs in the country less and less.  

Among the five largest brands in the U.S. market growth in PC shipments was observed in only two companies: Apple and Lenovo.  
Compared to the same quarter last year sales decline was 16%.  Fortunately, this is only the third consecutive quarter, when there is a steady decline in PC sales.  In the Asia-Pacific PC shipments for the quarter were $ 27.6 million.  For the year sales decline of 10.3%.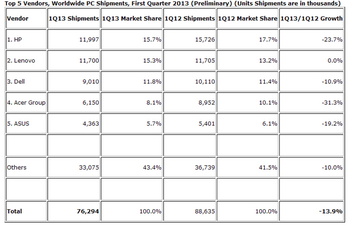 Related Products :