Zalman company started sales on the Russian market of its newest silent CPU cooling system models FX100.  Among the special features is to provide support passive mode and the original form of a cube with dimensions equal to 156 x 156 x 157 mm and weighing 770 grams.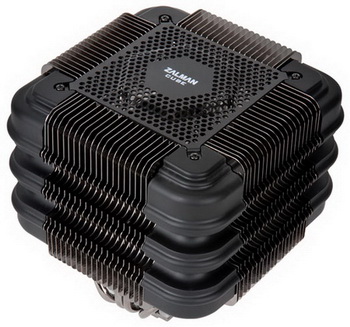 Zalman FX100 Construction involves the use of four copper heat pipes, coated with a layer of nickel.  It should be noted that  The four main tube fit directly to the processor, and another six tubes interconnected by four major distal perimeter at different levels.  
For active cooling if necessary, may meet one 92-mm fan, which is attached to the radiator.
The cooler is compatible with desktop platforms, Intel LGA2011/1366/1156/1155/775 and AMD FM2/FM1/AM3 + / AM3/AM2 + / AM2.  And the maximum CPU heat dissipation can be no more than 95 watts (passive mode), and 130 W when using the regular fan.

Related Products :