Enermax Technology company , the world-renowned manufacturer of computer power supplies, cases, fans, keyboards and other computer peripherals, is preparing to release a new processor water cooling system LIQMAX 120S: ELC-LM120S-HP and ELC-LM120S-TAA .  New items are made from high-quality aluminum radiator, hoses and water block, combined with the pump, low noise level, high efficiency and stability.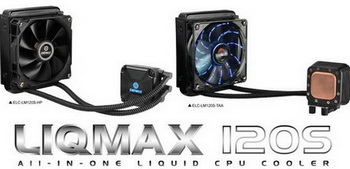 Waterblock from Enermax products are closed, so no need for maintenance, the thickness of the radiator in both cases is 43mm.  In addition to improve the efficiency of excess heat's removal is used patented proprietary technology Enermax Shunt-Channel-Technology (SCT), which eliminates the heat races and increases the thermal conductivity, as well as the technology of Smart APS (Adjustable Peak Speed) .
The fans updates provided three options : Silent Mode (600-1300 r / min), Performance Mode (600-2000 r / min), Overclock Mode (600-2500 r / min).  Also provides ability to remove the blade for cleaning.

The cost of future systems CPU water cooling is not reported.  


Related Products :