Zalman company usually present new cooling system  only a few months after their appearance on the exhibitions industry, and the frequency of new products appearance can not be called common.  However, in the case of CES 2014 FX70 CPU heatsink did not have to wait long - the product already exists not only on its official website, but also in the range of Japanese stores.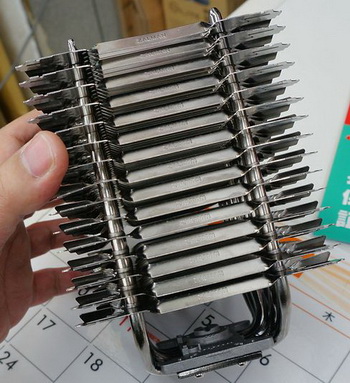 Recall that the radiator is able to cool processors with TDP of 80 watts without the help of fans.
From nickel-plated copper base depart six U-shaped heatpipes, they permeate array plated curved edges.
According to the manufacturer, this form allows  to create ribs air turbulence and efficient heat dissipation.  The whole design has dimensions 110 x 140 x 158 mm, weight reaches 530 Supplied with attached mounting system and proprietary thermo bag with ZM-STG2M.  It is compatible with almost all modern CPU sockets, except that Socket FM2 + not formally mentioned, but it support Socket FM2.  In Japanese retail Zalman FX70 costs about $ 58.


Related Products :