Today,Plextor company has announced a new series of solid state drives Plextor M6S.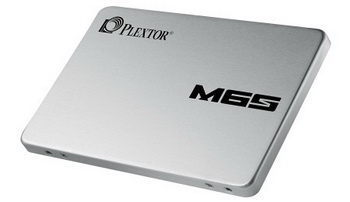 Plextor reported reduction in energy consumption compared with M5S and increase speed performance up to 50%.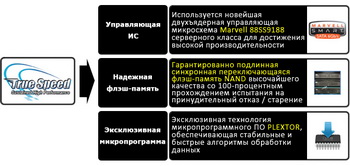 M6S  is based on the new controller Marvell 88SS9188 and 19 nm production ToggleNAND Toshiba second generation.  Recall that the previous generation M5S used Marvell 88SS9187 controller and 25 nm SyncNAND memory Micron .
The warranty period remains the same and is 3 years, traditionally for Plextor - without any reservations about the limitations of the amount of write cycles.
| | PX-64M5S | PX-128M5S | PX-128M6S | PX-256M5S | PX-256M6S | PX-512M6S |
| --- | --- | --- | --- | --- | --- | --- |
| Buffer memory controller | 128MB DDR3 | 256MB DDR3 | 256MB DDR3 | 512MB DDR3 | 512MB DDR3 | 768MB DDR3 |
| Capacity | 64GB | 128 GB | 128 GB | 256 GB | 256 GB | 512GB |
| Sequential read speed | 520 MB / s | 520 MB / s | 520 MB / s | 520 MB / s | 520 MB / s | 520 MB / s |
| Sequential write speed | 90 MB / s | 200 MB / s | 300 MB / s | 390 MB / s | 420 MB / s | 440 MB / s |
| Reading random blocks (4KB) | 61,000 IOPS | 71,000 IOPS | 88,000 IOPS | 73,000 IOPS | 90,000 IOPS | 94,000 IOPS |
| Recording random blocks (4KB) | 25,000 IOPS | 51,000 IOPS | 75,000 IOPS | 70,000 IOPS | 80,000 IOPS | 80,000 IOPS |
As we see, the linear read rates have not changed (which is not surprising, given the fact that there already appears limiter bandwidth of the interface SATA3).  But increased writing speed (for version up to 128GB growth was once 50%), as well as increased performance characteristics for random read and write operations with small blocks.


Related Products :