Toshiba absorbed OCZ since while.  For OCZ it means a lot: the company  largely changed its structure, in particular,  OCZ  no longer  own their capacities - OCZ factory in Taoyuan in Taiwan in the process of merging with Toshiba was sold to PTI (Powertech Technology Inc.), which It was contracted to manufacture all drives under the brand OCZ.  Now OCZ has focused exclusively on the development of engineering, using available at its disposal controllers Indilinx Barefoot.
The next step was a notable complete shake-up range, when all unreleased SSD models were quickly removed from production .  
Since April  this year,  began the next stage: there is a final merger,  OCZ is losing its status as a subsidiary and becomes sub-brand (as, for example, relate to Micron and Crucial).  
But the most important thing for the average consumer that significantly modified the range of drives.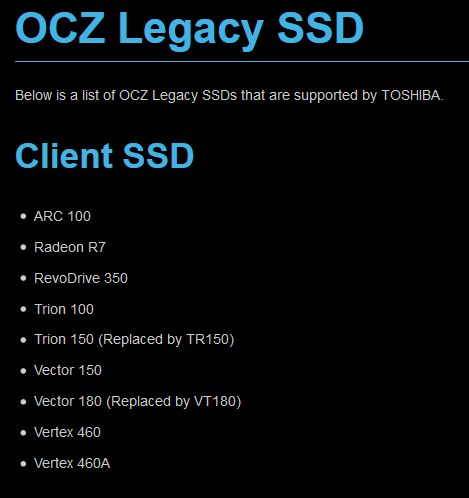 >
OCZ Vector 180 is renamed OCZ VT180, OCZ Trion 150 becomes OCZ TR150 : Vertex 460 and Vertex 460A, ARC100, Radeon R7 officially recognized as "irrelevant."  



 


Related Products :