Enermax Company releases a new computer case Ostrog ADV.  It received a very unusual design, in which the main role played  external LED lights.  There are three versions of the case with light green, red and blue.  In addition, the interior of the case is made in the same color as the backlight.
LED ribbon, frame front panel and the air vent on the top panel of the case Ostrog ADV.  This gives the impression that the tape glow over the entire length, rather than individual points of light-emitting diodes.  In addition, in the front panel are two pre-installed 120mm fan Enermax Vegas, which is also endowed with an LED backlight.  These fans are synchronized with LED strips, and can work with them in six different modes, switch between them by pressing the button next to the USB ports.
Ostrog ADV is made in the form factor Midi Tower, and has dimensions of 493 x 215 x 516 mm.  It is designed for the installation of ATX size motherboard, Micro ATX and Mini ITX, graphics cards up to 414 mm CPU cooling systems up to 174 mm in height.  Also, in case there are six compartments for versatile 2.5- / 3.5-inch drives and three 5.25-inch bays.  Upper basket made removable drives.  ATX power supply units are mounted at the bottom of a right side wall there is sufficient space for laying of cables.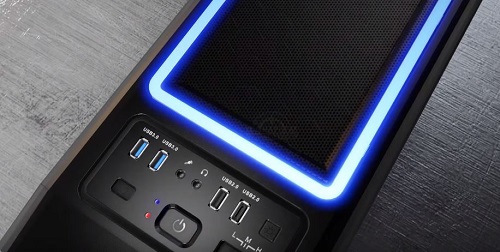 In addition to the two fans on the front panel, another 120-mm fan Enermax Enerflo pre-installed on the rear panel.  These standard fans are connected to the rotation speed controller , which is located next to the USB ports.  Another two 120 / 140mm fan can be mounted on the top panel, and one - on the bottom.  The top panel Ostrog ADV can be fixed radiator liquid cooling system sizes 120/140 or 240/280 mm (up 60 mm), and at the bottom - 120 mm.  


Related Products :