One of the largest AMD partners, Sapphire's company produces not only gaming video card, but professional graphics solutions.  The range of the latest newly added  GPRO 8200 - Polaris generation product in a particular arrangement,  four outputs DisplayPort 1.4 and a low-profile cooling system allowing the graphics card to occupy only the space of the expansion slot.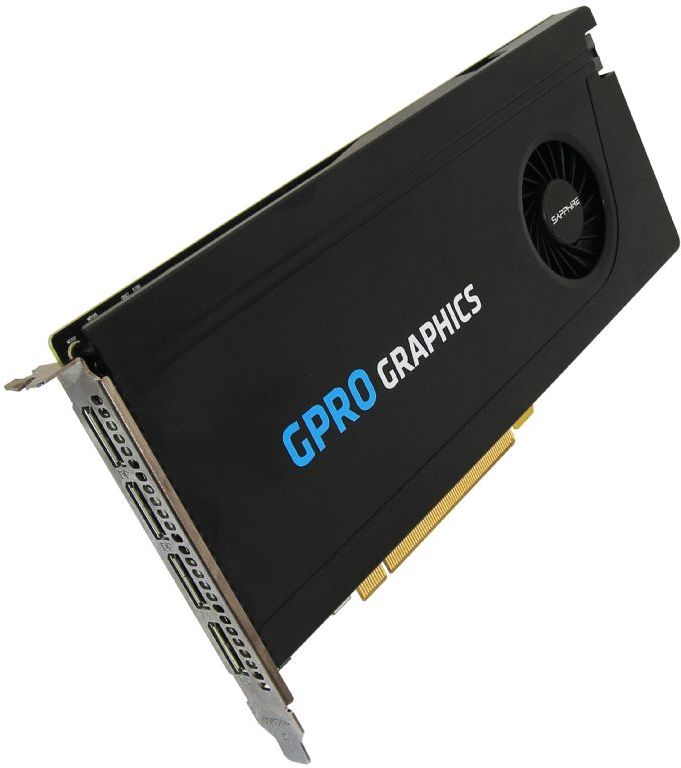 Video content only six-pole connector for additional power supply and the level TDP not more than 140 W, and to cope with the heat distribution in a compact design helps proprietary technology evaporation chamber - it is something like a wider version of  heat pipe .  Sapphire evaporation chamber is used in the composition of the cooling systems  consumer-class graphics cards, but there is often required due to its high performance and compact size .

Sapphire GPRO 8200 uses a 256-bit bus and 8 GB of GDDR5 memory with a capacity of 211 Gb / s.  All this allows to classify the video card to peers desktop Radeon RX 480. The full specs are traditionally not disclosed.  On the rear panel are located four outputs DisplayPort, they allow you to display an image on four monitors simultaneously with 4K resolution and refresh rate of 30 Hz or 60 Hz.

Possible options for connecting displays shown in the illustration above.  Technically, HDMI 2.0 interface is also supported, but only with the active adapter, which is sold separately.  To work with a video card recommended power unit with not less than 650 watts.  Overall dimensions of the graphics card  - 243.84 x 111.15 mm.   Weight does not exceed 472 g in the cooling system uses double ball bearing, warranty of three years.


Related Products :