Two weeks ago, a small company Toshiba announced budget Drives A100 Series , and now it is the turn of renovation of the middle segment.  The Russian representative office of  OCZ, sent out a press release, which notified the launch of a series of solid state drives to flash memory, called Toshiba OCZ VX500.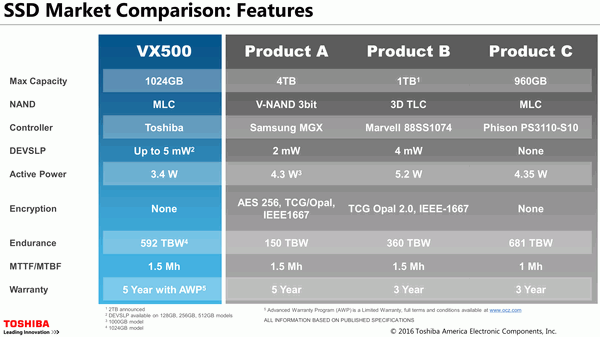 New device made in the form factor of 2.5 "to 7 mm, it is equipped with SATA3 interface.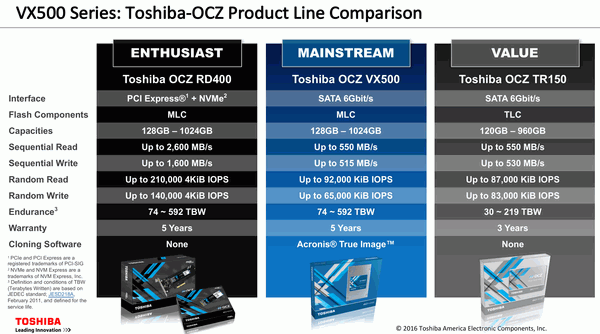 Yes, that's right: if earlier OCZ Vector 180 has been a leader,   now, with the popularization of PCI-Express and NVMe and accordingly the release of Toshiba OCZ RD400, it becaume only the middle class.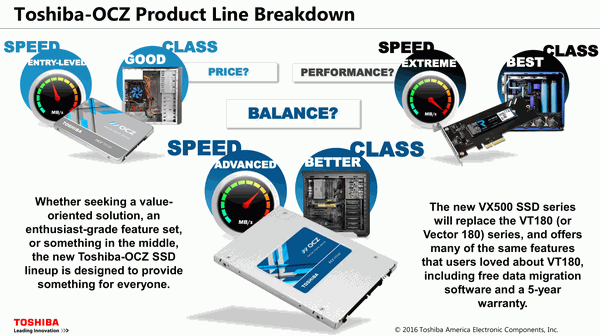 From the first moment everything is simple and clear: the recommended prices are $ 64, $ 93, $ 153 and $ 337, depending on the volume (versus $ 90, $ 150, $ 275 and $ 500 at the OCZ Vector 180 at the time ).  
As flash memory is specified planar MLC NAND own manufacture Toshiba, conforms to standard 15-nm process technology (OCZ Vector 180 - 19 nm).  Controller - hidden under its own label Toshiba TC358790 and its origin is not officially disclosed.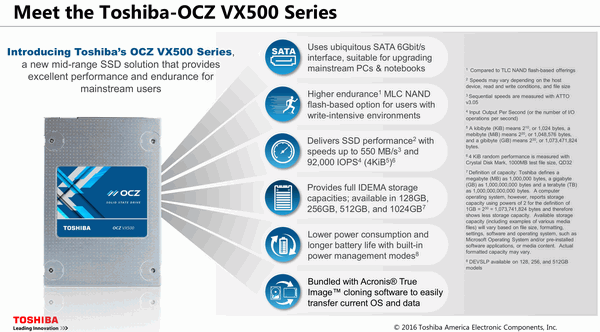 But, in particular, Toshiba made some changes to the controller chip, which is made in a single body with chip DRAM buffer memory as in the previously presented on the modified SSD Toshiba controllers Marvell.  And this is the cause of "inappropriate" modifications of the price difference on the 512 and 1024 GB: for the construction of the latest Toshiba did not make the controller chip with a larger buffer, and went on the road extra DRAM chips with a corresponding appreciation of the internal structure of the drive.  Along the modification of the volume of 1024 GB lacks support for energy-saving mode DevSleep .

From the distinctive features of  Toshiba OCZ VX500 can be noted volumes scheme: this is not 120/240/480/960 but 128/256/512/1024 GB - the consumer gets more affordable by reducing the amount of the hidden factory reserves .  Drives Toshiba OCZ VX500 accompanied by a five-year guarantee for the OCZ brand.


Related Products :