Quarterly report - this is a rare opportunity to see the numerical characteristics of the company's activities during the period.  AMD has just reported for the third quarter his year, announced an increase in revenues by 27% sequentially compared to $ 1.307 billion., And 23% in the annual comparison.  Such dynamics have provided a record volume of deliveries "customized" solutions for video game consoles, as well as increased sales volumes of graphical solutions generation Polaris and hybrid mobile processors.  
Gross revenue between AMD units distributed as follows:. $ 472 million secured segment of Computing and Graphics, which is 9% more than in the previous quarter (+ 11% YoY), and $ 835 million provided the Enterprise Division, Embedded and Semi-Custom, which. responsible for the release of "custom-made" products.  Here revenue increased sequentially compared to 41% and 31% year.  Almost two-thirds (64%) AMD's revenue depends on the "custom" and embedded solutions.  Seasonal demand for gaming consoles seriously components supported AMD business.  And if "processor-graphics" the direction of the company ended the quarter with a net loss of $ 66 ppm, the "custom-made" products secured an operating profit of $ 136 ppm should be noted that operating losses in the "processor-graphics" direction managed to reduce by compared with previous periods, not only due to revenue growth from sales of graphics processors, but also by eliminating the need to write off inventory.
However, the payments under the agreement with GlobalFoundries ($ 340 million). AMD was forced to declare a total operating loss of $ 293 million. In the third quarter.  AMD notes that the volume of sales of hybrid processors for laptops are growing the fourth consecutive quarter, and in the new five-year agreement with GlobalFoundries formed the conditions for the release of 7-nm products.  This growth in sales of mobile processors provide increased revenue in the annual comparison.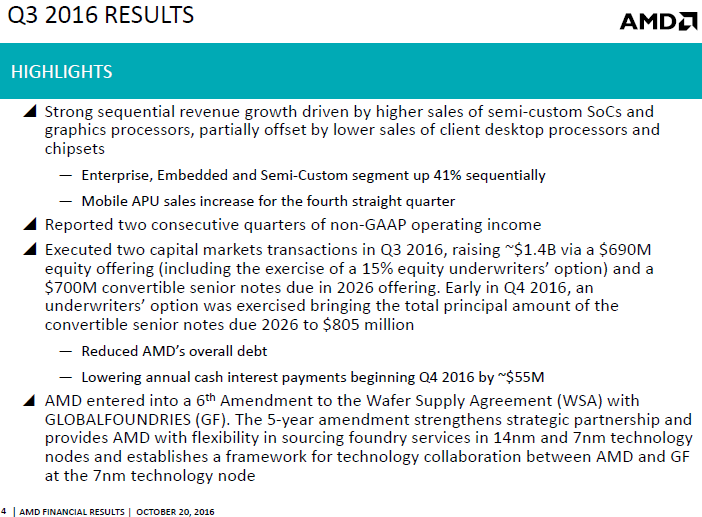 Increases and the cost of developing new products - in the third quarter they were $ 244 million, which corresponds to 19% of revenue..
 

The average selling price of customer solutions in a sequential comparison decreased because of price dynamics in the mobile and desktop processors, but remained at the same level compared to the third quarter last year.  The average selling price of graphics processors has increased both sequentially and in the annual comparison.  This is due not only to the popularity of more expensive gaming graphics cards, but also professional graphics solutions.

The rate of profit excluding one-time payment under the agreement with GlobalFoundries has remained at 31%, as in the previous quarter.  If compared with a year earlier, the rate of profit could increase to 23%.

From the fourth quarter  this year, AMD does not expect a similar impact.  Forecast revenue - reducing the corresponding figure at 15-21% in the sequential comparison due to the seasonal decline in demand for gaming consoles.  However, as a result, AMD expects to increase revenues by 6% compared with the previous period.


Related Products :