Our colleagues EXPreview  managed to get an engineering instance of processor Intel Core i5-7600K, which belongs to a new generation of desktop processors Intel Kaby Lake and are expected by the announcement in January  next year.  According to Intel, the processors Kaby Lake will be more productive than similar Skylake generation  models by up to 12%.  Actual comparison was made with the model Core i7-6700K.
CPU-Z utility has identified four core processor Core i5-7600K.  The base model is the frequency 3.8 GHz.  The frequency during  (Boost) rises to 4.2 GHz.  According to the possible settings in the BIOS of the motherboard overclocking frequency to four cores, you can choose 4 GHz, for the three core - 4.1 GHz and one core - 4.2 GHz.  Base frequency quad-core model Core i5-6600K is 3.5GHz with a maximum frequency of automatic overclocking to a single core at 3.9 GHz.    The configuration of the test platform in the picture below.
Processors Core i5-7600K (Kaby Lake) and Core i7-6700K (Skylake) differ significantly only  support multi-threading, Core i5-7600K (Kaby Lake) does not support multi-threading and can only handle 4 threads (one per core) and Core i7-6700K (Skylake) capable of supporting 8 simultaneous streams (two threads per core).  This shows the difference in applications that support multi-threading (see. In the image below).  
A series of tests carried out in some games showed that the model Core i5-7600K on average loses Core i7-6700K 6%.  It is expected that in the architecture Kaby Lake can be certain   improving, or these improvements are obtained at the expense of debugging 14-nm process technology.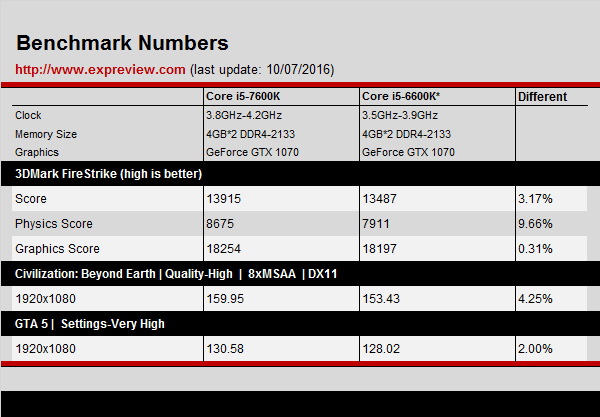 The following table summarizes the consolidated results of the latest test Core i5-7600K (Kaby Lake) processor in  games and the result of the previous test model Core i5-6600K (Skylake).  On average, the new product ahead of its predecessor by 2%.  In general, it is possible to take for granted the fact that processors Kaby Lake no worse Skylake processors.  It is expected that production models Kaby Lake will be even better.  

Related Products :