The fourth quarter of the calendar year implies a high enough demand for  video card, because some of the gamers get them as a gift for Christmas and New Year.  Accordingly, NVIDIA had no reason to fear the decrease in revenues in the last quarter, which is steadily growing in popularity on the background of graphics solutions Pascal family since the announcement of the very first models.  NVIDIA Quarterly report showed sequential revenue growth of 8%, as compared to the same period last year, revenues increased by 55%.  Quarterly Revenue reached $ 2.173 billion., Which is a record amount.  During the year, NVIDIA has gained $ 6.9 billion., Which is also considered to be a record, and the previous year's figure was exceeded by 38%.  
High-margin products such as expensive graphics cards and computing accelerators NVIDIA raised the rate of profit to a record 60%.  Quarterly operating income increased by 191% compared with the fourth quarter of the previous year, net profit increased by 216%.  
In the data center toward revenue grew throughout the year, but the difference turned out nearly three-fold compared with the fourth quarter of the previous year.  This fact NVIDIA guidance on the reporting of quarterly conference has mentioned at every opportunity, and continued growth in revenue from the sale of game cards considered something self-evident.  If we consider the structure of the quarterly revenue, that 62% of the company gets just on the playing area.
By the way, should not be underestimated place Tegra processors on the market infotainment systems that are not related to the automotive industry.  The proceeds from the sale of Tegra "road" NVIDIA customers form a half.  The remaining funds from the sale of the company gets its own devices SHIELD family, which remains one of the few products on the market, using Tegra processors.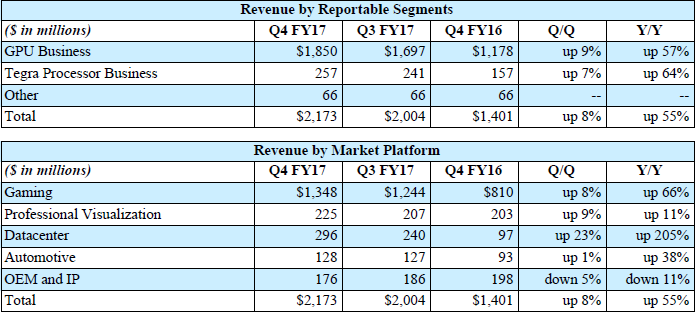 Please note that revenues in OEM-segment continues to decline, although the royalties from Intel  arrive in a stable amount - $ 66 million per quarter..  Consequently,  NVIDIA less and less interested in the segment finished and notebook PCs for business applications, although in gaming systems and professional workstations, the company's products are well represented.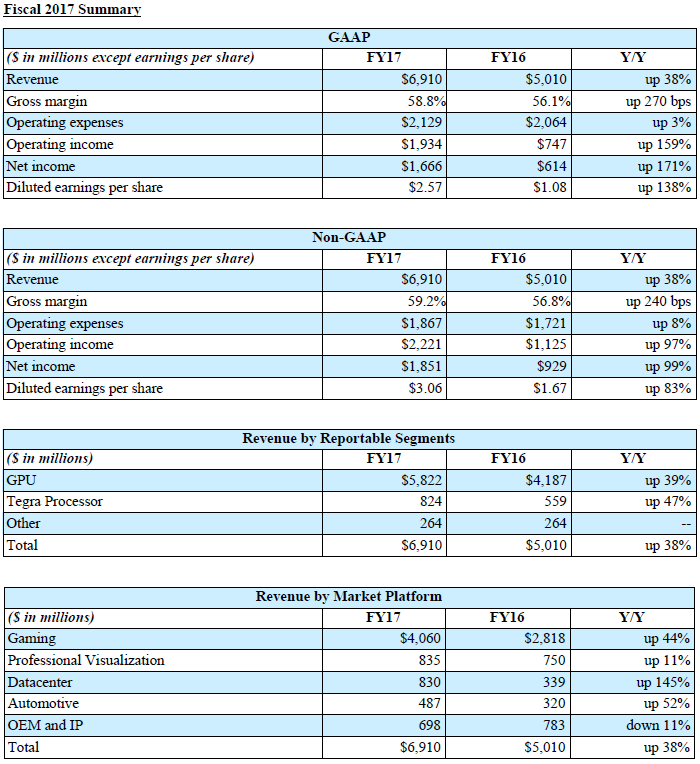 In the current quarter, NVIDIA expects a seasonal decline in revenue to $ 1.9 billion., As well as reducing the rate of return to 59.5%.  Some comments NVIDIA head with quarterly reporting conference will be the topic of our next publications.


Related Products :