In the second half of April, the Chinese company Xiaomi is expected to unveil its new flagship called Mi6.  Shortly before its announcement, Xiaomi Mi6 lit up in the benchmark GFXBench, confirming its main specifications.
The fact that Xiaomi Mi6 was tested in GFXBench, was reported by our colleagues from GSMArena .  The heart of the smartphone was a top-end single-chip platform Qualcomm Snapdragon 835 with an eight-core processor with a clock speed of up to 2.4 GHz and an Adreno 540 graphics controller. Depending on the version of the Xiaomi,  Mi6 will receive 4 or 6 GB of operating and 64 or 128 GB of internal memory.  It is also indicated that the smartphone is equipped with a 12-megapixel main and 8-megapixel front cameras.  Both cameras can shoot video in 4K resolution.  As a preinstalled operating system, Android 7.1.1 with the MIUI interface is listed.
According to GSMArena, Xiaomi Mi6 will go on sale at a price of 1999 yuan and up to 2699 yuan for the top version with 6 GB of operating and 128 GB of internal memory.
In addition to China, Xiaomi Mi6 will be available in other countries, including India.  According to Analytics analysts , by launching Redmi 3S, Redmi 3S Prime, Redmi Note 3, Redmi Note 4 and Redmi 4A, Xiaomi has managed to gain popularity among Indian users.  This year, Xiaomi has become the most desirable brand among users of Android-devices.  As a result of the survey, which involved 2000 users in India, Strategy Analytics analysts found that 26% of residents are interested in buying a smartphone Xiaomi as their next smartphone.  12% of respondents will prefer smartphones from Samsung and the same number of users choose the iPhone.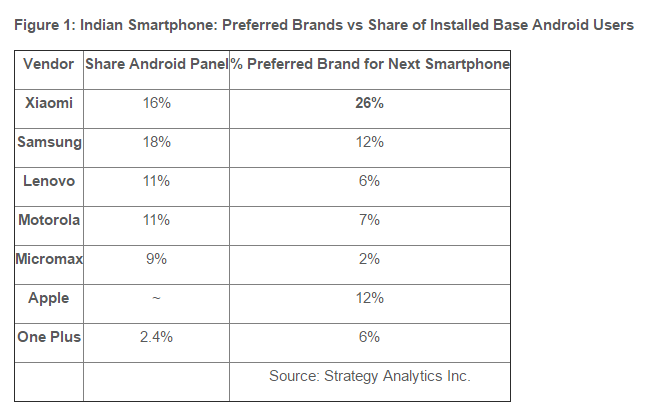 The leader of the Android smartphone market in India remains Samsung, whose share is 18%.  Xiaomi's share is 16%, while Lenovo and Motorola control 11% of the market each.  Micromax and OnePlus own 9 and 2.4% of the local market.

Also, the Strategy Analytics study showed that only 6% of users in India prefer to buy top smartphones worth more than 35 thousand rupees (about $ 540).  Half of respondents choose smartphones in the price range from 10 to 20 thousand rupees (from $ 155 to $ 308).


Related Products :