When preparing a press release dedicated to the publication of reports for the first quarter this year, AMD could not avoid describing the "Ryzen effect" and its impact on financial performance.  For this reason, the phrase about the increase in revenue by 18% compared to the first quarter of last year became a logical "subtitle".  Lisa Su herself said in her introductory speech that not only the Ryzen CPUs, but also the company's graphics processors, increased the revenue by 18%.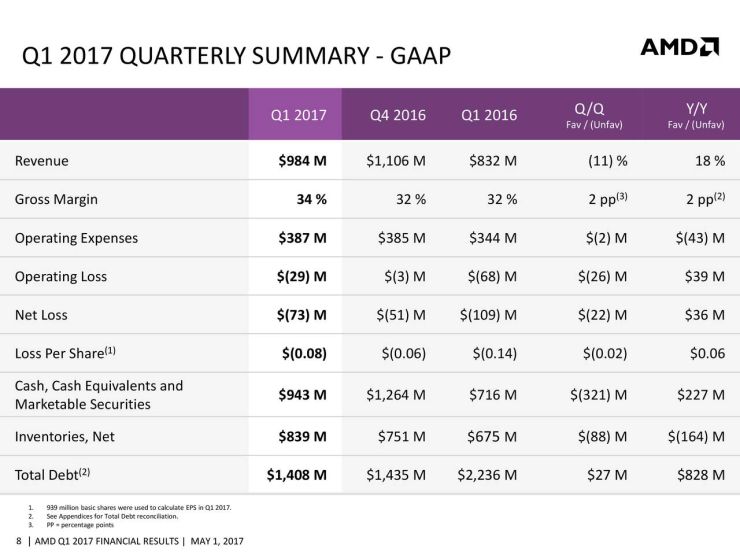 The fact that in a consistent comparison, AMD revenue fell by 11%, can be attributed to seasonal fluctuations in demand.  The profit rate for the year increased from 32% to 34%, operating losses decreased from $ 109 to $ 29 million, net losses decreased from $ 109 to $ 73 million. The financial director explained the growth of the profit margin by the appearance in the assortment of AMD products of expensive Ryzen processors.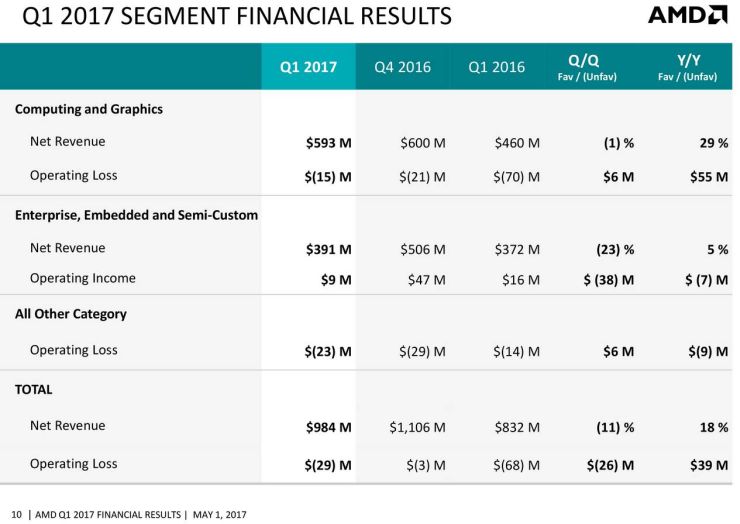 Segment revenue was as follows: $ 593 million brought computing and graphics solutions, $ 391 million - products for the corporate segment, embedded and "custom" solutions.  Revenues in the direction of computing and graphics solutions grew by 29% over the year, for which AMD thanks the Ryzen processors and graphics processors.  In addition, it was the Ryzen processors that helped to reduce seasonal revenue decline compared to the fourth quarter to one percent.  The average selling price has increased for both CPUs and graphics, both in annual comparisons and quarterly.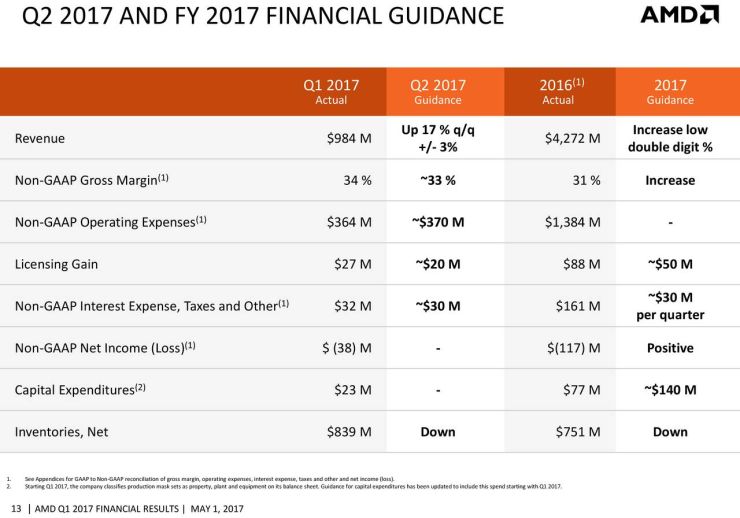 The forecast for the second quarter revealed AMD's lack of confidence in increasing the rate of profit - it should drop to 33%.  Most likely, this is due to the fact that the more expensive Ryzen 7 processors will have less and less influence on the company's revenue, because now there are more affordable Ryzen 5 available on the market, which can be overclocked to improve the performance level.  But revenue in the second quarter should grow in consecutive terms by a value of 14% to 20%.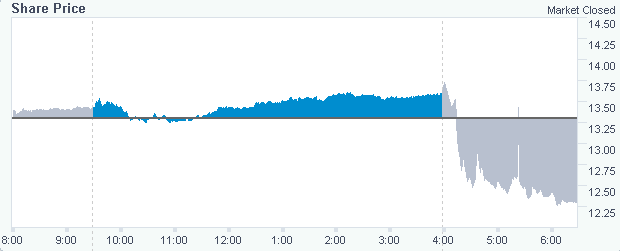 Investors were disappointed with this forecast, as the share price of AMD fell by 10.2% after the publication of the quarterly report.  In addition, analysts had expected that in the corporate segment, AMD will receive a higher revenue.

Today, AMD confirmed its intention to present in the current quarter graphic solutions with Vega architecture and server processors Naples with Zen architecture.  


Related Products :