What prospects are opening up for Tegra processors in the automotive segment, NVIDIA is not lazy to tell at any opportunity.  In the Tesla series electric vehicles, these processors coexist with the Pascal generation of graphics processors.  It is expected that Tegra processors Xavier family with the Volta graphics system will be able to realize the autopilot of the penultimate, the fourth level according to the SAE classification.  It is these processors that Toyota will use in its cars.
Today, at the opening of Computex 2017, NVIDIA CEO was not just talking about robocar.  The topic was expanded due to the possibilities of using Tegra processors and Jetson TX platform in robotics.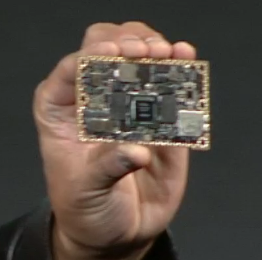 The module Jetson TX2, according to the head of NVIDIA, has a speed of two processors Intel Core i7, while consuming no more than 10 watts.  The speed of the module exceeds one teraflops.  As far as such a module is compact, one can judge not only by the darkened image of the battery in the neighborhood, but also by the following photograph, where Jetson TX2 poses in the hand of the head of the company: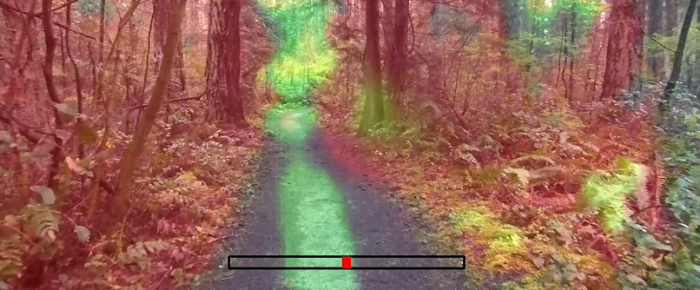 The so-called quadrocopter based on Jetson TX2, as explained by the head of NVIDIA, is able to independently recognize obstacles and form a safe flight path.  Obstacles are highlighted in red, a safe path is green.

It is noteworthy that Toyota Corporation will use Jetson TX2 and to create service robots, and not just in cars.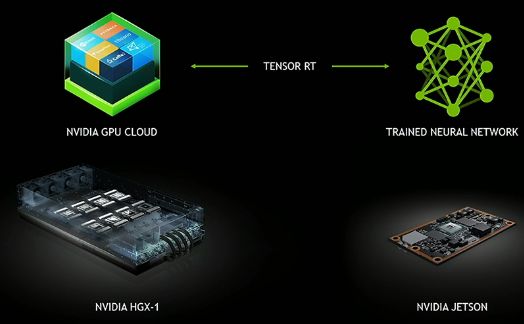 At the end of the event, the CEO of NVIDIA explained that all the components described today are important for the creation and improvement of robots.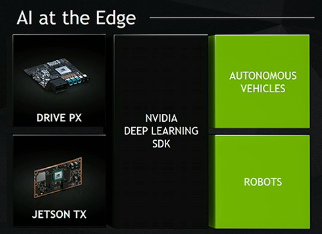 It remains to be seen how soon they will find application among the customers of the company that produce robots.  In the automotive segment, despite aggressive marketing, most of the Tegra processors still do not go beyond the on-board entertainment systems.  The expansion of such solutions will take time.


Related Products :