At the ASUS stand at Computex 2017, our German colleagues discovered an interesting PCIe adapter Hyper M.2 x16 Card.  It is a container for four SSDs in the M2 form factor of all permissible sizes, up to a length of 110 mm.  The container is closed with an aluminum casing.  All together is placed in one PC expansion slot.  Also, the board has a fan for cooling the SSD under load, but it can be turned off, for which a switch is provided on the mounting plate.  Four more LEDs are located on the lath of the fastening, signaling the operation of the SSD in the container.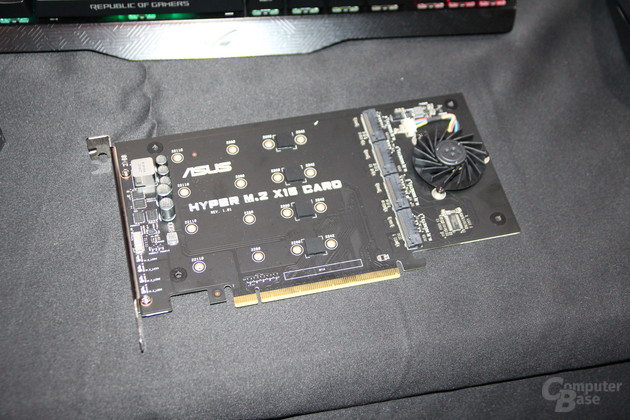 The ASUS Hyper M.2 x16 Card is aimed at working as part of the new Intel production platforms (Basin Falls).  In other words, it is officially compatible only with Intel X299 chipsets and Skylake-X processors.  At this time, it is not known whether the solution is compatible with the Kaby Lake-X processors.  The container supports Intel VROC (Virtual RAID on CPU) technology.  As the name suggests, this is a software implementation of RAID.  The RAID 0 configuration is supported automatically and without any settings, it's enough to install the required number of SSD M.2 with PCI Express 3.0 bus (SATA 6 Gbit / s is not supported) on the expansion board.  For other RAID configurations, an additional charge is required.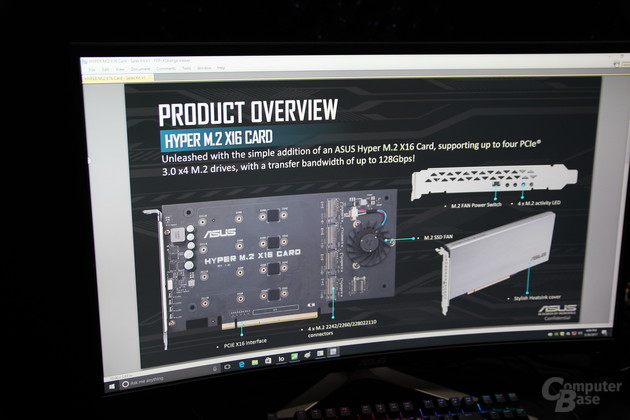 Activating modes other than RAID 0 requires the purchase of a hardware key.  The key is installed in a dedicated connector for it on the container board.  The price of the issue, according to unofficial sources, fluctuates around $ 85-99 for the organization of RAID 1 and $ 250-299 for RAID 5 support.
The ASUS booth demonstrated the operation of a container with four SSD Intel P600.  The steady speed of reading was approaching 12 GB / s, and the established recording speed reached 4.5 GB / s.  


Related Products :